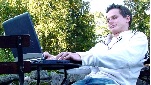 By Roger Andrews Looking for a job can be unnerving. The anxiety of looking for jobs, going through interviews, and following up

Super Job Search IV If you've been having bad luck finding a job, chances are there's a good reason why. Here, Peter K. Studner shares 17 tips that will help you conduct a more successful job search campaign.
Success Through Virtual Education The Internet has spawned a number of innovations in virtual education, or distance learning, where you learn at your own computer terminal from instructors who are physically located miles away.  This article will give you some great examples.
 Protect Yourself Against Identity Theft How many times did you use your credit or debit cards this past holiday season? How certain are you that your information was protected from theft in the process? Do you know what to do if someone else gets your card numbers?
 Social Networks May Be Hazardous More than one in two (53 percent) Americans are concerned about security threats when using social networking sites such as Facebook, Twitter and LinkedIn, yet 64 percent state factors such as viruses or unlawful access to personal information do not cause them to avoid using these types of services. The trend was uncovered by a recent survey by Internet research firm iTracks.