Kensington Orbit® Trackball with Scroll Ring

Editor's Choice Peripherals
November 2019
Kensington Orbit® Trackball with Scroll Ring
Reviewed by Dr. Terry Kibiloski, Editor, Computer Times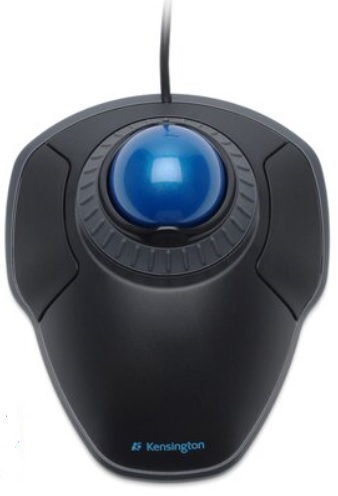 The Kensington Orbit® Trackball with Scroll Ring (Retail $39.99, Model number K75327WW) has a unique design that is both comfortable with screen operation and comfortable for your wrist, since it ships with a detachable wrist rest with soft cushioning that cradles your hand and wrist in ergonomic comfort for pain-free productivity during extended periods of activity on the computer. If you have not used a trackball in years, you need to try this Orbit® Trackball with Scroll Ring, especially if you suffer from wrist pain, have limited desk space, or if you need an input device in places with limited space for a mouse, or inconvenient spaces for a touchpad, like when on an airplane, in bed at a hotel, and so on.
During our testing, we found this trackball to feel very intuitive in just a few minutes. In fact, after the product test was over the trackballs stayed plugged in and our mice were moved aside, which illustrated that this product was indeed an Editors' Choice. In our opinion, the scroll capability of this Orbit® Trackball with Scroll Ring is priceless. As editors, we are constantly scrolling through web pages and Kensington's award-winning Scroll Ring lets you scan up and down pages with ease. The Scroll Ring is like a steering wheel on a muscle car of the 60's that surrounds the trackball. If you are a baby boomer who used to have a knob on your steering wheel to let you easily turn corners, you already know the pleasure of this Scroll Ring. As you turn it clockwise, you scroll down the page, while counter clockwise scrolls up the page. This makes reading long articles, or searching a web page for specific information or pictures, a pleasurable experience.
Kensington sized the trackball perfectly. The medium 40mm ball was designed as a perfect sphere to provide exceptional precision for tracking and control. To further enhance your trackball experience, you can download the free TrackballWorks™ Customization software that lets you assign a wide variety of program functions to each of the 2 buttons, as well as adjust cursor and scrolling speeds. We fell in love with the optical tracking technology that provided both precise cursor and quick cursor movement as we were able to quickly move to any position on the screen with less hand movement, improving both productivity and efficiency.
The Kensington Orbit® Trackball's symmetrical design provides an ambidextrous experience, working equally well for both right-handed and left-handed users. There is no setup required. Simply plug it into a USB port and you are on your way. Best of all, it doesn't need batteries. The Kensington Orbit® Trackball with Scroll Ring is both PC and Mac® compatible working with Windows 7, Windows 8, Windows 8.1, macOS 10.8, Windows 10, macOS X 10.11, macOS 10.10 or above, Chrome OS 44 or above, macOS 10.9, macOS Sierra 10.12, macOS 10.13 or above.