Editors' Choice Tablet PC
April 2017
Wacom Mobile Studio Pro
Review by Angie Kibiloski and Dylan J. Hay-Chapman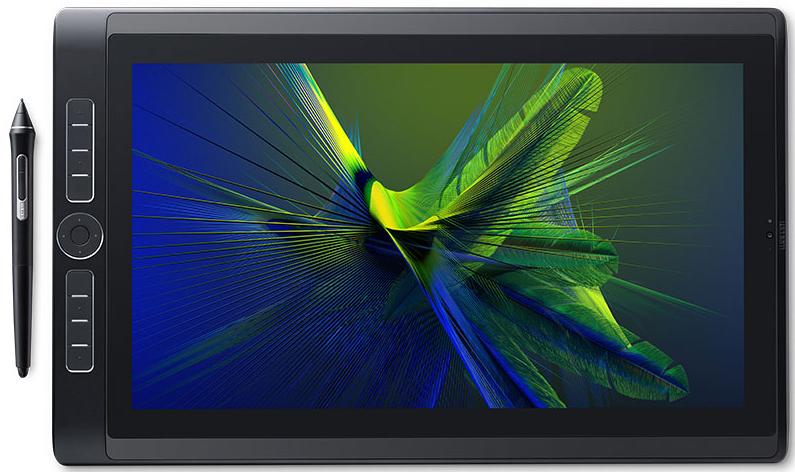 The Wacom Mobile Studio Pro is the newest addition to Wacom's line of professional grade pen display devices, geared towards graphic artists. It's a full Windows 10 tablet PC, with pen and touch screen capability, high quality display and internal components, and compatibility with all the top artistic software. I was very pleased to be able to get my hands on the 16" version of this tablet, especially since it turned out to be a far more complete system than I'd initially thought. I'd never used a pen display, and I'm not a professional graphic artist, so I did discover a pretty steep learning curve. Despite my own limitations, however, I was still very impressed with the sensitivity of the pen, the sharpness and color accuracy of the display, and the power and flexibility of having a full Windows interface.   To supplement the gaps in my familiarity with products such as this, I engaged a professional contact from my work in Hollywood, to get a true working artist's perspective. Dylan J. Hay-Chapman is a Graphic Designer on the hit CBS show Criminal Minds, the TBS series Angie Tribeca, and worked on Fox's Firefly. I'll let him share his experience with you, and then I'll give you a full run down of the great features to be found on the Mobile Studio Pro, both the 16" ($2,399.95-$2,999.99) and 13" ($1,999.95-$2,499.95) models.
---
"I had a chance to use the Wacom Mobile Studio Pro 16 recently, and it's an impressive piece of hardware. It's the kind of device that would lure me back into the Wacom ecosystem. Yes, that's right, I shifted away from Wacom awhile back. So why did I leave? To make a long story short, I've had some bad luck with Wacom's displays in the past. I know this device is much more than just a display, but during my career as a Graphic Designer for TV and film I've owned 3 Cintiq displays, and I'll admit that there's no way I could've done my job without them. But, I've also had my logic board fried by them a couple times, and a display that was dead right out of the box. So, I took a Wacom break. I sold my Cintiq, got an excellent LG UHD monitor and an iPad Pro with Apple Pencil. That setup has been fine, but the number of times I've picked up my stylus from my Intuos tablet and nearly started stabbing my "dumbscreen" reminded me that I'd indeed lost something important with the switch.
Here we are a year later, and when Angie asked me if I wanted to check out the Wacom Mobile Studio Pro 16, I decided to give their devices another chance. I'm glad I did because it's gorgeous! The pixel density is crisp and smooth. It was almost too real, giving elements on the OS an almost 3D quality. The colors on the display were true, unless I viewed it WAY off-axis, then they seemed to rainbow and distort a tiny bit, but no one is likely to be at such extreme angles while drawing anyway. The surface was matte and well lit. The "toothiness" of the surface to the pen nub was satisfying, like real paper, simulating real-word resistance. By comparison, Apple Pencil on iPad Pro feels more like a wet marker on butcher paper, which I actually like for certain projects, but I enjoyed the feeling of pen-to-screen friction again.   My Intuos pad still affords me that luxury, though there's nothing like being able to draw directly on the artwork surface. The Mobile Studio Pro was really responsive too, way better than my past Cintiq experiences.
So what's new since my last Wacom experience? This device has 3D scanning capability, and that's something I've never experimented with before, but I'm interested in trying out. The inclusion of this kind of feature is going to swing the door to 3D work wide open for those who've never tried it, and the integration doesn't seem to stretch the price point too much. The convenience of having it on-board the device, instead of as a separate peripheral is great. The new pen felt great too, but that was expected. Wacom has always had awesome pens. The new pen boasts even more pressure sensitivity than previous models, and it seemed pretty evident right out of the gate.   And of course, the Wacom pens work with a radio signal so they don't have to be charged, unlike the Apple Pencil, which can be annoying with its need for regular charging.
In short, the Mobile Studio Pro was awesome. I know that iPad Pro took a portion of Wacom's business when it launched, but if Wacom is going to respond to Apple and even Microsoft with this level of quality, it makes me really happy, and I'm super excited about Wacom's future. They definitely have my attention again. At $3K it's a bit stiff, but it's a versatile machine, so if you have the funds, it's well worth the investment. It's an awesome piece of hardware, and I'd recommend it for anyone who's looking to get into the tablet display workflow. Two thumbs up, for sure!" –Dylan J. Hay-Chapman
---
Now that you've gotten a professional's impression of the device, I'll walk you through all of the key features of the Mobile Studio Pro, one by one, focusing on the higher-end 16" version.
Design
Let's talk first about the look and feel of this device, since that'll be what catches your eye right out of the box. The brushed black body with shiny silver accents gives this device a cool, sleek look.   The matte finish on the glass makes for a smooth surface with just the right amount of resistance when using the pen, to simulate the feel of a real pen on paper. It also eliminates any annoying reflections you'd get with a glossy surface, which can be distracting while creating masterpieces. There's a spot on the back to attach a stand, though you have to purchase that separately, and though the fans are also on the back, they have sturdy rubber directional vents that direct the hot air out to the sides instead of into your lap. Things get warm, but not uncomfortably so. The tablet is nice and thin, but made with high quality, durable material, giving the device a slim yet sturdy feel. However, it's heavier than the slim profile would suggest (4.85 lbs.), and while I wouldn't call it a behemoth, I wouldn't call it lightweight either. The overall dimensions are 16.5" x 10.3" x 0.75", with a 15.6" screen. This size and weight makes it convenient for taking your office work home with you, but maybe a bit cumbersome to haul to the coffee shop or to go sketching in the park. If more portability is needed, you might try the 13" model, which we'll touch on a bit later. We'll also talk about all the external features like buttons and ports in another section below. Though I'd like it to be a bit lighter, and maybe have a built in stand, I think it's attractively designed and comfortable enough to hold and use for extended periods.
Display
If the screen on a laptop or tablet is sub-par, the whole experience can suffer. Fortunately, the LED display on the Mobile Studio Pro is top-notch. The 15.6" screen can sport up to a full 4K resolution (3840 x 2160), or you can set it to a wide variety of lower resolutions if you prefer. The 4K is great for artists, especially those working on detailed projects, and the 16:9 aspect ratio is a natural fit for artists in the entertainment industry. For myself, I discovered an odd sensitivity to this high of a resolution on this size screen, giving me a slightly woozy sensation after a few minutes. Only 1 other person in an office of half a dozen experienced this, though, so most people will be able to enjoy the gorgeous Ultra-HD of the full resolution. If you end up being one of the sensitive few, try lowering the resolution to my preferred 1920 x 1080, for a more comfortable experience for your eyes and equilibrium. The color accuracy is 94% of the Adobe RGB spectrum, which is impressive when compared to many current tablets or laptops, but some artists who need exact color matches may be frustrated by not having the full 100% gamut. The brightness is great, with a maximum of 314.78 cd/m2 at its brightest spot, and the contrast of 800:1 is good too. It has a great viewing angle of 178º, meaning you can pretty much look at it sideways and it'll still look great. You can interact with the touch screen by hand, or with the included pen. You can utilize multi-touch controls, such as swiping and pinch, as well as standard Wacom or Windows gestures. In programs like Photoshop and Illustrator, you can even use the pen and your hand simultaneous, and be able to enlarge or rotate your digital canvas with one hand while drawing with the pen in the other, providing a much more realistic creative experience. You can also set the display to change orientation as you rotate the device, or set it to lock, so you can work on your drawing or painting from many angles.   Over all, this is a really nice display, and I think most artists will enjoy working on it.
External Components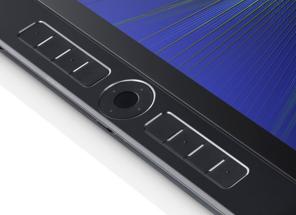 On the body of the Mobile Studio Pro, there are several features to discuss. We'll begin with the somewhat boring parts, the ports. You get a Micro SD slot, a Kensington security slot for a Kensington MiniSaver mobile lock, 3 USB-C ports, and a headphone jack. I find it a little annoying that there's no standard USB port, and no adaptor is included.   So, if none of your peripherals use the newest USB-C technology, you'll have to go out and buy an adaptor before being able to use them. Having said that, the USB-C technology provides optimum speed and performance, and will soon become the new standard, so having multiple ports of this type makes this device fairly future proof. The 8 customizable ExpressKeys on one sidebar allow you to totally personalize your controls. You can treat these as the hot keys on a keyboard, and assign each to a keystroke, action, or shortcut to a program. For instance, a few could be the Control, Shift, and Alt keys, while others could open a new window, take you back to the desktop, or act as your Right Click. You can set these buttons to have different customizations depending on which program you're in as well, so what was the Shift key in Word might be the Brush Size key in Photoshop, for example. There's also a rocker/touch ring in the center of these keys, which has 4 directional buttons and a center home button, all of which are customizable too. The center of the touch ring houses one of my favorite functions, the fingerprint scanner. You can use this as a discrete unlocking option when you turn on the tablet, and it makes me feel like I'm unlocking top-secret material. Sometimes, it's the little things in life that give me joy.
  Lastly, there's a decent 5 MP HD front facing camera, and a nice 8 MP HD back facing camera. The back also houses the Intel RealSense R200 3D scanning camera, for taking 3D images of real world objects in order to transpose them into a 3D modeling software package. This 3D camera only comes on the 512 GB model of the 16" tablet, the 256 GB model does not have it.
Internal Components
The guts of these devices vary by model, of which there are 6 to choose from, but I'm going to focus on what's inside the 16" versions. The highest build of the 2 models, the one I got a chance to use, has a 6th generation, Intel Core i7-6567U processor, with 512 GB of storage, and 16 GB of DDR3 RAM. The NVIDIA Quadro M1000M, with 4 GB of dedicated GDDR5 memory, is a mid-range graphics card, perfectly suitable for resource rich artistic projects, but probably not for any high-end games. Of course, you probably wouldn't be trying to play those on this style of computer anyway. The Mobile Studio Pro runs a full Windows 10 OS, which means you can run any program on this system that you can on your regular desktop PC. It also has wireless 802.11 ac, Bluetooth 4.1, GPS, and an accelerometer. The battery life is okay, depending on display settings, and if you're multi-tasking, or doing draining tasks like video editing. The 7.6 V, Li-polymer battery gives you up to 6 hours of work time, and takes 2 hours to charge from empty. The lower build of the 16" models is still a great system, just with slightly less oomph. It comes with an Intel Core i5 processor, 256 GB of storage, 8 GB of DDR3 RAM, and an NVIDIA Quadro M600M graphics card with 2GB of dedicated GDDR5 memory. All other aspects are the same. If you can afford the extra cost, the higher end model of this size definitely has stronger components, and will remain relevant for more years, but if you want to save a few hundred bucks, the lower build is a perfectly great system too.   It's all a matter of how much power you want out of a tablet PC.
Pro Pen 2
The Wacom Pro Pen 2, by all accounts, is leaps and bounds beyond the previous versions of this pen. In fact, Wacom says it is 4x more accurate and pressure sensitive than their earlier version.   With a massive 8192 levels of pressure, this pen's sensitivity goes beyond even most of the software programs out today. This speaks well for its longevity of use. The pen is also able to register a tilt range of 40º, and has almost no lag or parallax. It's cordless and doesn't require a battery, so it rests lightly freely in your grip. I found the tapered design to be more comfortable to use for longer periods than some regular pen sized styluses I've used before, since the shape naturally minimizes hand cramping. The "eraser" on the back end of the pen also has 8192 pressure levels, and actually works like a digital eraser when in certain programs. There are 2 buttons on the side of the pen, which can be used as the default Right and Left Click buttons, or customized for your own preference. The Pro Pen 2 comes with a telescoping cigar shaped case, which houses 3 replacement nibs and the nib removal tool. As an aesthetic feature, you can change the colored metal ring near the grip of the pen, to personalize your stylus with 1 of 5 shiny colors.  It also comes with a pen rest that hooks into the Kensington security slot, to clip your pen to the side of the tablet.
Specialized Artistic Functionality
You may think the price is a little high for a Windows 10 tablet PC, but keep in mind that the Mobile Studio Pro has been designed with features that specifically benefit professional graphic artists, making it much more than the standard tablet you can pick up for less. Indeed, Wacom has been top of the creative tablet market for many years.   Since this device does sport a full Windows 10 OS, you can load the full versions of any artistic software that you like, including Photoshop, Illustrator, CAD, and many more, with the system specs to support all manner or 2D and 3D projects. For 3D artists, you get the 3D camera on the back of the tablet, to transport real world objects into your rendering software.   The versions with the 3D camera come with the Artec Studio 11 Ultimate 3D scanning software, with a 12-month license included. This system pairs great with packages like Corel Painter, Paintshop Pro X9, and Mosketch, all of which you can find in the Wacom Marketplace, easily navigated to from their desktop menu system. If you're not ready to purchase expensive software, you can get creative right out of the box with the software already included on the system, like Autodesk Sketchbook Express or ArtRage Studio. You can work with so many different digital mediums with one pen and tablet, like drawing, painting, 3D modeling, animation, photo retouching, and video editing, this really is the only device you need for all your digital artistic endeavors.
Accessories
The Mobile Studio Pro comes with the Pro Pen 2, the pen's holder, clip, and nibs, a tiny micro-fiber cleaning cloth, the substantially weighty power adapter and cord, and the most basic Quick Start Guide you've ever seen. You'll definitely want to download the full Users' Manual from Wacom's site. Aside from those items, this device doesn't come with any accessories, but there are several you can purchase. The most helpful would be the Mobile Stand, which can be adjusted to 3 different drawing angles, so you don't always have to use this tablet flat on a surface or on your lap. This is not yet available, but will be sold on their Store when it releases. The Wacom Wireless Keyboard ($49.95) might also be a desired addition, if you don't want to be constantly pulling the on-screen keyboard up and hiding it again. Of course, adding a keyboard will eliminate some of the portability of the device, but it's an option if you want it. You might want to protect your Mobile Studio Pro with the Wacom Soft Case ($29.95 or $39.95), or get a few extra nibs for your pen. If you want to connect your tablet to another Mac or PC, and use it simply as a drawing surface, you can get the Wacom Link ($69.95), which connects through the USB-C ports. For the price of these tablets, I would really like to see at least the stand included, and perhaps even the case, but at least these items are available as add-ons.
Build Options Between 16" and 13" Models
The specs of each model aren't vastly different, but there are some key things to consider when selecting which to buy. We've already spoken about both 16" models up above, so let's touch briefly on the 13" options, of which there are 4. Aside from being smaller, at 13.3" with full body dimensions of 14.4" x 9" x 0.6" and weight of only 3.13 lbs., these more portable models have 6 customizable ExpressKeys instead of the 8 on the larger models. The highest screen resolution on the 13" models is 2560 x 1440, though that's still a very respectable display. The screens actually have a slightly better color accuracy, at 96% of the Adobe RGB spectrum, with a brightness of up to 253.4 cd/m2.   Inside, they all have the Intel Iris 550 graphics card, which is a card often found in mobile devices, either an Intel i5 or i7 processor, with 4 GB, 8 GB, or 16 GB of DDR3 RAM, and a choice between 64 GB, 128 GB, 256 GB, and 512 GB of storage capacity. The highest build of the 13" models comes with the Intel RealSense 3D camera, just like the highest build of the 16". These smaller machines may not pack as much of a punch as their larger siblings, but with their lighter weight and lower cost, they're definitely more convenient and economical to carry around. It all depends on what you want to get out of your device.
To wrap up, whether you choose the Mobile Studio Pro 16, or the 13, you'll be getting one powerhouse of a pen display unit. Though there are some changes I'd like to see to future models, or even just some additions to what comes in the box, if you have the money to spend, I'd definitely recommend any of Wacom's new line. You'll be getting a tablet pc that is fully functional, both for professional artistic endeavors and for more general computer usage. I'd like to thank Dylan J. Hay-Chapman for his input with this review, as it was incredibly helpful to get his professional insight. To get more information on any of these Mobile Studio Pro models or accessories, follow the links within this article, or go directly to Wacom's site to browse at your leisure.