Editors' Choice Book
Monetizing Your Data: A Guide to Turning Data into Profit-Driving Strategies and Solutions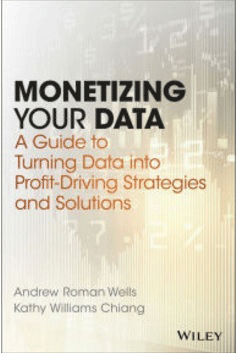 Review by Dr. Terry Kibiloski
Monetizing Your Data: A Guide to Turning Data into Profit-Driving Strategies and Solutions, by Andrew Roman Wells and Kathy Williams Chiang [Wiley, March 2017, ISBN 978-1-119-35624-0] provides a framework and path for business managers to convert ever-increasing volumes of data into revenue generating actions through three disciplines: decision architecture, data science, and guided analytics. As Editor of Computer Times, and a full-time Professor, this book immediately got my attention, received a detailed review, and earned our coveted Editors' Choice award.
In addition to being Editor of Computer Times, I am a full-time Professor in the College of Business Administration at Sullivan University, in Louisville Kentucky, where I spend many hours with our students discussing the explosion of big data, and how it is continuously flowing into organizations at an alarming velocity, volume, and variety.  Why do we call it alarming?  Because big data's velocity, volume, and variety exceed an organization's data storage and computing capacity to effectively use it to develop accurate and timely decision making.  In this fast-paced, 24-hour-a-day global economy, it is essential to the survival of every organization to harness the power of big data to quickly develop profit-driving strategies.  Thus, the need for a book like Monetizing Your Data: A Guide to Turning Data into Profit-Driving Strategies and Solutions.
Authors Andrew Roman Wells, CEO of a management-consulting firm focused on analytics, and Kathy Williams Chiang, an established Business Analytics practitioner, formed an ideal team to write this book on a rather complex topic in a most understandable way.  This book is not a deep dive into analytics; rather it is an overview of the various disciplines and techniques most often used to turn big data into profit driving strategies and solutions.  It is also divided into several logical sections to help you focus on the area best suited to your role in the organization.  A quick view of the chapter titles will give you an idea of the comprehensive nature of this Editors' Choice book.
Analytical cycle: Driving quality decisions
Decision architecture methodology: Closing the gap
Decision analysis: Architecting decisions
Monetization strategy: Making data pay
Monetization guiding principles: Making it solid
Product Profitability Monetization Strategy: A Case Study [fictional furniture company]
Decision theory: Making it rational
Data science: Making it smart
Data development: Making it organized
Guided analytics: Making it relevant
User interface (UI): Making it clear
User experience (UX): Making it work
Agile approach: Getting agile
Enablement: Gaining adoption
Analytical organization: Getting organized
The authors grounded their approach by interviewing and surveying over 75 professionals in the analytical community, in over 40 companies ranging in size from Fortune 500 to companies under $100 million in revenue.  The results alone are worth reading.  One trend that was somewhat surprising was that midsize organizations are surpassing large organizations in competitive advantage with respect to the use of analytics.
If you are a small to midsize organization, that seeks competitive advantage, this book is for you.  As the Preface states, "The purpose of this book is to enable you to build monetization strategies enabled through analytical solutions that help managers and executives navigate through the sea of data to make quality decisions that drive revenue."  It then goes on to explain, "The real power of our method comes from tying together a set of disciplines, methods, tools, and skillsets into a structured process."
In more specific terms, the Preface lists the following benefits:
Turning information assets into revenue-generating strategies
Providing a guided experience for the manager that helps reduce noise and cognitive bias
Making your organization more competitive through analytical solutions centered on monetization strategies linked to your organizational objectives
Turning your analytics into actionable tactics versus simply "reading the news"
Monetizing your data to drive revenue and reduce costs
Organizations are swamped with data, sales data, product data, budget data, forecast data, pricing data, inventory data, marketing spend data, dealer data, salesperson data, weather data, industry trend data, consumer trend data, and so on, collected from web traffic, point of sale systems, enterprise resource planning systems, and more. Turning that data into action is critical to achieve competitive advantage, but only if you understand how to organize it, structure it, and uncover the actionable information hidden within it through decision architecture and guided analytics.
This book, Monetizing Your Data: A Guide to Turning Data into Profit‑Driving Strategies and Solutions, has a companion website at http://monetizingyourdata.com/.  During our review, the home page had several articles to help you better understand analytics.
With Self-Service Analytics, IT Business Intelligence Teams Face Extinction
Marketing Mix Modeling – Avoiding Common Pitfalls
Digital Marketing Analytics
Five Key Components to Monetize Your Data
The companion website also has templates, checklists, and examples to help you apply the methodologies in your own organization.  This well-written book, Monetizing Your Data: A Guide to Turning Data into Profit‑Driving Strategies and Solutions, and the very useful companion website, earned the authors the coveted Computer Times Editors' Choice award.