Editors' Choice Games
April 2019
Square Panda
Review by Angie Kibiloski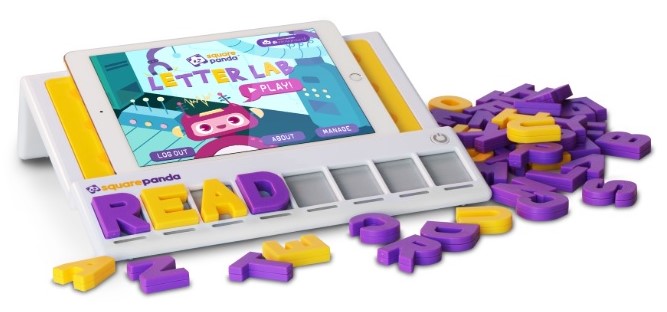 Whenever I get to review an actual toy, and not just a video game, I get super excited to pretend to be a kid again.  Recently, I got to do just that, will the Square Panda word-building playset.  Square Panda is an educational learn-to-read playset, for kids ages 2-8, which includes a tablet-connected letter board, 45 sensor-enabled plastic letters, and 11 fun and diverse reading games.  It's like the tech version of playing with magnetic letters on the fridge door.  I loved doing that as a kid, and I loved playing with Square Panda as an adult.  Fortunately, the 2 young kiddos I enlisted to help me review this product loved playing with it too, and have given it very high praise.  Settle in, because we have a lot of ground to cover with this one.
The body of the letter board is made of sturdy white plastic, and has a comfortable tilt to make tabletop playtime ergonomic and easy.  It comes with a stand for your tablet too, to prop that up at a nice viewing angle behind the letters.  Each letter is either purple or yellow, depending on if it's a consonant or vowel.  This makes it even easier for kids to learn the difference between them, and to locate a letter amongst the pile.  All of these components are smooth-surfaced and easy to wipe off for cleaning.  I found it fun to put all the letters neatly back in the box they came in when I was finished playing, but I was that sort of kid too.  If your child isn't as weirdly organized as I was, the playset comes with a nice purple, drawstring bag to carry and store the letters in.  Grayson, age 5, loved the little bag, and being able to carry his letters around with him.  The device paired easily with my tablet via Bluetooth, and seems to be compatible with most models and brands.  There's only one thing I'd change about this device, and that's the batteries.  It requires 4 AA batteries, so it will continue to cost money to replace them over the years.  I would've preferred it to be USB rechargeable, like most other modern electronics.  However, the initial set of batteries have lasted through multiple weekends of playtime, so changing them may not be a frequent necessity.
The letterboard playset is only the physical bridge through which we access the content, so now that we've talked about that, let's get into the Square Panda online control platform, and the 11 awesome games.  The Parent Portal, accessible through all of the apps as well as directly through a browser, is where parents can go to adjust the difficulty level, minor content controls, and track their child's progress.  For instance, you can ban the games from presenting any words you disapprove of, like body parts or slightly naughty words, like fart.  You can even upload your own special words, names, and photos to associate with family, friends, or pets, to make your child's experience more personal.  This is also where kids can see all of the Badges they've earned in each game.  These Badges are awarded for a variety of actions, like making a certain number of 5 letter words, or spelling your name in a game for the 1st time.  You can have up to 3 separate player accounts, so you can monitor each child's learning individually.  The portal tracks your kid's skill level, individual challenges, playing preferences, and more, so it can adapt to fit each child's style of learning across all games.  All of this is always free, no subscription required.
As for the games themselves, which can all be downloaded for either iOS or Android, each one uses a slightly different format to introduce your kids to the world of phonics, and give them plenty of practice recognizing and using letters to form words, both simple and complex.  The majority of neurological connections for language develop before the age of 7, so getting a good foundation early on is important.  Kids learn more readily, and retain information more easily, if they're engaged with the subject matter in a multisensory way, and having fun while doing it.  These games present vocabulary, rhyming, spelling, and a lot more, alongside bright colors, crazy sounds, cute animated animals, and a whole lot of play.  In all of the games, you'll be inputting letters into the tablet by physically placing them into the slots on the letter board, not by directly interacting with the touchscreen, though some games do have additional touchscreen features.  By having the tactile association with the letters as well as the visual, and also making your child take more time with the physical activity than just touching the screen would require, it allows your child to be more focused on what they're learning.
Now let's have some real fun and get into each individual game.  Lagoon features one of my favorite animals, a chameleon, who sits on a log in the middle of a serene pond, waiting patiently to eat the words you create.  The silly little lizard will sound out each letter that appears in the air above his lagoon, then say the completed word before sucking it into his mouth for a snack.  You can either choose to create your own word, or hunt for letters hidden in the environment, and place the corresponding plastic letters on the letterboard.  After the chameleon has munched on the completed word, you'll be given an image of what the word represents, like a photo of a cuddly panda if you spelled PANDA.
Bowling is an awesome game, where you reveal the next letter in each word by knocking over sentient rocks, called Roc-Roks, all clustered together like bowling pins would be.  Don't worry, your digital coconut won't hurt the little boulders, and they'll be stood up again, ready to play some more for the next word.  When each letter is revealed, you have to find that letter in the real world, and place it in the next slot on the playset.  The spot you need to fit a letter into will always have a blue LED lit up to show your kid the way.  You also see a photo of what you spelled.  You won't be able to bowl again until the physical letter is placed, and you'll have to remove all letters from the board before the next word is accessible.  This was Grayson's #1 favorite game.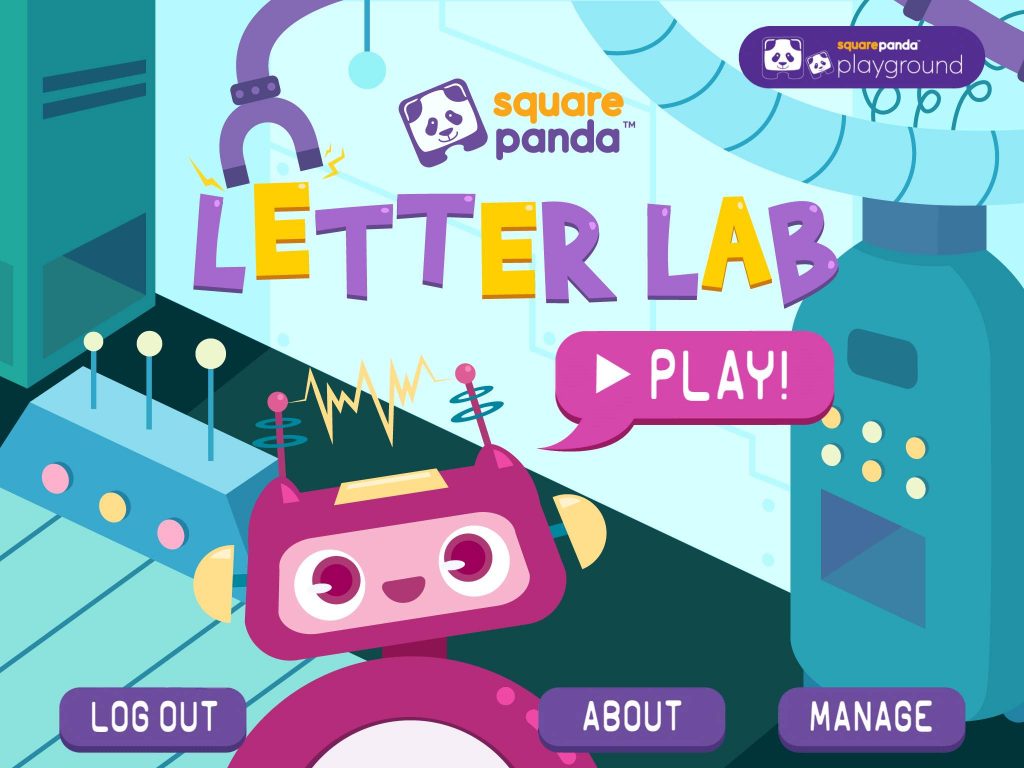 Letter Lab is a game for kids on the younger end of the age range, I'd say, who really need repetitive focus on learning what each letter looks and sounds like, more than creating and reading full words.  The helpful lab robot will ask for a certain letter to be placed on the playset, but that's not the end of the activity.  You'll need to get through several steps on the touchscreen afterwards, to change the color of the letter, make it lowercase or uppercase, associate it with an animal or object that starts with the letter, and more, before it's finally moved into the word and you can go to the next letter.  After each step in the lab, you'll hear the robot sound out the letter, and say its name.  For older children, this would be too basic of a curriculum, but for the toddlers, this is exactly what they need.  Having said this, Skylar, age 8, said she really enjoyed being creative and customizing the letters in so many ways.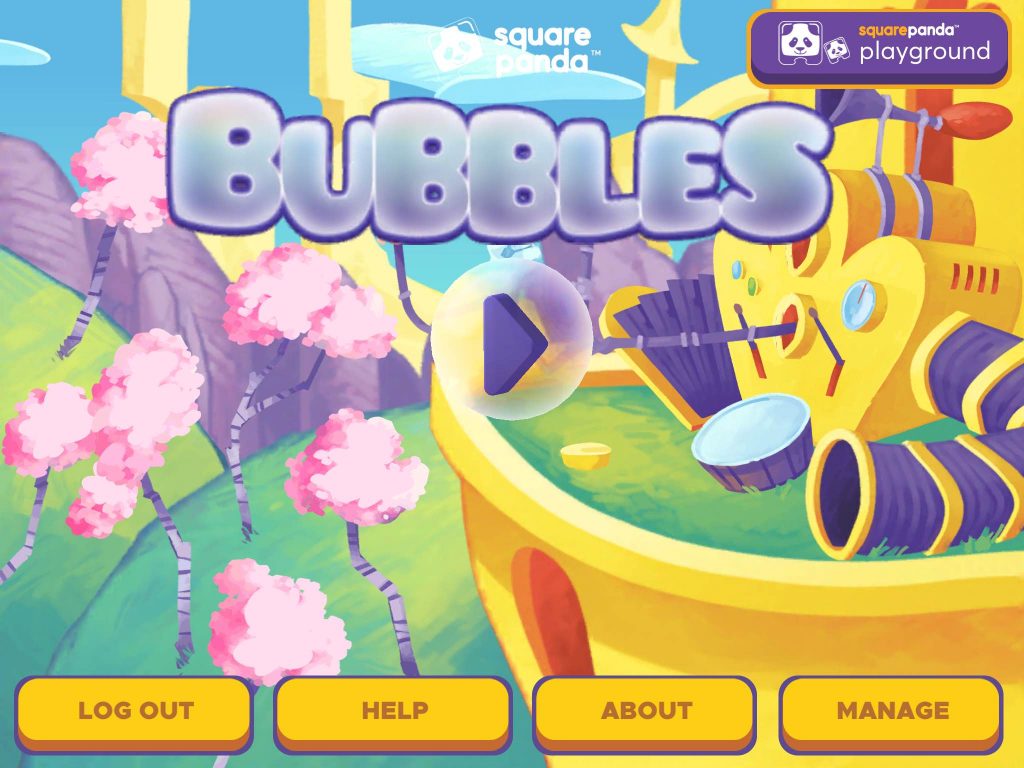 Bubbles was actually fairly therapeutic and relaxing!  As you place letters in the playset and form words, you'll get to pop bubbles that come out of the funny, Seuss-like contraption, hearing the letter's name or sound with each bubble popped.  You can do this for individual letters, or full words.  The more letters in a word, the more bubbles will come out at a time.  There's no time limit, so you can pop the bubbles as fast or as slowly as you like.  After all the bubbles are popped, you'll get a celebratory fanfare along with a picture of the item you spelled.
Space Cows may be my #1 favorite game, though it's only Grayson's #2 favorite.  It's very cute, requires some multi-tasking, and is just really funny!  Aliens are hovering over your dairy farm, and the unsuspecting cows are milling (and mooing) about below their space ships.  The aliens will ask for a letter they'd like to take home with them.  Once you put that letter on the playset, it'll materialize over one of the cows, which the aliens will suck up in their tractor beam.  The challenge isn't over, though, because you'll need to move the space ship to maneuver the cow around meteorites hanging in the air.  You'll also have to fend off birds by tapping them, before they run into the beam and cause the cow to drop back to the ground.  Get all of the cows into alien crafts to finish a round.  It's a bit frustrating if those pesky birds make you drop a few cows, but the round isn't timed, so there's no stress to abduct the cows quickly.
This next one I really loved!  Jiggity Jamble doesn't just teach your kids to read, it gets them up and moving around at the same time.  Most tablet games don't allow your child to get exercise while playing, so the fact that this one combines screen time with physical activity is a real bonus.  It features an adorable bear, fox, and skunk, who all sing the Jiggity Jamble song together.  With each letter they ask your child to place on the playset, they'll sing a new verse of the song.  Every verse encourages your kid to get up and dance, using their body to form the letters, like spreading their arms out wide to the sides like the T, T, T, or bending them over their heads like the O, O, O.  I gotta say, it's pretty fun!  Skylar loved this game too, and thought it was really funny that the animals sing to you.
Monster Rhymes gets your kids into the creative storytelling process with some very silly monsters making some VERY silly rhyming songs.  The 1st letter is given to the kids by the monsters, who sing the 1st half of the story song using a word that starts with that letter.  Then, your child gets to choose from 3 rhyming words to finish the 2nd half of the song.  One rhyme makes tons more sense than the other 2, but they're all kinda wacky.  Finally, the monsters will sing the full song, accompanied by flashing lights, and a disco ball of all things.
Farming is another one of my favorites, because it's really cute, and also because it gives you more to do that just place letters on the playset.  By forming words on the board, you'll help Old MilkDonald plant rows of vegetables in his garden.  When the vegetables have grown, you'll have to touch the screen to harvest them, before the bunnies, racoons, or gophers come and eat them.  You get points for every vegetable you harvest, but sometimes it's worth missing some points to watch the sweet little animals have a snack.  Grayson thought this game was too easy, which surprised me, since it requires a certain amount of multi-tasking.
Fishing is super fun too, and is Grayson's #3 favorite game.  You're in charge of the fishing pole as your polar bear friend holds it over a snow-covered shoreline.  Just swipe up on the touchscreen and see what you can catch.  You'll mostly reel in letters, which you'll then need to place on the letter board, before tracing the letters on the tablet screen.  This not only helps your kids to recognize the letters, but learn how to form them too.  Sometimes, you'll pull in some trash, like an old shoe or a tin can, and other time you'll catch some special treasure.  This treasure will be collected in your igloo treasure trove, along with all the letters you've discovered, to view whenever you want.  It's pretty cool to watch your collection grow!
Letter Lullaby is another singing game, with your child in charge of the song.  They get to choose what word to place on the letter board, and then a cute little panda bear will march along a chalkboard ledge singing verses that go with each letter.  Each letter verse highlights 3 different words that start with that letter, and repeats a couple times.  This game is really fun when you spell out your own name, to see which fun verses get strung together to form your personalized song.  The artwork on the chalkboard looks like colored pencil doodles, and really makes the drawings seem special.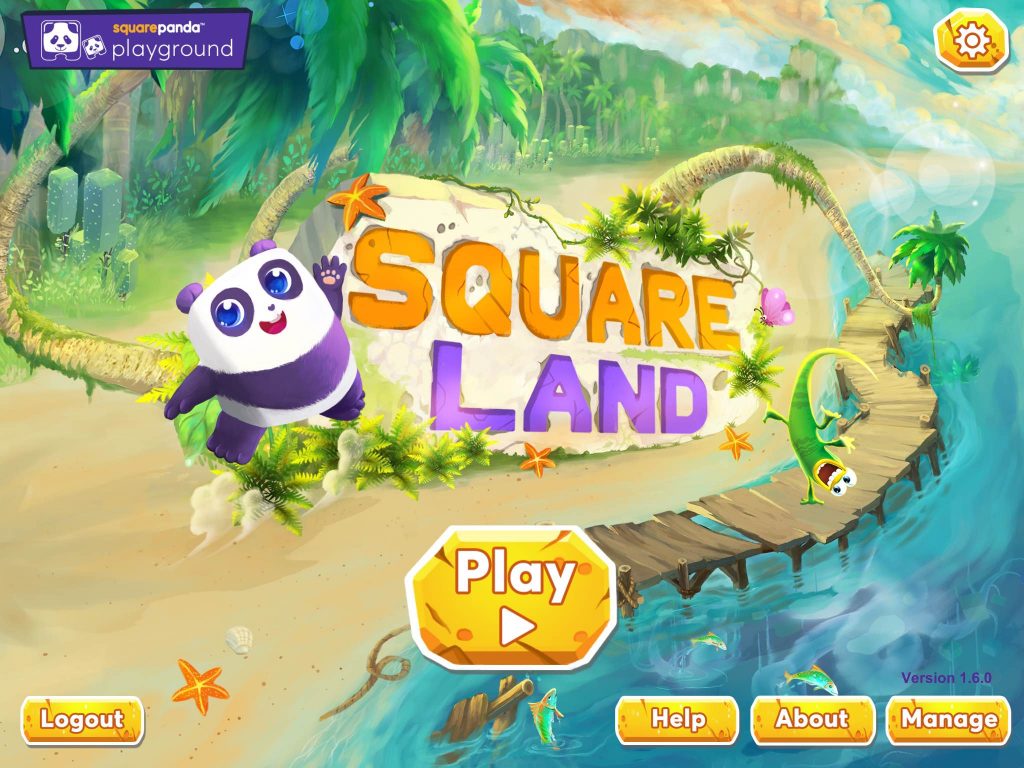 The final game app is SquareLand, which is a lot different than the other 10 games.  Instead of being purely a learning-to-read game, this one is more like an open sandbox world to explore.  You'll roam around the environment as Square Panda himself, making animal friends along the way.  These friends will help you discover all the fun activities around SquareLand.  I actually found this to be the most boring game, mainly because it's very slow paced.  The other apps get you in the action right away, finding letters, making words, and having fun.  This one is less about learning words and more about a leisurely stroll around the colorful island.  It's the only app I'd say to skip if you're running low on hard drive space.  It's not bad, just not terribly exciting.  Maybe it gets more into a phonics curriculum later in the game, but I played for 10 minutes and only came across one reading mini-game.
I'm coming to realize that, even as an adult, I really enjoyed most of these games, so I'm sure most kids are gonna love them all too!  The parents of Grayson and Skylar thought the playset and games were a great product, and would really help their 5-year-old get a solid phonics foundation before he starts Kindergarten.  They also appreciated the control over customizing the game content in the Parent Portal.  If you have any kids between the ages of 2 and 8, the Square Panda phonics playset and collection of games can increase their speed of learning, retention of the material, as well as simply making the learning experience more fun.  The playset we looked at was the Home Edition ($49.50), but there is also the Classroom Playset ($69.95), designed specially for a multi-child classroom setting, with additional teacher functions in the enhanced Teacher Portal, like personalized learning for each student, classroom management, and implementation training for the educator.  This version of the product does require a subscription, whereas the Home Edition we've talked about above does not.  To learn even more about this product, or the company in general, head on over to https://squarepanda.com.  If you want to check out some of the 11 game apps before you buy the playset, just hop on your tablet and search for Square Panda in either the Apple App Store, or Google Play.  At this time, the apps and playset are only compatible with tablets, and not phones, so make sure you're searching the app stores through your tablet, or you may not get any results.
Thank you to Grayson and Skylar for helping me with this review!!!