myCharge Adventure Series

Editors' Choice Accessories
March 2019
myCharge Adventure Series
Review by Angie Kibiloski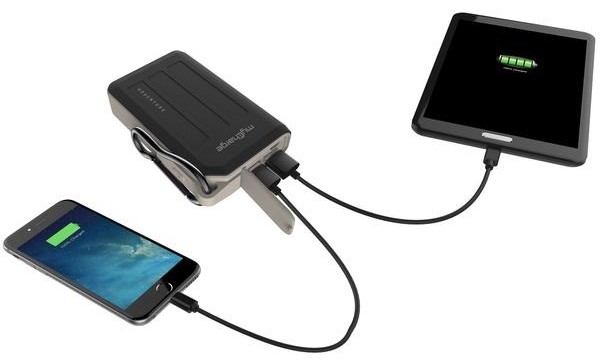 myCharge has been bringing top-quality mobile power solutions to the market for a long time, and every year I'm excited to see what they've added to their portfolio.  Today, I'd like you to say hello to the Adventure Series, a collection of rugged, durable power banks that can stand up to extreme conditions, like drops, dirt, and water splashes.  Each device has a tough exterior to protect it from damage, a carabiner clip for easy travel, and varying levels of power capacity to fit all of your adventure needs.  Take one camping, mountain climbing, and even out boating, so you can power your phones, cameras, and other electronic essentials anywhere in the world.
All of the Adventure Series models feature the same insulated, rugged casing, which safeguards the battery inside from extreme temperatures, which can cause degradation and loss of power.  The surface is matte finished, so it won't easily slip out of your hands.  Even if you were to fumble it, this tough case can withstand a drop of up to 3 meters.  The rubberized flip-top charging port cover is dust-proof and water-resistant when closed, to ensure your connection points remain clean, ready to use, and in full working order.  The battery check button is beneath this same rubberize surface, and will illuminate up to 4 small LEDs when pressed, to show you how much stored power you have left.  Each model provides ultra-fast charging, powering up your devices in 65% less time that their competitors, and recharges its own lithium-ion power supply at 50% faster.  If you're in a hurry and need to charge both your device and the power bank, you can do this simultaneously.  Your Adventure Series device will retain its charge for up to 1 year, so you can store it at the end of your outdoor vacation without it being drained when you're ready to hit the road again.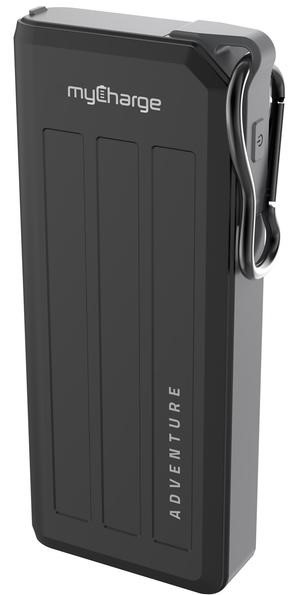 Each of the models in the current line have slightly different dimensions and power capacities, making it easy to find the model that suits your individual needs.  The Adventure Max ($49.99) is the mid-range model I got for myself, and it's just about perfect for my uses.  It has 2 built-in USB ports, so I can charge my camera and phone at the same time, and a 10500 mAh capacity, for up to 6x extra charges.  For such a huge capacity, the Max is relatively light-weight, at only .55 lbs., and fits easily in my hand at just 4.4 in. x 2.9 in. x 1.0 in.  In addition to the Max, the Adventure line also includes the Mega ($79.99), the Mega C ($89.99), the Plus ($39.99), the Mini ($29.99), and the Ultra ($129.99), with the H2O (no price yet) coming soon.  The Mega has a capacity of 20100 mAh, for up to a 10x charge, with 2 USB A ports.  It's 7.0 in. x 3.0 in. x 1.0 in., and 1.04 lbs.  It's kinda big and heavy, but it packs a lot of power.  The Mega C is the same as the Mega, but with 1 USB A port, and 1 USB C port.  The Plus is a smaller device, at only 4.4 in. x 2.6 in. x 1.0 in., and .43 lbs., with 2 USB ports.  It has a 6700 mAh capacity, for up to a 4x charge.  The Mini is the tiniest device, with just 2x extra charges in its 3350 mAh capacity.  This 4.4 in. x 1.9 in. x 1.0 in., and .20 lbs. model, with a single 1.0A USB port, is ideal for those adventurers who still want a durable device, but might only be off the grid for a little while.  Compact and light-weight, you could throw the Mini in your purse and barely know it's there.  The upcoming H2O will be completely waterproof, with an IP67 rating, meaning it can be submerged in a meter of water for up to 30 minutes.  It will have 3 sizes, the Max, Plus, and Mini, which will reflect similar dimensions and capacities as the existing device of those names.  Finally, the Adventure Ultra is a slightly different, but no less durable power bank, designed to sit at your basecamp in lieu of a small generator, instead of being clipped to your backpack.  The body of this model houses 2 USB A ports, 1 USB C port, and a 45W AC Output, with a 13400 mAh capacity, for up to an 8x charge.  Use this model to power your regular electronics as well as a small TV, a drone, a portable fan or heater, laptops, and more.
Each of these Adventure Series models from myCharge will provide you with enough power to charge your devices while you explore the world, from your backyard to the top of a mountain, in heat or cold, in wind or rain.  Whether you sit them on your picnic table or use the handy carabiner to take them roaming with you, these durable little sidekicks can stand up to a lot of tough love, so you'll never have to worry if they take a few hard knocks.  There are so many models to choose from, if you take a look at the Adventure Series site, you're sure to find one that will perfectly fit your unique, adventurous lifestyle.