Editors' Choice Smart Home
February 2021
LUFT Duo Air Purifier
Review by Angie Kibiloski
The ability to breathe clean air is a very important part of living a healthy life, but sometimes that can be difficult, depending on where you live, or your indoor environment.  Whether you encounter dust, pollen, smoke, or other particulates, you might struggle with respiratory irritation or ailments because of it.  Air purifiers have been on the market for years, but are often expensive, and can take up a lot of space if they are to be considered effective.  The LUFT Duo ($199) from LUFTQI, is an affordable, personal-sized, portable air purifier, that can sit on your desk, or travel with you, surrounding you with a bubble of clean air wherever you go.  Quiet, powerful, cute, and even environmentally friendly, this is a great little product to add to your healthy household.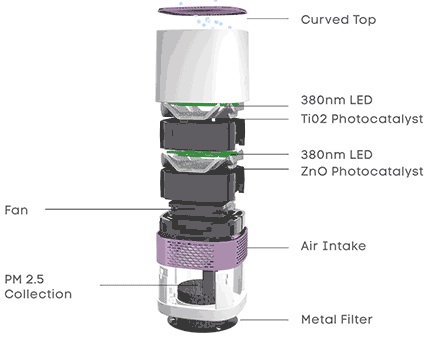 The LUFT Duo hit the US market at CES 2021, after being fully, and quickly crowd-funded on Indiegogo.  It's the 3rd model in LUFTQI's line of air purifiers, and improves on those earlier designs.  Instead of using disposable filters that need to be replaced, it has a metal mesh filter to trap dust, that can be easily washed when it becomes full.  That's only the 1st step in the filtration process, though.  As the internal fan draws air into the 360° vents, and up through the body of the device, it uses UVA LED and Solid-State Photocatalytic Purification, to zap pollutants down into their harmless molecular parts.  It can successfully destroy dust, pollen, mold, VOCs, and pathogens, down to a PM2.5 size.  It's better than a HEPA filter, because it can eliminate more pollutants, including those which are too small for a HEPA to trap.  After travelling through all the purification layers, clean air comes out the top vent, which can be open to the general area, or angled in your specific direction with the vent cap attachment.  This model is twice as powerful as the previous one, able to purify an air space of 240 sq. ft. in around 2.5 hours, with a 62% increase in efficiency.
Due to not having a disposable filter, the LUFT Duo is better for the environment, by not contributing to the landfill.  It also creates no ozone during operation, and requires very little power to function, averaging a cost of $2 per year to run.  It's powered via USB, and can run off a portable power bank, as well as from an outlet or computer port, making it perfect for traveling.  The fan is very quiet, even at its highest speed level, of which there are 3.  This is half as loud as their previous model, with Level 1 emitting only 19 decibels of sound, which is considered Night Mode.  This mode also has the dimmest light emitted from the top of the device, at just 0.2 lumens, allowing you to have it right next to your bed without interrupting your sleep cycle.  It's quite small, at only 77 x 77 x 98mm, and weighing only 250g, so it's super convenient to carry with you in the car, especially with the optional, expandable cup holder attachment, and adorable travel bag.  For at-home use, it discretely sits at the corner of your desk, taking up very little space.
The LUFT Duo would be a great addition to any home, to make your air that little bit healthier to breathe.  By eliminating mold, bacteria, fungi, and other pathogens, it would be very beneficial for allergy or asthma sufferers.  It has been recognized this year with the Taiwan Excellence 2021 Award, which the company won last year as well, alongside their CES 2020 Innovation Award.  It's already widely available for purchase in Taiwan, South Korean, and Japan, and can be bought in the US and UK through its Indiegogo page.  You'll get the device itself, the vent cap, collapsible cup holder, and power cable.  You can choose between 8 attractive colors, and add on a matching travel bag during checkout for just $10 as well.  You can even get that travel bag for free, if you share the Indiegogo link to your social media, and send a screenshot to LUFTQI, which is a pretty great deal.   For a limited time, you can get it all at a discount too, for just $149, so definitely check out that campaign page soon.  You can find out more about the technical specs inside the device, and see more photos and videos, on the LUFTQI site, as well as their Indiegogo page.  Purchase your LUFT Duo on the Indiegogo page through June, and its Amazon page after that.