M1+ Projector from View Sonic

Editors' Choice Multimedia
December 2020
M1+ Projector from View Sonic
Review by Angie Kibiloski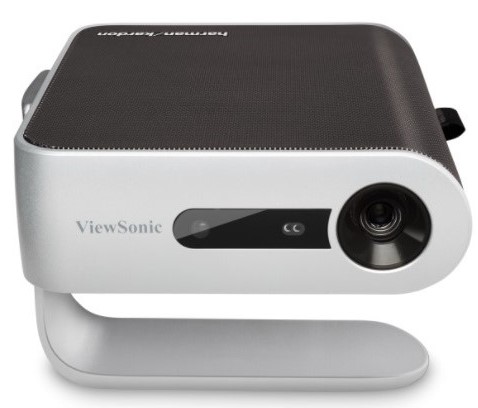 So, you were gifted some money for the holidays, but what to do with it?  How about ringing in the New Year with a cool new device, like the M1+ ($314.99) portable projector from View Sonic?  With this device, you don't always have to be tied to your TV or computer screen to enjoy your entertainment content.  This light-weight, high-quality, convenient LED projector will allow you to take your media anywhere, and watch it on a wall, a projection screen, or even the ceiling.  With several options to connect your content, including microSD, HDMI, and streaming, you'll be able to enjoy both your own videos and photos, as well as movies and TV.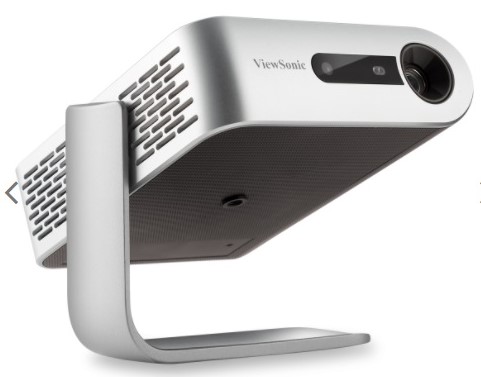 The M1+ is super portable, weighing less than 2 lbs., and has a compact design, featuring a rotating stand that doubles as a lens cover when it's folded flush against the projector body.  When you rotate it out to become the stand, the lens turns itself on, and when you fold it back down, the device turns off.  It will also automatically turn off if it detects something too close to the lens, protecting curious little eyes that come to investigate the light source.  The device can rest at any angle in the stand, making it great for projecting onto any surface.  If the surface is at an angle to the lens, the Automatic Keystone function will square up the image, and make it look like it's projecting from straight on.  This is a great feature, saving you from fiddling with the angle and height of the device each time you move it.  The short throw lens also helps with placement, allowing you to view a large image even in a small space.  With up to 6 hours of battery life, you don't need to be anywhere near a plug, so you can even enjoy your content outside.  The image quality is great, bright and crisp, with a manual focus adjustment dial, and brightness settings.  The solid-state LED provides around 30,000 hours of usage over its life, and consumes half the power of a standard LCD TV.  The sound is great too, from the 2 Harman Kardon speakers on-board.  They provide surprisingly bold sound from such a small unit.  They can also be used as Bluetooth speakers, to listen to other audio not being viewed through the projector.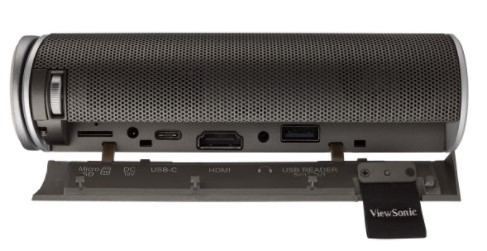 In addition to loading content on the device through microSD, HDMI, and USB-A and C, the M1+ is equipped with Wi-Fi, so you can access content from YouTube, Netflix, Tubi, and a few more, as well as Screen-Mirroring and casting functions.  For content you own, you can store up to 4,000 songs, or 4 hours of movies on the 16GB internal storage.  I personally tested my own content using a microSD card, and got great results, just like if I was watching on my laptop.  To test the casting function, I went through my Chrome browser on both my laptop and phone, using several of my streaming services.  The performance for all of them was smooth, with no lag or skipping, and it was very easy to cast with a single tap or click of the mouse.  The only feature that falls a little short is the on-board app store, for streaming without connecting to another device.  The app store that's compatible with the M1+ is Aptoide, which has a small, random selection of apps.  They have Netflix and Tubi, and several others I'd never heard of, with Smart YouTube TV instead of the regular YouTube app.  I would have preferred to have access to Google Play, because the newest versions of some of the apps were not available through Aptoide.  For the most part, though, since the casting function works great, I can excuse the on-board app store being a little disappointing, since I can simply cast the same content from my phone or computer.
All things considered, I'd say the M1+ is a great little projector for enjoying content you either own or can cast, in any room of the house, on any surface.  I especially loved being able to lay in bed and binge watch my favorite shows on my ceiling, or have a little slideshow of past vacation photos, and dream of being able to explore the world again.  I'd definitely recommend this projector, as long as you aren't looking for a device that acts as a smart TV, and accept that your best streaming option might be casting that content from another device, and not necessarily the on-board apps.  If you want to see all the specs, read more about the features, or go ahead and purchase one, you can find it on the View Sonic site here.