M1+ Projector from View Sonic

Editors' Choice Multimedia
December 2020
M1+ Projector from View Sonic
Review by Angie Kibiloski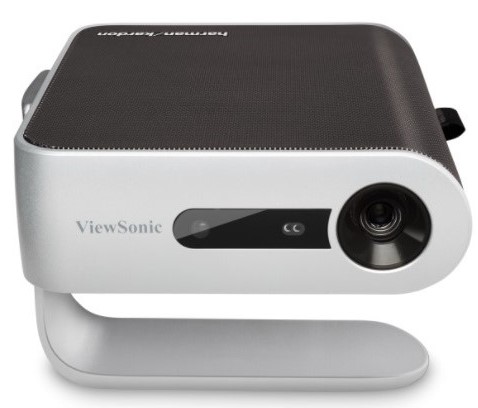 So, you were gifted some money for the holidays, but what to do with it?  How about ringing in the New Year with a cool new device, like the M1+ ($314.99) portable projector from View Sonic?  With this device, you don't always have to be tied to your TV or computer screen to enjoy your entertainment content.  This light-weight, high-quality, convenient LED projector will allow you to take your media anywhere, and watch it on a wall, a projection screen, or even the ceiling.  With several options to connect your content, including microSD, HDMI, and streaming, you'll be able to enjoy both your own videos and photos, as well as movies and TV.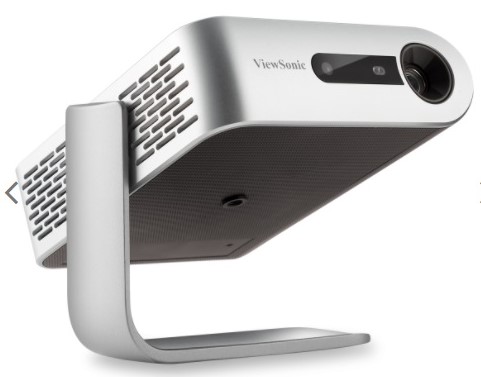 The M1+ is super portable, weighing less than 2 lbs., and has a compact design, featuring a rotating stand that doubles as a lens cover when it's folded flush against the projector body.  When you rotate it out to become the stand, the lens turns itself on, and when you fold it back down, the device turns off.  It will also automatically turn off if it detects something too close to the lens, protecting curious little eyes that come to investigate the light source.  The device can rest at any angle in the stand, making it great for projecting onto any surface.  If the surface is at an angle to the lens, the Automatic Keystone function will square up the image, and make it look like it's projecting from straight on.  This is a great feature, saving you from fiddling with the angle and height of the device each time you move it.  The short throw lens also helps with placement, allowing you to view a large image even in a small space.  With up to 6 hours of battery life, you don't need to be anywhere near a plug, so you can even enjoy your content outside.  The image quality is great, bright and crisp, with a manual focus adjustment dial, and brightness settings.  The solid-state LED provides around 30,000 hours of usage over its life, and consumes half the power of a standard LCD TV.  The sound is great too, from the 2 Harman Kardon speakers on-board.  They provide surprisingly bold sound from such a small unit.  They can also be used as Bluetooth speakers, to listen to other audio not being viewed through the projector.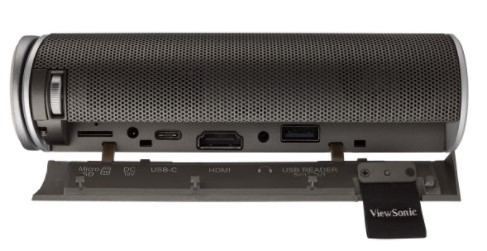 In addition to loading content on the device through microSD, HDMI, and USB-A and C, the M1+ is equipped with Wi-Fi, so you can access content from YouTube, Netflix, Tubi, and more, as well as Screen-Mirroring and casting functions.  For content you own, you can store up to 4,000 songs, or 4 hours of movies on the 16GB internal storage.  I did find that this device was much better suited for viewing content you can load on there yourself, or through the HDMI cable, and fell behind the curve on streaming and casting.  When casting, the content tended to lag, and when streaming, the options were a bit limited.  The app store that is compatible with the M1+ is called Apptoid, and only has a handful of usable apps, like Netflix.  Netflix seemed to function fine, but some other content apps, like Tubi, only offered a handful of movies and shows with the app version that is available.  They needed the newest version to unlock all their content, which was unfortunately not available for download through Apptoid.  This rendered the streaming feature semi-useless.  I would have almost preferred not to have these options on this model, and wait for them to perfect it on a future build.  For playing my own content, however, by transferring it to the projector through microSD, this device excelled.
All things considered, I'd say the M1+ is a great little projector for enjoying content you own, in any room of the house, on any surface.  I especially loved being able to lay in bed and watch my digitally downloaded movies on my ceiling, or have a little slideshow of past vacations, and dream of being able to explore the world again.  For those purposes, I'd recommend this projector, but if you're looking for a device that is also a smart TV substitute, and your focus is on streaming content, just be aware that you might be a little disappointed with its limitations in that regard.  If you want to see all the specs, read more about the features, or go ahead and purchase one, you can find it on the View Sonic site here.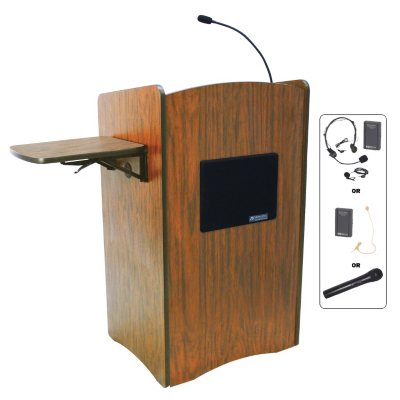 Amplivox 50W Wireless Multimedia Full Height Computer Lectern, Select Color