Editors' Choice Games
August 2018
Tiny Hands Adventure
Review by Angie Kibiloski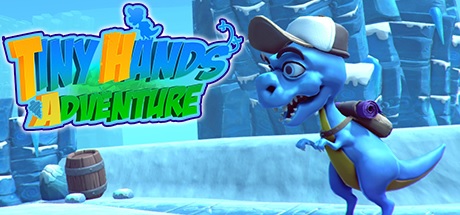 Tiny Hands Adventure is a really cute new 3D platformer style game, released earlier this month by Funware and Blue Sunset Games.  You'll play as the adorable little blue T-Rex, Borti, as he runs, jumps, slides, rolls, and battles his way through lanscapes filled with all sorts of obstacles.  His greatest goal in life is to find a way to enhance his short T-Rex arms, so he can do more of the things he loves, like playing sports with his friends.  Luckily, he meets a beautiful enchantress who can help him achieve his dreams, if he can just beat all of the challenges that are set before him.  As he succeeds, he'll earn cool devices to make his little T-Rex arms longer and more useful, including basic sticks, power tools, and an awesome set of mechanical arms.  In his quest to achieve long-armed greatness, he'll need your help to collect food, defeat enemies, and try not to fall off the sides of the various trecherous paths he must traverse.
I haven't played a 3D platformer in years, so I was a bit rusty when I first started playing this one, and found that it got difficult fairly quickly.  I admit, I was a bit frustrated when my Borti kept dying.  However, a little bit of practice was able to take me from absolutely hopeless to being good enough to continue enjoying the game for several hours.  It'll probably be a lot easier for a more regular player of this genre, and I think the difficulty level is appropriate for the length of the game.  The graphics in the game are fun and colorful, the music is standard cartoon platformer fare, and the game mechanics are simple key strokes.  I do wish there was a customization option for which keys control which actions, as I like to use both hands, and it was a bit of a squish the way they have it programmed.  It wasn't too big of an issue though, and easy enough to get used to.  Perhaps they'll add that feature in a future update.
If you like this style of game, especially the old-school classics from SEGA and NES, then I think you'll feel right at home with Tiny Hands Adventure, and quickly fall in love with Borti.  There are 20 exciting levels, of varying degrees of difficulty, with physical obstacles as well as monsters to fight, both of the common and boss varieties.  After finishing a level, you can replay it for added enjoyment, to see if you can collect all of the special items hidden throughout the maze of paths and platforms.  For this reason, and the fact that since Borti can die very easily, and from many causes in each level, there are quite a few hours of game play available to gamers of all platforming talent levels.  If you're easily frustrated, and often threw your controlled at the screen back in the days of Sonic and Mario, then maybe give this a miss, but if you like a challenge, wrapped in the form of a sweet dinosaur, give this title a try.  Tiny Hands Adventure is available on Steam and Switch, and goes for $16.99 on both.  You can also find a bit more information at http://tinyhandsadventure.com.
Minimum System Requirements:
OS: Windows 7
Processor: 2.2 GHz dual-core
RAM: 2 GB
Graphics Card: Dedicated GPU
Hard Drive Space: 2500 MB