Editors' Choice Accessories
May 2021
Logitech MX Keys
Review by Dr. Terry Kibiloski

With many of us working at home during the past few months, it has become necessary to get creative with our computing spaces, many times to accommodate working with multiple devices, possibly your personal laptop, tablet, and your business laptop. Ideally, if we could, we would like to use a single monitor and keyboard to control all three. If this sounds familiar, then the Logitech MX Keys keyboard (Retail $99.99) is exactly what you need. The Logitech MX Keys keyboard lets you pair your keyboard with up to three devices and switch between them with the press of an Easy-Switch™ button. In the top row of keys in the arrow key panel, just above Insert / Home / Page Up, you will find the following three keys:

These keys control which of up to three devices you wish to have your Logitech MX Keys keyboard connected with. To initially set up MX Keys to your devices, you can use the USB Unifying receiver, or Bluetooth connection. If you have multiple external monitors, you can also use the Function key, plus the third key in the group of four, just above the number pad (see below) to rearrange your monitor displays as you wish.

The other three keys in this set are a quick calculator display (left key), a screen shot capture (second key), and a computer lockout (fourth key), that requires you to enter your start-up screen password before working again. When first setting up this keyboard, you might find all the special keys a bit confusing, but will soon realize their time saving advantages. Personally, I love the calculator display key, since I need to quickly add up sets of numbers many times during the day. At the far left of the top row of keys, you will find the following three useful controls.

The left key in this set of three (F3) instantly displays all of your windows (see below). The middle key (F4) slides in a useful Support Assist panel from the right of your screen, with some useful shortcuts like turning on/off Location, Battery Saver, Bluetooth, and Night Light. The right key (F5) instantly toggles between your current windows and your Desktop icons, to help you quickly hide your active screens from prying eyes.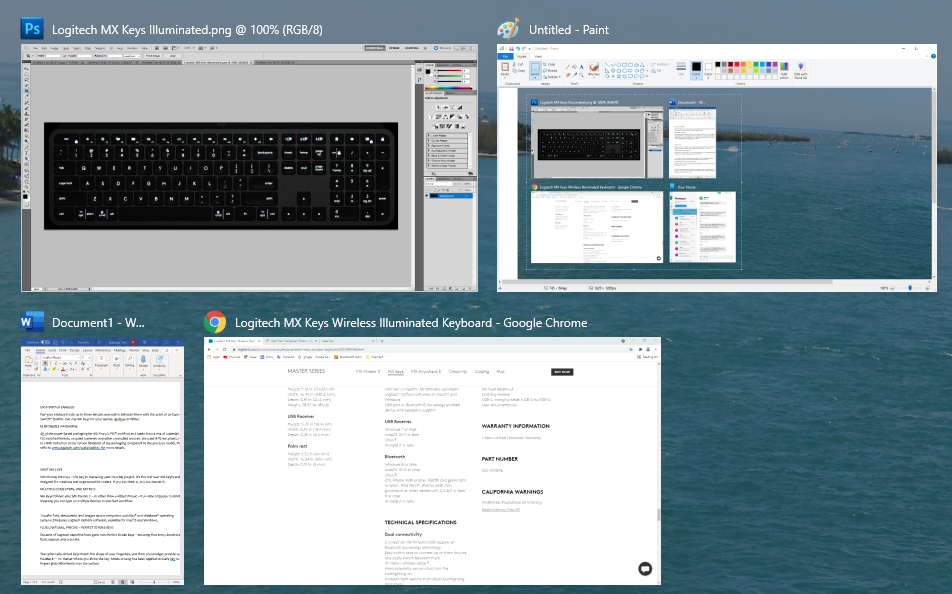 While there are many more useful shortcut keys, all of which can be customized, the last set I would like to point out are the video / audio keys. When watching videos, it is so easy to press the F9 key to start and stop what you are viewing. If you are watching a movie, or some other video that allows fast forward / back, the F8 and F10 keys are very useful. Finally, the three keys to the right are short cut keys for Mute, Decrease, and Increase volume.

As you can see, there are a lot of cool features built into this Logitech MX Keys keyboard. But, wait, there's much more. The keyboard uses smart illumination. Proximity sensors detect your hands, illuminating the keyboard the moment your fingers approach. The backlit keys then fade off when you leave your desk, to save power. Backlighting intensity automatically adapts to lighting conditions, or can be set manually.

You will also find that this keyboard delivers the best typing experience ever. It is fluid, natural, and precise, providing perfect key strokes. Decades of Logitech expertise have gone into Perfect Stroke keys, ensuring that every keystroke is fluid, natural, and accurate. The spherically dished keys match the shape of your fingertips, and their round edges provide satisfying feedback, no matter where you strike the key. Matte coating has been applied to every key so your fingers glide effortlessly over the surface.
The Logitech MX Keys keyboard provides comfort and typing confidence on a keyboard crafted for stability, and precision. The increased key stability reduces noise and optimizes responsiveness so you feel, but don't hear, every keystroke. Plus, the entire body of the MX Keys is held together by a single metal plate for a remarkably solid build that never slides around your desk.
The Logitech MX Keys keyboardis USB-C rechargeable. MX Keys stays powered up to 10 days on a full charge, or up to 5 months with backlighting turned off.  Using the USB-C charging cable you can continually top up the power. I love that MX Keys supports multiple operating systems since many of us have multiple OS devices. MX Keys works with Windows, macOS®, iOS®, Android™, and Linux®4Device (without adding additional drivers in most popular Linux distributions).  For further information, go to https://www.logitech.com/en-us/products/keyboards/mx-keys-wireless-keyboard.920-009294.html. Full technical specs are shown below.
Full Technical Details:
DIMENSIONS
MX Keys Keyboard
Height: 5.18 in (131.63 mm)
Width: 16.94 in (430.2 mm)
Depth: 0.81 in (20.5 mm)
Weight: 28.57 oz (810 g)
USB Receiver
Height: 0.72 in (18.4 mm)
Width: 0.57 in (14.4 mm)
Depth: 0.26 in (6.6 mm)
SYSTEM REQUIREMENTS
Internet connection for software download
Logitech Options software on macOS and Windows
USB port or Bluetooth® low energy enabled device with keyboard support
USB Receiver
Windows 7 or later
macOS 10.11 or later
Linux 5Device will be supported without adding additional drivers in most popular Linux distributions
Android 6 or later
Bluetooth
Windows 8 or later
macOS 10.12 or later
Linux 6Device will be supported without adding additional drivers in most popular Linux distributions
iOS: iPhone 4S® or later, iPad® (3rd generation or later), iPad Mini™, iPod touch® (5th generation or later) device with iOS 8.0 or later 9 or later
Android 6 or later
TECHNICAL SPECIFICATIONS
Dual connectivity
Connect via the included USB receiver or Bluetooth low energy technology
Easy-switch keys to connect up to three devices and easily switch between them
10 meters wireless range 7Wireless range may vary depending on operating environment and computer setup.
Hand proximity sensors that turn the backlighting on
Ambient light sensors that adjust backlighting brightness
USB-C rechargeable. Full charge lasts 10 days – or 5 months with backlighting off 8Battery life may vary based on user and computing conditions.
On/Off power switch
Caps Lock and Battery indicator lights
Compatible with Logitech Flow enabled mouse
PACKAGE CONTENTS
MX Keys Keyboard
Unifying receiver
USB-C charging cable (USB-A to USB-C)
User documentation
WARRANTY INFORMATION
1-Year Limited Hardware Warranty
PART NUMBER
920-009294