Editors' Choice Home
June 2019
The Den and TechDen Apps
Review by Angie Kibiloski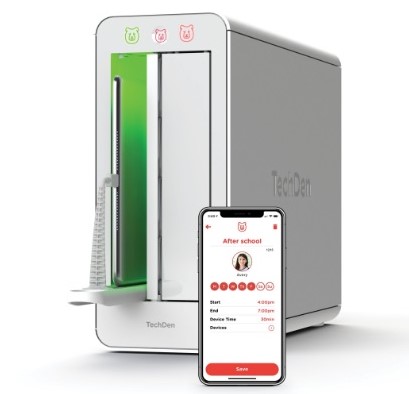 In this modern world, it seems like we're always staring at one screen or another, whether that be a computer, a TV, a tablet, or a cell phone.  It's not just us, either, it's our kids, who are constantly plugged into a digital environment, instead of being present in the real one.  All of us could probably benefit from learning healthier screen habits, and with The Den (Retail $179), by TechDen, you can start to teach those habits to your kids.  The Den, along with the accompanying TechDen Parent and TechDen Jr. apps, helps you work with your kids to manage their screen time, by setting up a routine, and establishing a reward based incentive for sticking to their set schedule.  By having some control of the process, both through interacting with the app and physically docking their own devices, kids can gain a sense of responsibility and inclusion, that will make them feel good about putting down their devices instead of combative.
The Den itself is basically a storage and charging locker, with 2 slots for either a cell phone or tablet, which keeps your child's devices out of tempting sight, and charges them at the same time.  It also provides a permanent home space for their devices, potentially eliminiating those frantic early morning searches for a device needed for school, or an expensive device being carelessly left in the middle of the floor, or stuck behind a couch cushion.   It's a little on the bulky side, length-wise, but attractive enough with its smooth white finish and rounded corners.  It would be nice if future models came in different colors, though, to match your child's room or personality.  The TechDen Parent app lets you set Sessions of time throughout the day, when your child's devices can be out of The Den and in use, and set reward Goals for consistently returning their devices to The Den on time.  The TechDen Jr. app helps your child keep track of their Sessions, with helpful notifications when their time is running short, check their progress towards the next Goal, and ask your permission for more time in a Session.
The set-up and scheduling process is pretty easy.  Simply download the Parent app, and register a free account with your email.  Program in your child's information, like name, age, and photo.  The app is set up to register multiple children.  Next, pair your app to The Den.  I had some trouble here, getting my Parent app to recognise my Den, on both an Android and an iOS phone.  If you have issues as well, here's what I had to do.  Uninstall the app, power off and on your device, and then re-install the app.  Doing these steps in any other order did not work for me, on either phone.  Hopefully, this is a minor app glitch that can be ironed out with a future update.  Once your Den is paired with your own device, it's time to pair you child's device, by downloading the TechDen Jr. app to their phone or tablet, and entering the provided access code into your Parent app.  You can add 2 different devices, both to the same child, or each to multiple children.  Now you're ready to set up your child's Sessions.  Tap on your child's photo, then Sessions.  Name the Session, like "After School Time," then set the time frame that The Den will unlock and allow your child to have access to their device, like 3:00 pm to 5:00 pm.  You can also set how much screen time your child can have during that period, like 30 minutes or 1 hour.  Under Goals, you can set a reward, like movie tickets or ice cream, and how many instances it will take of docking their device on time to earn that reward.  One thing I'd like to see in a future app update, is the ability to set the times you want your child's device to be IN The Den, instead of just being able to set when it can be OUT of The Den.  This would make setting the schedule a lot easier for parents who only want to limit their child's screen usage during small parts of the day, like dinner time or before bed.
Now it's up to your kid.  They can see their Sessions schedule in their own app, as well as their Goals, so they know exactly what is expected of them, throughout every day of the week.  If their device is docked inside The Den when not in a Session, the bear head icon above the door will be red, indicating it's locked and inaccessible.  When their Session begins, the icon will turn green, letting them know the door is unlocked and they can remove their device.  Having been plugged into The Den, their device will be charged and ready to surf the internet, play games, do homework, or whatever.  The Den does not let you monitor or limit what your child does on their device.  When they have 15 minutes, and then 5 minutes remaining before their Session ends, they'll get a notification to go dock their device, which is very easy to do.  Just touch the center bear head button, and pull out a tray when the doors open.  Plug the device into the internal cord, place it on the tray, and slide it back in so the door can automatically close.  If they plug their device back into The Den before time is up, then they get a Goals credit, and if not, they will get a notification that they're overdue.  Either way, you'll be able to see when they dock their devices in the Parent app, and how much time they spent on their screen.  If they need more time, like if they're doing homework or are right in the middle of a task, they can request more time through their app, which you can then approve or deny through the Parent app.  You can also set The Den to stay unlocked when not in Session, for older kids who may not need as much guidance to stay off of their screens.
Unlike apps that might lock your child's screen, or simply taking their devices away from them by hand, TechDen let's you include your child in the process of learning healthy screen habits, by giving them responsibilty for their own devices.  A child is more likely to cooperate with a routine, when they feel some level of ownership of that routine.  It can provide them with a sense of independance and accomplishment.  With the Goals feature, they can also feel like putting their device away for awhile can be rewarding instead of a punishment.  Sometimes, for kids and adults, the only reason we want to be on our devices is because they're sitting right next to us, tempting us with their very presence.  In an "out of sight, out of mind" approach, The Den removes that visual temptation, during times when you'd prefer your child to be doing something else, like spending time with the family.  Screens of every kind are firmly interwoven into our daily lives, but a positive balance between time spent staring at those screens, and time spent interacting with the real world, is an absolute must, for all of us.  TechDen can get your kids started managing this balance for themselves.  If you'd like to learn more about The Den, visit TechDen's site at https://techden.com, or head to Amazon to go ahead and purchase one for your family.  If you'd like to have a look at the apps, the TechDen Parent app is available for Android and iOS, and the TechDen Jr. is also available for Android and iOS.
Specifications:
Compatible with iOS (9.0 or later), and Android (4.2 or later) devices
Devices need Bluetooth and a wireless connection
Outer dimensions of The Den: Length 14.45 in., Width 4.65 in., Height 10.87 in., Weight 5.4 lbs.
Inner dimensions of each slot of The Den: Length 12 in., Width 1.125 in., Height 8 in.
2 Lighting and 2 micro-USB connection cables included (USB-C cables available seperately)