Whistle FIT Dog Fitness Tracker

Editors' Choice Home
March 2020
Whistle FIT
Review by Angie Kibiloski
We all know that it's important to stay fit, and having the ability to monitor our own health at home is very helpful.  There are a lot of devices and apps out there to help us keep track of our family's fitness, but what about our furry family members?  Do we even need to monitor our dogs' fitness and activity levels?  The truth is, our favorite four-legged companions can suffer from the same fitness related illnesses as we can, from obesity and arthritis, to heart disease and respiratory issues.  In fact, 60% of dogs is the U.S. are overweight or obese, which can decrease their life expectancy up to 2.5 years.  Making sure they get the right amount of exercise each day, along with the balanced diet they need, and keeping an eye on any troubling lifestyle habits, can maintain our puppies' health and keep them with us for as many years as possible.  Fortunately, Whistle Labs makes several fitness tracking devices for all breeds of dogs, and their latest model is the Whistle FIT, a discreet collar attachment that will monitor activity, which kinds of activity, nutrition, sleep, and present it all to you in helpful charts that can be shared with your vet.  I got a hands-on experience with this device, and the accompanying app, with the help of a happy dog named Parker, and his owners, Alyssa and Amanda.  Let's take a look at all of its cool features.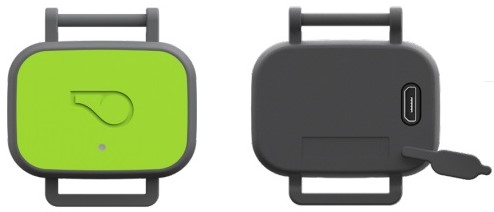 The Whistle FIT device itself, which retails for $79.95, is very easy to set up and use.  Just charge it via USB, connect to the app with Bluetooth, loop it onto your dog's collar or harness (up to 1″ wide), and you're ready to go.  The battery will last for around 15 days, and takes about 2 hours to recharge, so once it's on your dog, you don't need to think about it again for 2 weeks.  Small and lightweight, measuring just 1.5″ x 1.6″ x 0.4″,  and weighing only 0.5 oz., your dog won't be thinking about it either.  Parker didn't even notice that it was on his collar.  The device is shock resistant and waterproof, so it'll be durable even with very rambunctious puppies.  The internal sensor is a 3-axis accelerometer, and detects different types of movement, from walk and running, to licking and scratching.  When movements are detected, the data is sent to the app.
The Whistle app, which can be used with the Whistle FIT as well as their other devices, is easy to use, and allows you to see your dog's activity by the hour, day, week, and so on.  When you first download the app, you'll need to connect the device via Bluetooth, then set up your account.  A subscription plan is required, but if you sign up for a year at once ($35.40), it comes out to only $2.95 per month.  Next, fill in your dog's personal data, like breed, age, weight, activity level, and overall health.  You can set a daily activity goal, like 30 minutes of exercise, either from your own preferences or recommended by the app, based on your dog's statistics.  You can also schedule helpful reminders, like when to give your dog medication, or take him to the groomer.  There's a food portion calculator too, where you can input which brand of food you normally buy, with 3,000 types of dog food in their database. The app will access the nutritional information for that brand, keep track of how many calories your dog is burning each day through his sensed movement, and give you portion control recommendations based on his individual ideal balanced diet.  Through colorful graphs, and daily stats screens, you'll be able to monitor your dog's calories burned, distance traveled, minutes active, and what sort of movements he engaged in.  You'll get notified when he achieves his daily activity goal, or if concerning behaviors like scratching have increased or decreased, or his sleep cycle has changed.  You'll have access to a weekly and monthly wellness report, which can be shared with your vet if necessary.
The app bases all of its movement detection metrics, portion control, and health reports on a 3-year long study, called the Pet Insight Project, that took information from 60,000 dogs, spanning 900 breeds.  This wealth of data allows the app the match up your dog's individual movement measurements to his specific breed's typical behaviors, allowing it to accurately identify the difference between scratching and walking, for instance, or track how far he's run based on his breed's average stride distance.  Between the extensive data collected from this study, and the 50 samples of your dog's movement that the FIT takes each second, you'll be getting the best information for your unique dog available.
My reviewers enjoyed being able to see what Parker got up to when they weren't at home, especially while one was out of town, and to see when he reached his activity goal for the day.  One of them is a runner, so getting Parker's steps in wasn't difficult, but finding out how many calories he burned was a new bonus.  They were a little surprised to see how much sleep he was getting when they were at work, though he has hit middle age.  Humorously, they weren't at all surprised that his scratching elevated throughout the week, as he's overdue for his bath!  They thought this app would be ideal for a dog owner who travels a lot, or regularly employs a dog walker or pet sitter, so that they can make sure their dog is getting the proper care in their absence.  Also, since you can add multiple phones to the same account, a pet sitter could also be alerted to any health changes, and be able to contact a vet themselves.  They thought this would be a particularly great device for older dogs, or those with health issues, who need closer monitoring.  For a healthy dog like Parker, maintaining his optimum fitness and giving them added insights is the main function.  One thing the FIT doesn't do, which my reviewers thought would be a great addition, is if it could detect when a dog is drinking from his bowl, so you can make sure your pup is staying properly hydrated.
Thank you to my reviewers, and of course to Parker too!  I'd definitely recommend the Whistle FIT to anyone who wants some insight into their dog's daily behaviors, fitness, and overall health.  The price is less than a fitness tracker for humans, and the monthly subscription cost is minimal.  If you buy the device from Whistle.com, you'll even get a 90-day risk-free trial period.  Our dogs are members of the family, and keeping them healthy and happy is a must.  Check out the Whistle FIT, and their other dog tracking devices, and start keeping track of your furry friend's fitness today.
Whistle App Minimum System Requirements:
Apple device with iOS 11 or later
Android device with 6.0 or later
Wi-Fi Connection-Only 2.4 GHz networks are supported
Bluetooth