CES 2021: Innovative Products
By Terry Kibiloski
With over 1,800 exhibitors, and most of them introducing multiple new products and services, it is quite impossible to cover everything. So, we try to provide previews of some of the products we will be reviewing over the next few months. This article is filled with innovative products that caught my eye at the CES 2021 Pepcom Digital Experience press event, 2 days before the official start of the show.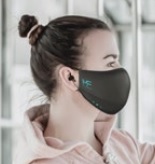 Binatone's MaskFone (Retail $49.99; Five N95 filters for $19.99) is a daily essential that protects you, and anyone you cross paths with, from harmful bacteria, viruses, and pollution. This unique product is fully equipped with high quality built-in wireless earbuds that have environmental noise cancellation features, to suppress background noise so that you can enjoy music and take phone calls without compromising your safety, or the safety of others. The MaskFone provides all day comfort with a soft but durable machine washable twill fabric, that easily forms to all face shapes. The disposable, interchangeable N95 filters ensure a high-grade level of protection with replaceable filters and 95% virus filtration. The MaskFone revolutionizes the listening and talking experience, giving users with different lifestyles 12 hours of playtime, handsfree calling and zero limitations with its built-in microphone. The MaskFone allows you to speak directly into the microphone, providing clearer phone calls while wearing a mask. In addition, the controls are hidden inside for convenient use, as well as a sleeker look for all your handsfree calls. With a lightweight fitted style, the earphones inside of the MaskFone make it perfect for any activity. When not listening to music or making calls, simply pull the cable clip to hold the earbuds with the magnetic earbud holder to keep them in place. For more information, please visit www.maskfone.com.
TROVA has introduced the newest product in their line of innovative, secure smart storage solutions, GO +plus, providing 60% more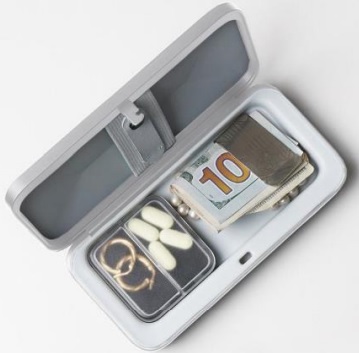 capacity than the original TROVA GO. The TROVA GO +plus (Retail $219) portable biometric safe is designed for daily storage of your private stash, preventing inappropriate audiences from accessing jewelry, vapes, prescription and legal recreational drugs, or any other private objects that require discretion. TROVA's smart storage devices are designed with an equal focus on discretion, security and beauty. Wirelessly connected via Bluetooth and accessible through biometric scanning, TROVA's proprietary app allows only paired users to unlock it, protecting TROVA – and its contents – from prying eyes or curious hands. Privacy during COVID-19 is likely more important than ever, as families are living their virtual lives bunkered together at home. Particularly in locations with legal cannabis, maintaining recreational pleasures while protecting children (and one's stash) is even more vital. For more information to to TROVA (trovaofficial.com)
Origin Wireless™ Inc. announced the launch of Hex Home (Retail $179.99), a DIY, wave-based home security system that is easy to use, simple to install and extremely accurate. Designed with simplicity in mind, Hex requires only three steps to set up: download app, plug in, and connect to Wi-Fi. Hex Home includes two devices, a Hex Command (a surface-sitting pod) and a Hex Sense (a wall plug-in), to monitor a user's home using Wi-Fi waves. As people move through these waves, they bounce, break and bend around them. Hex Home then calculates how the waves change and informs users when meaningful motion is detected. With the accompanying Hex app, users can view real-time and historical motion levels in their home, change system modes to manage the siren, and customize alerts. According to Origin, Hex Home provides full coverage of ~1500 square feet of living space. Origin Wireless offers an optional 24/7 monitoring service that will be available for a small monthly fee or users can choose to self-monitor at no additional cost. To learn more, go to www.myhexhome.com.
Targus introduced the DOC310 Universal USB-C DV4K Docking Station (Retail $159.99) with 65W power delivery to help you create a convenient, productive workstation. Sleek and powerful, this dock packs the necessary ports and power you need in one device. It is designed to support a wide variety of laptop brands and operating systems, including Windows, MacOS, Ubuntu, Android and Chrome. With the DOCK310, you can enjoy crisp, clear 4K video. With two HDMI 2.0 ports, you're able to support two monitors (3840 x 2160 p60), plus connect all your favorite accessories with a combination of USB-A (3x USB 3.2 Gen 1 Type-A ports) and USB-C (1x 3.2 Gen 1 Type-C), plus Ethernet and audio ports.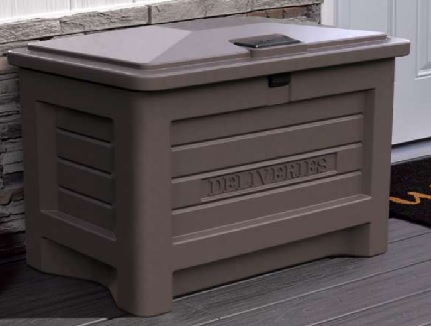 The Yale Smart Delivery Box Brighton (Retail $229.99; $279.99 with Yale Smart Keypad) allows you to receive packages and other deliveries without worrying about them getting damaged or stolen. Never miss a delivery when you're away from home and stay updated on when deliveries are made through real-time notifications. Using the Yale Access App, lock/unlock, share access, view delivery history and receive notifications from anywhere. It is optionally available with the Yale Smart Keypad for sharing access with others, or unlocking when you don't have your phone. When you are home, easily lock or unlock the box by asking Amazon Alexa, Google Assistant or Siri. The dimensions for this model are height 24" x width 28" x depth 18". A larger model, Kent, is also available (Retail $279.99 | $329.99 with Yale Smart Keypad) with dimensions height 19" x width 24.625" x depth 28". For more information, go to Smart Delivery Box – Yale US (yalehome.com)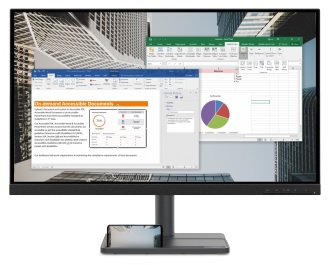 The Lenovo L27e-30 Monitor (Retail $189.99) packs powerful performance in a new, elegant form factor that focuses on the principles of a minimalist design. Its 27-inch In-Plane Switching panel display creates distortion-free pictures for anyone streaming a coursework video, no matter what angle they sit from the screen, and the monitor's clean, simple lines, 3-side NearEdgeless frame and sculpted wedge stand create a picture of elegance and sophistication to suit any modern home. At just 7.1 mm, the ultra-slim screen head is thinner than many phones and makes home work areas feel truly spacious. Add in the wedge stand's integrated phone holder and concealed cable management and L27e-30's user experience is profoundly clean and clutter-free. To protect your eyes from fatigue, it has advanced anti-glare and Eye Comfort technology certified by TUV Rheinland5, to help minimize blue light and flickering. This monitor comes ready to support AMD FreeSync™ technology for smooth and stutter-free gaming and is capable of refresh rates of up to 75Hz via their HDMI input display port. As a bonus, Lenovo offers you the convenience of personalizing the appearance, volume, and characteristics of your monitor through the On-Screen Display (OSD) settings via the Lenovo Artery software platform. So, gamers, movie lovers, or multitaskers can easily control their Lenovo monitors to fit any at-home usage scenario. For more information, go to Lenovo-L27e-30_Datasheet.pdf
 Kingston's Workflow Station (Retail $135) provides a flexible system to transfer videos, photos, and audio from multiple sources at once. You can expedite your post-production workflow and create a file offload setup that fits your needs. The Kingston Workflow Station is customizable so you can use only the USB miniHub, SD readers, or microSD readers that your shoot requires. Whether you're on a 4K/8K multi-cam shoot with portable audio recorders for each host, or filming B-Roll with drones and GoPros, you can connect up to four readers to the dock simultaneously and transfer footage quickly. The Workflow Station and Readers support USB 3.2 speeds which get you to your post-production process faster than ever. For added flexibility, the card readers can be used on-the-go. When you need to shoot on location, simply drop the hub or readers you need into your bag and connect them to your laptop using the included USB-C cable. Kingston's Workflow Station includes the Workflow Station Dock and USB miniHub. The dock supports up to four Workflow Readers simultaneously, and supports USB 3.2 Gen 2 speeds. The USB miniHub supports USB-A and USB-C connected devices. For more information, go to Workflow Station and Readers – Modular USB 3.2 microSD and SD card reader and miniHub System (kingston.com)
Well, there you have it, seven more cool products from CES 2021. While they all serve different purposes, they seem to be custom designed for the current work-at-home environment that many of us are experiencing. If you like what you see, come back often as we will be posting our Computer Times Editors' Choice reviews of these and many other products highlighted in our CES 2021 articles.