Editors' Choice Smart Home
January 2021
August Wi-Fi Smart Lock
Review by Angie Kibiloski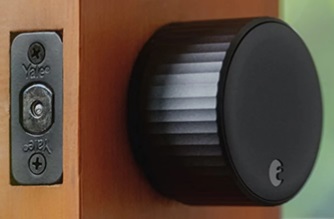 There are a lot of smart home security products on the market, and I've always been a little jealous of the home owners who can use them.  I live in an apartment, so there's a limit to what I can install without getting cited by my landlord.  August has me covered, however, with their new Wi-Fi Smart Lock ($249.99).  Unlike other some locks out there, this one attaches only to the inside of your door, integrating with your existing deadbolt, so you (and your landlord) can still use your original keys to gain access.  Of course, you won't actually need to use your keys if you don't want to, you can control the lock via the companion app, or by using your favorite voice assistant, including Google, Alexa, and Siri.  With some great features within the app, and a bonus DoorSense door sensor, this product is perfect for adding a little extra security, convenience, and peace of mind to your home.
Within 10 minutes of opening the box, I knew I was giving the August Wi-Fi Smart Lock an Editor's Choice.  That's how long it took to install the hardware, connect and calibrate it in the app, set up all the in-app features, and ask my Google to lock my door for me.  Set-up was super easy, with the app providing a very detailed walk-though of each step, including animated graphics along the way.  The only issue I had wasn't the fault of the device, but rather my original lock being installed in my door a little wonky.  Baring any flaws in your door's original workmanship, this device will be compatible with most single cylinder deadbolts, by using the various included adapters.  The little pill-shaped DoorSense sensor was easy to install too.  You can attach it to your door jamb using the 2 tiny screws provided, the small double-sided adhesive strip, or, like me, you could be surprised to discover that your door jamb is metal underneath the paint, and have it practically fly out of your hand to enthusiastically attach itself with it's built-in magnet.  This bonus device was super easy to calibrate in the app too, and will tell you if your door is closed properly, or if it was left ajar, by sending notifications to your phone.  Having the ability to ask Google to unlock and lock my door is really convenient, and surprisingly fun too.  It has already saved me a trip to the sink to wash my hands, after I touched my car keys and the outside of my mask on the way out the door, and didn't want to twist open my new Wi-Fi Smart Lock with contaminated hands.  Google to the rescue!  This is also a great feature when I'm laying in bed and want to double check that my door is locked.  I no longer have to get out of my warm blankets, I can just ask Google to check for me.
The app has a lot of great functions.  At its most basic, you can simply touch the locking circle in your app to Lock or Unlock your door remotely, when you're either home or away.  You can set the device to Auto-Unlock when you get within you Home Mode radius, which you set on a map with your phone's GPS, or choose a time window for it to unlock instead.  You can also choose a time of day to Auto-Lock, or set it to lock after a certain number of minutes have elapsed after the door was last closed.  This is helpful if you sometimes forget to lock your door when you come home.  I am a little concerned that if I have this feature on, I'll lock myself out if I spend too much time checking my mail, or hauling my recycling down to the bin, so if you live alone like I do, you might consider setting this Auto-Lock time period at a decent interval, like 15 minutes, instead of the 1.5 minutes that I initially chose.  You can set up Smart Alerts for various actions, like when your door in manually unlocked, left ajar, or opened by a specific user.  This way you can easily keep track of the comings and goings of authorized visitors, like housekeepers, delivery people, or family members.  You can assign as many users as you like by inviting them through the app.  In addition to alerts, you can always view every action that has been taken by the lock or your door in the Activity Feed, and what time these actions occurred.  You can control multiple devices from the Home screen, so you could get a Wi-Fi Smart Lock for all of your doors.  You can check out the Android and iOS versions of the app, and go ahead and download it to explore and see all the August lock models it works with.
The August Wi-Fi Smart Lock is a great product, and I'm very happy to finally be able to add a smart device to my apartment door.  The on-board Wi-Fi makes connecting it to your phone, voice assistant, or other devices a breeze, and the app provides a lot of great remote functionality.  Whether you live in an apartment or a house, this would be a perfect device to add to one or more of your entry points.  Small and minimalistic, and available in black or silver, it's also an attractive addition to your door.  Read more about the Wi-Fi Smart Lock, and watch videos of the device in action here. You can also browse the rest of August's great line of smart locks and learn about their upcoming doorbell camera.