Editors' Choice Home
April 2021
Hatch Rest Mini
Review by Angie Kibiloski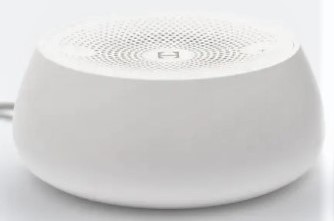 For a couple years now, Hatch has been providing adults and kids with smart sleep sound products, to help us all fall asleep easier, and get a better night's slumber.  They've just released their newest device, the Hatch Rest Mini ($39.99), specifically designed with babies and young kids in mind.  It has slightly fewer features than their previous models, and no lights, allowing it to come in at a much lower price point, perfect for parents on a budget.  This small device still comes with some great content, for babies, kids, and parents too, especially when paired with the Hatch Sleep app, and their Premium content subscription for $4.99/mo. ($49.99/yr.) after the 1-month free trial.
The Hatch Rest Mini is about the size of a flattened softball, with a Power button, and Volume +/- buttons on top.  It can be used right out of the box, just by plugging it in and tapping to turn it On.  You can tap the same button again to cycle through 8 sleep sounds: Water, Ocean, Rain, Wind, Dryer, White Noise, Birds, and Heartbeat.  Tap and hold to turn it Off.  You can then download the Hatch Sleep app to be able to control the power, volume, and sound selection remotely over Wi-Fi.  When selecting a sleep sound, you can set a timer for how long you want it to play before the app turns it off, anywhere from 1 minute up to 17 hours.  By adding the Premium subscription, you'll open up a ton of extra content, like songs, stories, meditation exercises, and longer, more complex sleep soundscapes.  The content is conveniently sorted by type, and by age group, so that parents can easily sift through age appropriate songs and stories for their kids, and even find some relaxing content for themselves.  You can set timers for some of this content as well, like you can do with the sleep sounds, and even set a sleep sound to automatically start playing after the Premium content has finished.  So, your child could enjoy listening to a cute fairytale, then get carried away into dreamland to the sound of chirping birds.  Let's take a look at some of the Premium content in each category.
The Music category for Babies and Little Kids seems to share the same content, including songs like "Row Row Row Your Boat," and Twinkle Twinkle Little Star," as well as some short classical selections from Mozart and Beethoven.  Big Kids and Adults get all the classical choices, but skip the silly songs.  The Soundscapes category shares the same 5 atmospheric environments across all ages, including "Light Rain in Virginia," and "River Rainforest: Thailand."  Two categories that are unique to Babies are Language Together, which consists of short content like "Baby's First Words," or "Colors and Shapes," in a variety of languages, and For Parents, which offers little moments of peace for parents, like "Kindness for All, Even You," and "You've Got This."  The Sleep Stories category exists for Little Kids, Big Kids, and Adults, and shares a good deal of the same content over all 3, from lessons about dinosaurs, space, and sea life, to fairytales, and old classics.  Adults get some additional historical biographies and profiles on travel spots.  Little Kids, Big Kids, and Adults also share the Mindfulness category.  Little Kids can have short lessons on recognizing and dealing with a range of emotions, Big Kids get these lessons plus added gems like "Be Kind to Yourself Today." This section for Adults seems to have the same content that was provided under the For Parents section in the Babies content.  Under Breathing Exercises, Little Kids and Big Kids alike learn ways to help them calm their breathing into a restful state, like "Flower Breath," or Elephant Breathing." Adults get walked through Evening and Morning breathing techniques, as well as countdowns from 500.  The final category that Little Kids, Big Kids, and Adults get to share is Yoga, with Little Kids and Big Kids getting fun little stretches like "Cat and Cow," and "Making a Rainbow," while Adults get helpful end-of-day necessities like "Shoulder and Neck Release," and "Low Back and Hips." Big Kids get one extra category, unique to them, though I'm unsure why.  This is Sleep Meditations, which includes things like "Three Gratitudes Before Bed," and "Best Memory of the Day."
The Hatch Rest Mini is a cute little sleep sound machine on its own, and with the added Premium content in the Hatch Sleep app, the price is pretty great.  I found all the content, from songs, to stories, to relaxation exercises, to be very enjoyable to listen to.  In addition, this app content has only recently been rolled out, and they plan to add even more in the near future.  In addition to new content, there are a few things I hope they will adjust in the next software update, too.  The volume levels on some of the content haven't been equalized to the same dB level as the rest, so if you listen to multiple songs or stories, you'll find yourself needing to adjust the volume for each, instead of having a consistent level throughout.  This can be inconvenient, especially when going automatically from a quiet story to a louder White Noise sleep sound, for instance.  I also would like to have the option to choose which of their narrators to listen to for each sound file, because some of their voices are better suited for different things.  Finally, I'd like to see more sleep sounds with the Premium subscription than the same basic 8 that are included by default.  I look forward to seeing how Hatch expands this app with the next update, and perhaps a couple of my wishes will come true.  You can purchase a Hatch Rest Mini for yourself at https://www.hatch.co/rest-mini, and take a look at the Hatch Sleep app for Android and iOS.