Editors' Choice Games
June 2018
Meow Match
Review by Angie Kibiloski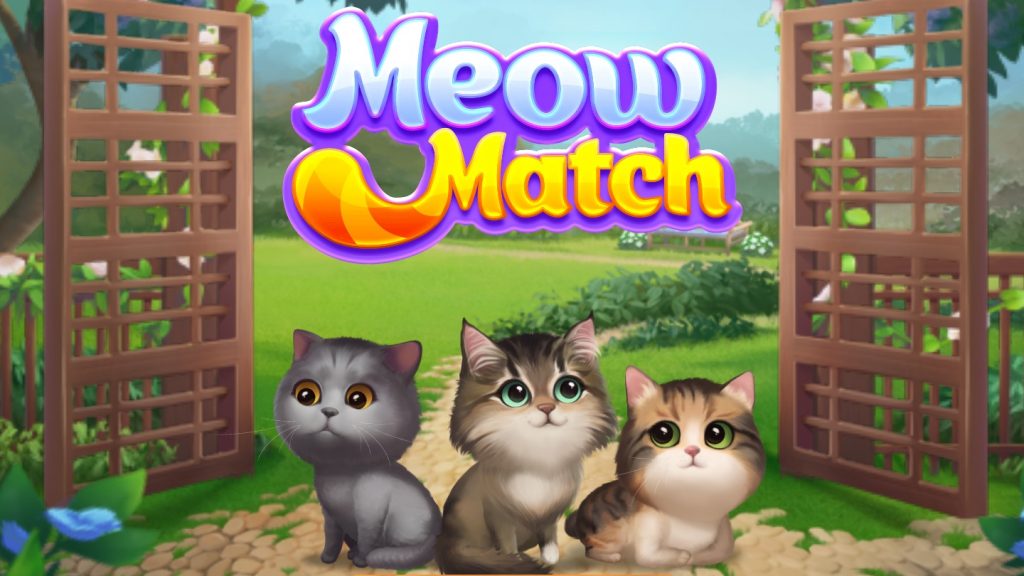 Meow Match, from Ember Entertainment, is a mobile Match-3 game, featuring a bunch of adorable kittens to collect, and a handful of cat-friendly environments to decorate.  It has pretty standard Match-3 mechanics, with puzzles boards that are fun, interesting, and challenging enough to keep you engaged for hours.  Unlike some Match-3 titles, there's a little bit of a story behind the gameplay goals, so it's more than just mindlessly tapping through level after level.  Your Aunt Belinda has gotten on in years, and she hasn't been keeping her house quite up to her usual tidy standards.  The back yard is a bit run down, with broken structures and overgrown plants, and her herd of cats has wandered off to greener pastures.  You'll need to spruce the place up, with the help of her most loyal kitty, Cosmo, and lure the other cats back home.
Each level will have a completion goal, like collecting a certain number of green and red matched items, revealing cat statues beneath the foliage, or getting milk bottles to the bottom of the screen, etc.  By matching 4 or 5 items in a row, or other combinations of matches, you can create a variety of exploding power-ups, or color-matching yarn bombs, to help you meet the level goals.  As you complete levels, you'll earn the ability to repair fences, mow the lawn, choose chairs, lights, and decorations for the scene, and periodically welcome back new cats.  All of these cats are so cute, with unique personalities, and they can talk!  When your restoration efforts have caught Aunt Belinda's attention, she'll be inspired enough to start offering you adorable costumes for the cats to wear.  After the backyard is complete and cozy enough for all the house cats, Belinda will entrust you to do the same for her vacation house, and other unlockable properties.  You'll get to meet even more cats in these locations, and have more decorating fun.  Once you've earned each decoration, you can also go back to the shop and cash in the coins you've earned for new variations of each item, and rearrange the décor so your kitties won't get bored.
This is a fairly straightforward Match-3 game, but it has smooth gameplay, colorful, attractive graphics, a fun yet simple storyline, and adorable furry companions.  It's surprising how many games of this kind I start playing and stop almost immediately because they're either annoying, boring, or frustratingly difficult.  Meow Match is engaging, fun, and easy enough for all ages, without being too easy for adult.  It's also great that you don't need to be connected to the internet to play, although you do have the option to connect to Facebook to earn extra coins, and to share lives with your Friends.  I thoroughly enjoyed reviewing this game, and I'm going to keep it on my phone even after posting this.  If you'd like to get in on the fun, and join the 500K gamers who've started collecting kittens, go download it for free for Android of iOS right now.