Editors' Choice Games
February 2020
LUNA: The Shadow Dust
Review by Angie Kibiloski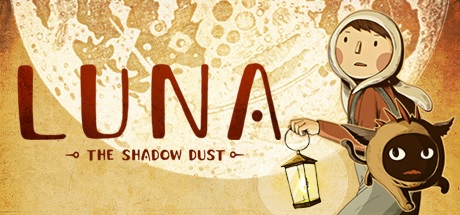 I'd like to introduce you to the most charming game I've played in a very long time.  LUNA: The Shadow Dust ($19.99 on Steam), from Lantern Studio, is a sweet point-and-click adventure, where two adorable companions journey through locked rooms in a vast, mysterious tower.  Each room presents new puzzle challenges, and the backstory of the 2 characters is slowly revealed as you progress though them.  The graphics are lovely, the soundtrack is stunning, and the tempo of the gameplay will leave you satisfyingly relaxed.  I felt oddly refreshed, and sort of content, after playing this game for a couple of hours.  After completing the game, I'll continue to enjoy listening to the soundtrack too, when I need a calming Zen moment, and even though I'll know the solution to all the puzzles, I look forward to playing through this game again, to spend more time in this artistically rendered world.
You start the game as the character of a young boy, dressed inexplicably in a funny bunny ear hood.  A little ways into the game, you'll meet an adorable little cat-like creature, who will become his companion and your second playable character.  You'll switch back and forth between them to solve each puzzle, using their unique skills and physicalities to perform different actions.  There isn't a lot of information given at the start of the game, as to who the characters are, where they come from, or what their objective is, but soon enough you'll get to see little cut-scenes of memories, revealing their combined forgotten past piece by piece.  Along with recovering the boy's memories, you'll discover the origin and dark secrets of the tower that he and his companion are traversing.  About 2 hours into gameplay, you'll be treated to a longer cut-scene of about 5 minutes.  I loved getting to just sit back and enjoy watching a little mini-movie for a while, as a nice intermission to playing.
Your 2 characters will be making their way up a very tall tower, room by room, having to figure out how to open the door to the next level in each one.  Every room is a stand-alone puzzle, and everything you need to solve it is right there, with no need to endlessly search other rooms for items you forgot to pick up.  Most puzzles are pretty easy, if you've ever played any sort of escape-the-room style games, but a few are quite tricky, especially in later levels.  I actually enjoyed the easier puzzles, though, because it let me be more engaged with the story, and just spending time with the characters, instead of making my brain hurt every step of the way.  I got invested in the little guys, and was thoroughly captivated by every new thing I learned and experienced with them.
The hand-drawn graphics are just lovely, painstakingly created frame-by-frame, in a labor of love from the animators.  Each room is different and interesting, with creative puzzles and solutions.  I really loved discovering what the next awesome environment would look like.  They're pretty diverse environments too, from more common sights like a kitchen and a music room, to far-out wonders like islands floating in space and a garden that changes seasons on command.  Each is a joy to explore. There is no dialog, not even in the cut-scenes, and it's amazing what can be portrayed through images alone.  No words are needed to feel the bond between the characters, and experience their emotions along with them.  The original soundtrack, which comes with the purchase of the Deluxe Edition ($31.97 on Steam), is beautiful and enchanting, providing a perfect backdrop for the charming visuals.  This special edition will also come with a beautiful art book, featuring full color artwork from the finished game, as well as development sketches and other gems.  You can also buy the soundtrack ($6.99) and art book ($4.99) as separate DLCs to add to the basic edition of the game, if you don't want both with the Deluxe Edition.
Playing this game was like traveling through an interactive story book, which just happened to involve using logic and reasoning to solve some puzzles.  Though, obviously, the puzzles to unlock each room were integral in progressing through the game, it felt more like a means to follow the narrative than just playing to solve the puzzles themselves.  From the characters and the story, to the graphics and the enchanting soundtrack, every aspect of this game is delightful.  I really can't say enough nice things about LUNA: The Shadow Dust, and I hope that everyone checks it out.  Download it today on Steam.
Minimum System Requirements:
Windows
OS: Windows 7
Processor: Intel core i5 2557M
Memory: 4 GB RAM
Graphics: GeForce GT440 or HD5570
Storage: 1 GB available space
Mac OS X
OS: Mac OS X 10.9+
Processor: 1.2 GHz
Memory: 4 GB RAM
Graphics: 1024MB VRAM, Metal/OpenGL 3.2
Storage: 1 GB available space