JVCU435 and JVCU360 Webcams

Editors' Choice Cameras
March 2021
JVCU435 and JVCU360 Webcams
Review by Angie Kibiloski
This past year, whether we've been working from home, or connecting virtually to friends and family, we've all learned the value of having a quality web camera, and the difference that a clear image can make to our long-distance conversations.  The end to enforced tele-commuting, and visiting relatives solely through a screen might be approaching soon, but these methods of business and social interactions will still remain viable options into the future.  If you haven't already, it's time to upgrade your video equipment, and j5create has 2 new web camera models to suit your needs.  The JVCU435 USB 4K Ultra HD Webcam is perfect for home, and the JVCU360 360° All Around Webcam is perfect for the office.  Together, they'll provide you with ideal video streaming solutions for every situation.
The JVCU435 USB 4K ULTRA HD Webcam ($149.99) has a high-res, sensor-enhanced lens, and some great viewing functions, to make both using it, and watching video from it, a pleasure.  With 4K 30 FPS image resolution, a 5x digital zoom, pan and tilt controls via the remote control, a wide-angle viewing option, and automatic low light enhancement, courtesy of the F/1.6 aperture lens and 1/2.8″ CMOS sensor, you'll be really happy with the stunning visual results from this camera. Your audio will be crisp as well, from the dual high-fidelity microphones on either side of the lens.  The device itself has a standard, front facing webcam body style, that can clip onto your computer monitor, rest on a desk surface, or attach to a tripod.  It has the bonus security feature of a privacy screen, that you can slide over the lens when not in use, to ensure that no one can hack your camera and see into your room.  You can also disable the camera using the remote control, if you need privacy quickly.  It's USB plug-and-play, so there's no software or driver to download, is compatible with Windows, Mac, and Chrome OS, and can work with your favorite video chat programs like Skype, Zoom, Messenger, etc.  There is a free companion app that you can download from the j5create website, in which you can adjust brightness, contrast, and a couple other filtering settings, but I didn't find it all that useful, and certainly not necessary.  When compared to other webcams here at the office, this one provided very clear video quality, with fine details and no blur, as well as crisp audio.  The reviewer on the other end of my call said she felt like I was sitting in the room with her, instead of just on her screen.  Even when I used the digital zoom, my image remained smooth and clear.  This is definitely going to become my new favorite at-home webcam.  Take a look at all the technical specs, and learn more about the JVCU435 USB 4K ULTRA HD Webcam on the j5create website.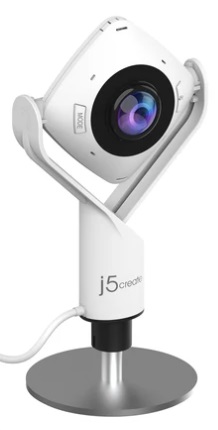 If you're looking for a webcam that is ideally suited for the office, the JVCU360 360° All Around Webcam ($109.99) has some unique conferencing features that are pretty cool.  As the camera sits at its horizontal resting point in the cradle, the lens will capture a 360° view of the room, so every person sitting around a conference table can be filmed at the same time.  In this configuration, you can view the full image in a single panoramic line in All Around View Mode, or split it in half for two 180° images stacked on top of each other in Full Screen Mode.  You can also single out one or two people in Host and Dual Host Mode, just by tapping their location on the touch ring around the lens dome, and view both the panoramic image and a larger close-up of these highlighted people all at once.  If you aren't in a conference setting, and just need a one-on-one tele-meeting in your office, you can tilt the camera vertically and use the 90° Single View Mode or the 120° Wide Angle View Mode, both just focused on you.  You'll be able to cycle between all of these modes with a single button on the device.  The resolution in this view is going to be less than the 1080p in the 360° conferencing modes, as the camera's software simply takes a cropped image from that larger frame to single you out.  My other reviewers and I weren't overly thrilled with the image resolution, but were really impressed by the useful conferencing functions.  There were no complaints with the audio, though, with the built-in omnidirectional microphone able to capture clear audio in a 10-foot radius.  Like the other model, this one is also USB plug-and-play, so no software or driver is required, and it is also compatible with the same OS and video conferencing software brands as the other model.  You can mute the microphone with the touch of a button, and see that it's muted by the LED near the lens changing from blue to red.  You can also put the lens cap over the dome for privacy.  Check out the JVCU360 360° All Around Webcam on the j5create website for a more in-depth look at its specs.
Both of these j5create webcams are well-suited for their intended environments, the JVCU435 USB 4K ULTRA HD Webcam for a beautiful, high-res video output at home, or the JVCU360 360° All Around Webcam for some great conferencing functionality at the office.  Whether you're getting your colleagues together for a group meeting, or chatting with your parents from your living room, these devices have you covered.  As I mentioned above, I love how crisp both the video and audio are with the JVCU435, and consider it to be a really great at-home camera, especially at that affordable price.  With the JVCU360, though I was less impressed with image quality, I loved all of the viewing angle options, especially Host and Dual Host Mode.  Whichever model suits your situation, I encourage you to go check them out through the links provided, as well as all the other great products that j5create has to offer.