Editors' Choice Accessories
March 2021
GoDonut
Review by Dr. Terry Kibiloski

Sometimes the simplest product can be a game changer when it comes to practicality, productivity, and convenience. That certainly describes the GoDonut, a simple and very durable universal stand for your smartphone or tablet that comes in an array of colors, and is made in the U.S.A. Its size and design make it ideal for stuffing into a backpack, briefcase, or a purse.
GoDonut comes in three styles. As shown above, GoDonut Original (Retail $19.99) holds your device at three optimum viewing angles, can survive being run over by an 18-wheeler truck (they actually tested this), and firmly grips your device for excellent stability. GoDonut Glaze (a takeoff on glazed donuts) has the same features and price as the Original but is coated with a classy shine. GoDonut 360 (Retail $29.99) goes beyond just propping up your device as it includes a 360 degree rotating base for group video chatting, games, and any other activity that requires a rotating smartphone or tablet.  While it includes a Snap-On lock to hold your device in place, the rotating base can be removed from the GoDonut 360 when you do not need the rotation feature.
The GoDonut is compatible with virtually all smartphones and standard-sized tablets, including the iPhone, iPad, Samsung Galaxy, LG, Kindle Fire, and many others. The GoDonut is not compatible with larger tablets such as the iPad Pro, thicker cases like the OtterBox® Defender, or charging cases similar to the Mophie® charging cases. It is available in nine colors to suit your personal style: Blue, Yellow, Black, Hunter Green, Red, Pink, Lime Green, Orange, and Purple.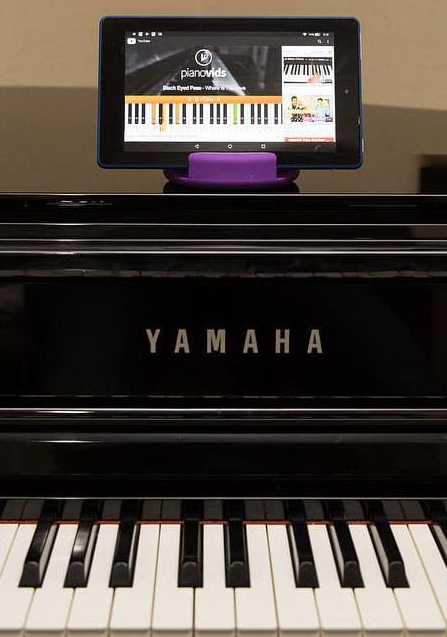 GoDonut's innovative design supports virtually any activity that can be enhanced by a smartphone or tablet. It is great for watching an instructional video while cooking, repairing your car, learning how to play a musical instrument, or exercising. For personal care professionals, it can support your tablet so your customers can watch you apply their makeup or give them a haircut, or simply to watch videos while you work. For artists, it can steady your tablet for drawing. It also provides a stable base to support your smartphone while taking videos of yourself at work or play. The uses of this simple product are virtually endless.
At the bottom of the GoDonut About Us page (https://godonut.com/about/), there are two informative articles titled 8 Ways to Not Ruin Your Back and Neck while Working at a Desk, and 8 Areas of Your Life to Pair with Your GoDonut. There is also an informative video that shows several creative ways to use the product titled GoDonut-Doers Doing More. For further information about GoDonut, visit https://godonut.com.
GoDonut was founded by business partners Nina and Raymond out of their mutual passion for clever consumer products. From childhood, Nina and Raymond were hooked on the idea of creating innovative yet simple solutions for everyday problems. In high school, they were the kids who thought outside of the box as they doodled their way through their classes, while their curiosity seemed to get the better of them.