NFT Expoverse Los Angeles: Exhibitor Booths
NFT Expoverse Los Angeles: Exhibitor Booths
Article by Angie Kibiloski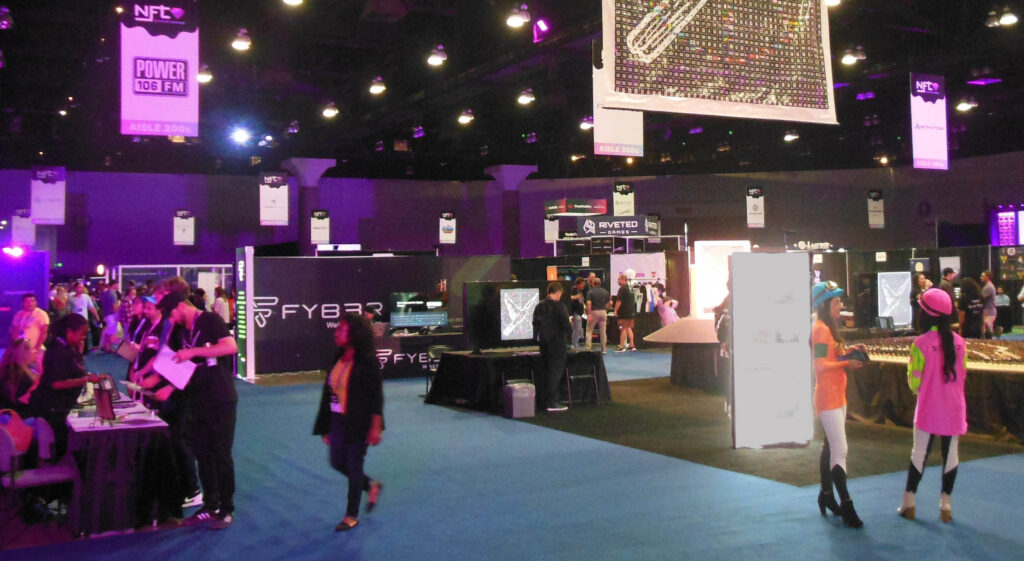 Recently (July 29th-31st, 2022), I attended NFT Expoverse Los Angeles, a 3-day event featuring speakers and exhibitors from the realm of NFTs and Web3. Most of my time was spent getting an NFT education from the wide range of panel discussions, but there was also an exhibitor booth area, where I discovered some cool projects in development. In this final article covering the show, I'd like to briefly touch on 3 of the projects that I'm most interested in following their progress. You may not be surprised that 2 of them are games.
Solcraft is an RTS (Real Time Strategy) game, with a P2E (Play-to-Earn) mechanic, built on the Solana Blockchain. In the fantasy realm of Solania, you'll purchase various character NFTs to play with, like Dwarf Miners, adorable Battle Animals to aid them in defense, and parcels of land on which to mine the in-game currency of Solanite. Once you own a Dwarf, you'll have the chance to mine for currency, and stake your assets to passively earn currency while you're out of the game. The generative 3D art of the main characters are randomly generated from 100's of layered traits, so every one will be unique, with the added bonus of rarity levels, which assign special ability classes to your characters. Upgrade your characters, or buy boosting items to make them more powerful than they were when you bought them. Your Battle Animals (super cute mohawked pigs to start with) will defend your Dwarves from marauding Orcs as they mine your land. They have random rarities assigned at mint, but they can be bred to create more powerful animals, and different species will also be added later on. The land you mint has varying degrees of rarity as well, which determines how much currency can be mined in a particular time frame. All of these mechanics are pretty standard for a RTS title, but this game has the added benefit of truly owning your characters and other game assets, along with the bonus of earning currency as you play. Solcraft is in closed Alpha testing right now, but is poised to open to the public in the next couple of months. Check out their site for a game trailer and more detailed info, including where to buy the game NFTs, at Solcraft.online and then go chat with the team on Twitter @solcraftgame or @DwarfKingMiner.
Silks is a thoroughbred horse racing game, with a direct connection to real-world racing, living on the Etherium Blockchain. When you mint a race horse NFT, you get an in-game asset that matches an actual horse in real life, with the value, heritage, and racing stats of that real horse. Each NFT is minted for the same initial cost, but is randomly assigned, so someone may get a future Triple Crown winner, while someone else's horse may struggle on the turf. Before you can even mint a horse, however, you'll need to mint an avatar, which will stand as your in-game identity, and jockey for your horses. Each avatar will be given a plot of land, on which your stable of thoroughbreds will live and thrive. You can get started with these 2 steps right now, while minting of horses is still in the works. Buy, sell, or trade your horses with other owners, then earn rewards based on the real-world winnings of each animal. At the start of next year, the Silks metaverse will launch, opening up a larger in-game token economy, a DAO, and P2E game mechanics. This is the time to get in on the ground floor of this fun game, especially if you enjoy real-world horse racing. Find out more in-depth info about the game and racing metaverse at Silks.io, then mint your avatar at Silks.io/avatars. You can also check them out on Twitter @Gameofsilks.
2B3D is a company with 2 goals: to provide their NFT holders with access to a variety of dapps (Decentralized Applications), including their metaverse, VR experiences, and a P2E sci-fi shooter game, with continuing utility within each dapp well beyond the initial mint, and to use a percentage of NFT sales to provide VR-based mental health treatment to veterans who suffer from PTSD. Their 1st NFT project will launch in the coming months, on the Etherium Blockchain, and will be a collection of randomly generated coins, each with unique features and rarities. These coins will unlock utilities in each of their dapps, and can even be directly traded for their native crypto token at a later date. Their token, $2B3D, will be launched in their 2nd stage, and can be bought, traded, and staked. On the healthcare side, their intention is to bring necessary mental health treatment to those who need it most, starting with veterans who have PTSD, but building on that in the future to include other mental health issues like depression and anxiety. The percentage of NFT sales which go towards funding this aspect of their project will enable veterans to access these applications for free. They'll be able to access group meetings, individual therapy sessions, relaxing environments, and mini-games, whenever they need some help, just by putting on their VR headset. If you'd like to read more about this worth-while project, check out their extensive site at 2b3d.com/vrx, and find out how to mint their 1st NFT coin at Mint.2b3d.com. If you want to get in touch with them, find them on Twitter @2B3DInc.
There were many more exhibitors presenting their projects at NFT Expoverse Los Angeles, and several more that I'll keep my eyes on as they develop, but these 3 are the ones I'm most interested in, and may be minting myself if I can conjure up some SOL or ETH, which are the crypto currencies used on the Solana and Etherium chains respectively, and buy a hardware (cold storage) wallet to protect my assets, like a Ledger. If these projects sound interesting to you, consider reading more about them on their sites, and connecting with them on Twitter.