Morphée Zen
Review by Angie Kibiloski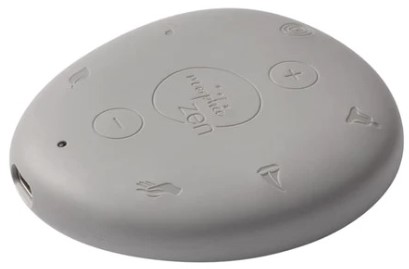 Morphée has released several meditation and stress-relieving products, with the Zen being the latest. It's a portable, personal relaxation device, that allows you to have calming moments while on-the-go, without the need for a screen. It has a smooth, minimalist, river pebble design, with the control buttons beneath the smooth surface, and subtly indented icons to denote where to press. With 72 audio sessions across 6 types of relaxation themes, it's a simple alternative to the subscription meditation apps on the market. I think this device does what it claims, and is a good option for specific people, but I also feel that it falls short in a few aspects, which is why I'm sharing this review, but not giving it an Editor's Choice. Keep reading for my breakdown of why I like the Zen, and why I don't.
To start, let's talk about what's nice on this device. The design mimicking a river stone is cool. The satiny matte finish and irregular shape feel good in your hand, and it's light-weight and flat enough to slip easily and comfortably into a pocket. I like that the buttons are beneath the surface, so there's nothing to detract from the smooth stone effect. For the 48 sessions that are verbally guided, you can choose either a male or female narrator, both of which have pleasant, soothing voices. The option of choosing music or nature sounds instead of a voice-led meditation is nice as well. There's a decent variety of themes across the 6 categories, which are Deep Relaxation, Immersive Journeys, Dynamic Relaxation, Sounds of Nature, Relaxing Music, and Chrono Zen Sessions. I found my favorite voice-led sessions to be in Immersive Journeys, where the narrator takes you to various destinations, describing the environments by sight, sound, smell, etc. The other verbal sessions focused more on communing with your own body, through visualization and breathing exercises. I also enjoyed the non-narrated categories of Sounds of Nature and Relaxing Music. In fact, I spent most of my time in the latter 2 categories. Finally, you don't need an app to control the Zen, it's completely controlled by the buttons on the device itself. In a world where screens are so much a part of our lives, the ability to fully use this device without one is a refreshing change.
Now, some of these same points also serve as why I think the Zen misses the mark a bit. It doesn't have a screen, and can only be controlled directly on the device. This makes for some inconvenience, due to how the Zen is programmed. There are 12 sessions in each of the 6 categories of meditations, and to get to the later sessions, you have to cycle individually through them. If you switch back and forth between categories, instead of holding your place in each, the Zen resets to track #1 every time. You can bookmark one favorite track in each category, but other than that, you're stuck cycling through each track one by one. The buttons are also a little harder to press than I'd like, making this slow skipping process cumbersome. There are only 2 voice options, one male and one female, unlike most of the relaxation apps on the market, where you have a wide variety of narrators. If you don't find either voice pleasing, or simply want some variety across the 48 verbal tracks, you're out of luck. I found the voices to be calming, but after multiple sessions of the same speaker, using the same pace, with the same intonation, it got tedious. Finally, the next points are minor gripes, but small design flaws can make using a device more or less convenient. The headphone jack is on the top of the device instead of the bottom, so you have to rotate the device when taking it in and out of your pocket to use the buttons the right way up. A seemingly silly complaint, but an annoyance nonetheless. Also, the earbuds that come packaged with the Zen are very poor quality, and not really shaped for a human ear, so you'll need to supply your own.
The Zen is pretty basic, and this very fact is what will suit some people. For instance, this would be a great meditation aid for consumers who don't have smartphones, and can't subscribe to relaxation apps like Calm, or who just find the idea of subscribing to an app to be less appealing than paying a one-time purchase price. It might also be a welcome relief for people who live on their phones and computers, and want a totally screen-free moment of calm. If the buttons were easier to press, I'd say this would be good for people with dexterity issues, who have difficulty using a touchscreen. For myself, I like having the variety of content that comes with a subscription app, and the convenience of being able to set playlists, choose between multiple narrators, have more non-verbal soundscapes, and all the other things that a more comprehensive service provides. For $79.99, I'm not sure that 72 short, 5-minute meditation sessions, all by the same 2 narrators, make this device worth it for me. However, I can see where the Zen would be a great fit for some people, who may find the appeal in its simplicity. It's already on the market in Europe, and will be available in the US next month. In the meantime, you can browse the previous Morphée products on the market, or if you speak French, you can read about the Zen on its European landing page now.