Editors' Choice Hardware
August 2017
Cherry MX Board Silent
Review by Dr. Terry Kibiloski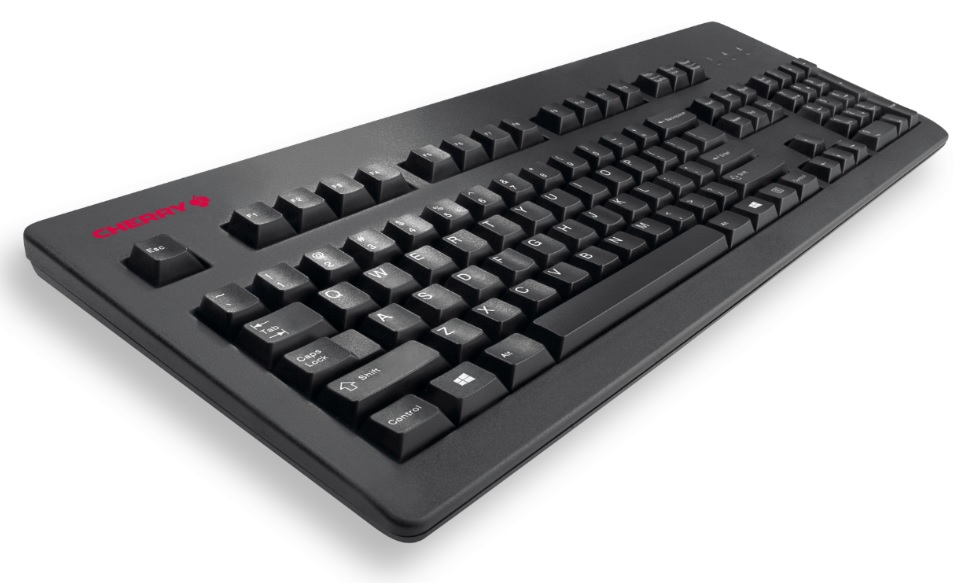 The Cherry MX Board Silent (around $120) is a durable mechanical keyboard, from Cherry, a German company that makes the best mechanical keyboard switches on the market.  The Cherry MX Board Silent uses a brand-new type of Cherry mechanical switch that reduces the sound of the audible clicks while at the same time retaining the mechanical keyboard's precision responsiveness.  Its superior quality and value were two key factors in the Cherry MX Board Silent earning the coveted Computer Times Editors' Choice award.
To appreciate the Cherry MX Board Silent, you need to understand the difference between membrane keyboards and mechanical keyboards.  Membrane keyboards are inexpensive to produce and can have a somewhat mushy feel as you press the keys.  If you type too fast, or need to press multiple keys at one time, membrane keyboards can make mistakes in registering the keys you pressed.  Mechanical keyboards, which are more expensive to produce, provide a solid mechanical click when each key is pressed, and can register multiple keys being pressed at once.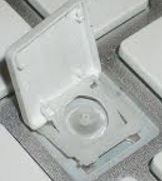 If you own a relatively inexpensive keyboard for your desktop PC, or you have a standard laptop computer, you most likely have a membrane keyboard.  Membrane keys have low-cost rubber domes under each of the keyboard keys.  When you press a key, the rubber dome collapses to make a connection between two conductive strips to register the key you just pressed. If you are a fast typist, you might experience missing letters in your typing since you have to press each key down all the way to get it to register your pressed keys.  Also, as membrane keyboards age, the feel of the keys may get a little mushier.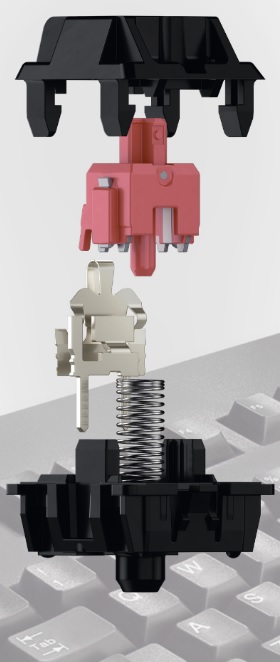 Mechanical keyboards, like the Cherry MX Board Silent, use mechanical switches under each key, giving you precision keyboarding.  When you press a key, the mechanical switch provides an audible click to notify you that the key registered your key press.  Not only are the mechanical switches more durable than the membrane switches, the audible click can be invaluable to professional typists, gamers, and coders to provide positive proof that a key has registered the key press properly.  To further assist serious gamers, who sometimes need to press multiple keys simultaneously, the Cherry MX Board Silent can register up to 14 keys at one time.  Mechanical keyboards have removable keycaps that can be easily removed to customize your keyboard, and to easily clean the keyboard.  As mechanical keyboards age, the feel of the mechanical switches stays the same.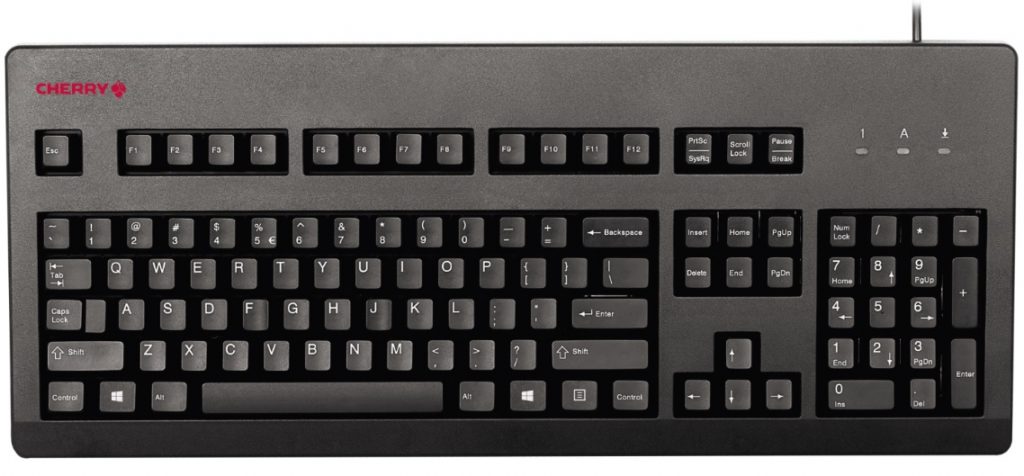 The Cherry MX Board Silent is a no-nonsense, high-end, professional mechanical keyboard.  You will not find the bells and whistles found on many of the membrane keyboards, rather you will find a basic configuration that is based on the classic G80-3000, which has proven itself for decades to be precise as well as reliable. Cherry combined the time-tested G80-3000 with its new MX Silent switches to create the Cherry MX Board Silent which will keep keyboard noise in a hectic office space to an absolute minimum.
The MX Silent-switches have a uniquely shaped rubber pad compared to conventional switches. The integrated 2-component stem reduces audible clicks at the bottom-out and top-out to a minimum. As with every other MX switch, these features include a sturdy housing made of plastic polymer, a precise spiral spring, and the unique Gold Crosspoint contact technology. This exclusive production process guarantees a precise release and a service life of over 50 million keystrokes.
The Cherry MX Board Silent is offered in two versions, so the consumer can choose between two variants of the noise-reduced MX Silent switches. Both exhibit linear switching characteristics but differ in the required release force: 45 centinewtons for the MX Red Silent and for those who prefer a slightly higher resistance, 60 centinewtons for the MX Black Silent. Like all MX switches, the bounce is less than a millisecond, allowing for precise and instantaneous input.
A summary of key benefits:
Precision key switches – Made in Germany (Cherry MX Technology)
High-quality keyboard with laser-etched keycaps
Cherry MX Silent switches with Gold Crosspoint contact technology
Noise-optimized MX key switch version with patented noise reduction, using an integrated 2-component stem which clearly minimizes noise at top-out and bottom-out
Self-cleaning contacts, dust- and dirt-resistant
Over 50 million keystrokes per switch without compromising quality
N-key rollover: Simultaneous operations of up to 14 keys without any ghosting effect.
PC and Mac compatible over USB
USB and PS/2 connectors
18.5 x 7.7 x 1.7 inches
5.75 foot connection cable
2-year warranty
For further information, you can visit the Cherry website.