ThinOPTICS Reading Glasses

Editors' Choice Health
February 2018
ThinOPTICS
Review by Angie Kibiloski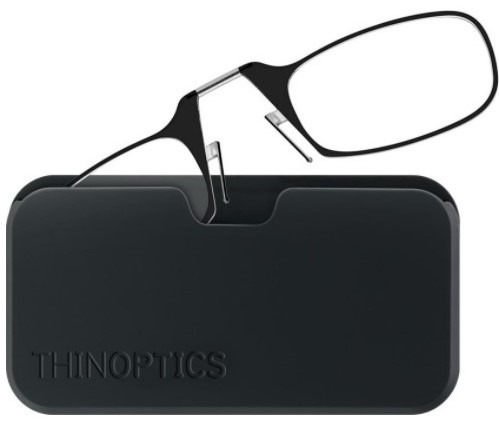 ThinOPTICS is a brand of light, thin, ultra durable, stemless reading glasses, with innovative carrying cases, for the on-the-go, far-sighted individual.  Designed to travel in tandem with your mobile device, they'll always be at your fingertips, so you'll never have to search for your reading glasses again.  The coolness of this product is 2-fold.  First, the glasses themselves are extremely tough; able to be dropped, sat on, even twisted at the bridge, and come out undamaged.  The cases, which come in a variety of vibrant colors and prints, maintain the thin profile of the glasses, and are meant to be attached to the back of your phone, tablet, laptop, etc., though you can just throw then in your bag on their own as well.
Let's get a little more in-depth with the glasses on their own.  The shatterproof lenses are made with optical-grade polycarbonate, the same kind used in high-end prescription lenses, or ballistic (bulletproof) protective eyewear.  They come in 4 strengths: +1.00, +1.50, +2.00, and +2.50.  The stemless frames, which are only about as thick as a nickel, are also made with shatterproof polycarbonate, which makes them almost as light-weight as you can get.  The bridge is made with an incredibly flexible titanium alloy, Nitinol, which is 10x more flexible than spring steel (the metal used to make, you guessed it, springs), which is encased in a medical-grade silicon tube, anchored securely into the frames.  The nose pads have a grip-sensitive surface to prevent them from slipping down or off your nose.  The pads, together with the elastic bridge, put just enough gentle pressure on your nose to hold the frames comfortably in place.  They come in one size, and aren't manually adjustable, but with a few seconds of repositioning, most people will be able to easily find the correct position along their nose, for the pads to grip the frames securely in place for as long as needed.  Both the lenses and the frames are incredibly durable, and can withstand all sorts of punishment that a pair of glasses would normally encounter with regular use.  Sit on them, drop them, snatch them from your face in a fit of annoyance at the news article you're reading, or absent-mindedly fold them in half at the bridge, and your pair of specs with just bounce back into shape like nothing happened.  ThinOPTICS is so confident in their durable design, that they'll guarantee free replacement glasses for life.  This is a pretty great deal, considering millions of people purchase 2 pairs of reading glasses each year, due to mishaps resulting in their breakage. Think of all the money you'll save by purchasing just 1 pair of ThinOPTICS!
The cases are awesome too, and they come in several varieties to suit your needs.  The Universal Pod ($19.95 with glasses) is a solidly molded, thin case, just large enough for 1 pair of glasses to slide into.  The small profile and light weight of this hard case makes it unobtrusive enough to throw in your purse, briefcase, or even you back pocket, and still be confident that your glasses are well protected.  It was originally designed, however, to adhere to the back of your phone, or other smooth surfaced device, so your glasses are always at hand when you need them most.  The standard Universal Pod comes in a range of lovely color options.  You can also get them adorned with a HUGE range of designer inspired prints in their Curated Collections ($29.95 and up), with animal paintings, modern art, landscapes, patriotic designs, and many, many more.  I think these are particularly great, because the color and/or print of the case is also reflected on the frames of the glasses that come in it.  There are so many beautiful and fun designs in the Curated Collections, you may find it difficult to choose.  Well then, buy multiple cases and get the Swap Kit ($5) to solve this issue.  The kit comes with a thin metal plate that adheres to your phone, instead of directly affixing the case, and a small magnet that adheres to the back of your Universal Pod.  The Pod can be pulled away from the magnetic plate, and another Pod stuck in its place.  This allows you to quickly and easily swap out which case you carry with you, so you can have a different case for every mood, or each day of the week.  If you don't have a phone case already, which you could attach a Pod or Swap Kit to, you can get the ThinOPTICS Phone Case ($29.95 with glasses), which already has a Pod built in.  Finally, the Keychain Case ($24.95 with glasses) is a really nifty way to take your reading glasses with you, even if all you want to grab on the way out are your keys.  The keychain fob has a retracting mechanism, which clips to the bridge of your ThinOPTICS glasses.  Then, you just pull back on the retracting slider, and due to the flexibility of the bridge material, the glasses fold together like a pair of scissors and slide right into the case, which is just a little bigger than one lens of the glasses.  I found this Keychain Case was fun to play with, as well as being useful, so this may be the choice for all you fidgeters out there.  There are a small batch of Curated designs for the Keychain, but not as many options as for the Pod.  If you want to have multiple cases, but only think you need 1 pair of frames, you can save a little money and get a regular (not Curated) Universal Pod or Keychain Case, without glasses, for a discounted price.
I don't wear reading glasses myself, so I gave a couple pairs of ThinOPTICS Curated Collections, plus Swap Kit, as well as a Keychain Case, to my Mom to use for this review.  Because she has a thin nose, she had a little difficulty finding the right placement so the glasses would grip tightly enough to no fall off when she titled her head down, but eventually she found the sweet spot.  After that, as long as she didn't dance around while wearing them, they stayed in place just fine.  She discovered that if she attached the Pod to the back of her phone, a Samsung Galaxy S5, that it would cover the speaker, so she ended up just throwing the case in her purse.  This would obviously defeat the point of having a Swap Kit, so if you have a smaller phone, you might want to check on the dimensions before ordering a kit.  She loved the fact that the Universal Pod was so light and thin, but still really protective.  She's one of those people who tend to sit on their glasses, so she also appreciated the fact that the glasses themselves are durable enough to be dropped, sat on, or otherwise abused, without being damaged or broken.  She also loved that the Curated Collections frames matched their cases, was thrilled with the novelty of the Keychain Case, and was glad to have both kinds instead of having to choose between them.  I'm not sure which I would choose if I started needing reading glasses, since they're both really neat cases.  If any of these products sound cool to you, head on over to www.ThinOPTICS.com to see all of the colors and designs, and grab one, or several, for yourself.  They have a 30-day money back return policy if you don't end up liking the products you chose, so there's really no reason not to try a pair out.