Will CES disappear as COMDEX did in 2004?
Will CES Disappear as COMDEX Did in 2004?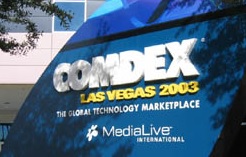 By Dr. Terry Kibiloski
Editor, Computer Times
Will history repeat itself?
Just a bit of nostalgia from an editor who still misses COMDEX.  If you are a member of the press who remembers attending COMDEX in Las Vegas, then you will remember the excellent press events at the Italian restaurant across the street from the Las Vegas convention center, the lavish press parties, free limos from the likes of Opera and others, free roller luggage for press upon check-in, free press concerts from the likes of BB King and other greats, bags and bags of fun swag, and press rooms filled with good food, couches, and great camaraderie.  One of the craziest press events I recall is a flying Elvis or two parachuting to the top of one of the large hotels where a lavish party was held to kick off an e-mail consolidation software product.
In the early 90s, Sheldon Adelson, was the key organizer for The Interface Group, the owners of COMDEX, which then sold it to Softbank, Corp. in 1995.  In my opinion, the beginning of the end for COMDEX began after COMDEX Fall 1999 (in Las Vegas), when Softbank decided to make major changes to their criteria for press credentials and rejected most of the previous mass media that helped make COMDEX the largest computer industry event in North America.
Everything seemed to go downhill from there as exhibitors looked for other shows with better press coverage.  Eventually, COMDEX went from thousands of exhibitors in its heyday to around 500 in November 2003.  There was such little interest in COMDEX in 2004 that COMDEX 2004 was cancelled.  This made way for the Consumer Electronics Show (CES) to grow into the event that it is today.
Sadly, CES has begun to follow in the footsteps of COMDEX as it severely limits press credentials, not realizing that some of the best CES press comes from smaller Internet media throughout the planet.  Will history repeat itself?  Could this be the beginning of the end for CES as we know it today?  Only time will tell.