Editors' Choice PC Game
October 2017
Conarium
Review by Angie Kibiloski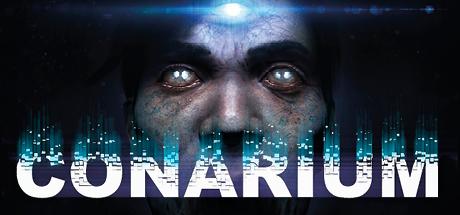 Don't feel like dressing up and painting the town red this Halloween?  Not looking forward to handing out handfuls of candy to sugar crazed tots?  I've got the perfect alternative for you.  Turn off the lights, pour yourself a glass of fortifying spirits, and spend the spookiest evening of the year immersed in Conarium, a critically acclaimed horror adventure game, from Iceberg Interactive and Zoetrope Interactive.  Conarium is an eerie, engrossing, psychological thriller, set in an abandoned Antarctic research base, which hides some dark and dangerous secrets beneath its facade of science.  This game pays tribute to the much-loved works of H.P. Lovecraft, with a strong influence from his novella, At The Mountains of Madness.  What better way to give a nod to all things creepy and crawly, than by getting wrapped up in a reality-warping, Lovecraftian narrative?
You, as Frank Gilman, will wake up from a disorienting dream, amidst strange sounds, pulsating lights, and a confusion about exactly what's going on.  By bravely leaving your room and exploring the abandoned facility, you must discover what happened to everyone else, why you keep having these waking, supernatural dreams, and how in the hell do you escape the things that are hiding in the dark?  You'll come across some bizarre scientific devices, which you'll soon discover have changed you in unsettling ways.  As one of the scientists at the facility, you were using them to push the boundaries of what we know to be the accepted limits of the natural world.  Have your projects unleashed something that shouldn't have been disturbed?  Can you overcome the darkness creeping in from another realm, as well as the darkness within yourself?  You'll get to answer these questions by exploring every inch of the facility, collecting some very interesting notes and letters, written by yourself and your scientific colleagues, and piecing together an ever-widening mystery.
I don't want to reveal too many details about the game, or even some of the later environments, because part of the thrill of a new adventure game is exploring the unknown.  It would spoil the suspense if I told you anything beyond the 1st research base stage of the story.  I will say that all the places you'll venture into are beautifully rendered with great detail, containing a multitude of items to pick up, read, use, and investigate.  The soundtrack and sound effects are haunting, and spot on for sustaining tension.  There are classic adventure style puzzles scattered around, which can be as simple as finding a key to a locked door, or more complex like finding the correct sequence of dial settings on an important electrical device.  They aren't too difficult, or too numerous, to take you away from progressing the story, but are still challenging and frequent enough to keep things exciting and firmly in the adventure genre.  Scattered throughout the game are little Easter Eggs for fans of H.P. Lovecraft, as well as Iceberg Interactive's previous horror adventure series, Darkness Within, which was also a Lovecraft tribute.  I was a fan of that 2-title series as well, so this was an exciting element for me.  If you've ever been a fan of the classic adventure genre, whether it was games published by Iceberg or someone else, this title will be sure to satisfy.
Conarium was releases back in June, and has since received very strong reviews.  It has been showcased at PAX East, PAX West, and featured at IndieCade earlier this month, where it was chosen from over 1000 world-wide submissions.  Due to its success on Steam, Conarium will be released on PS4 and Xbox One in early 2018 as well, so if you prefer to go adventuring on a console, keep your eyes peeled for that in the new year.  However, if your PC is game ready, I'd recommend downloading it right now, and delving into a world of adventure, suspense, and hours of fun!  Don't worry if you're a bit of a baby (like me) when it comes to horror.  It's touted as a horror adventure, but it isn't really scary, without the gore or mounting terror of true horror titles.  I'd say it's more suspenseful, but thrilling enough to make it a perfect accompaniment for the holiday.  Happy adventuring, and Happy Halloween!
Buy it now on Steam for $19.99.
Minimum System Requirements:
OS: Windows 7 64-bit
Processor: Intel Core i3-4160 @ 3.60GHz
Memory: 6 GB RAM
Graphics: NVIDIA® GeForce® GTX 480/570/670, ATI Radeon HD 5870/5850
Storage: 8 GB available space