CES 2018: Show Floor Roundup Part 2
CES 2018: Show Floor Roundup Part 2
Article by Angie Kibiloski
January 19th, 2018
Finally, the last of the CES 2018 wrap-up articles is here, where I'll share with you the 2nd half of my cool product finds from the LVCC and Sands Convention Center Show Floors.  All the products in this article have to do with health or the connected home in some way.  If you missed CES 2018: Show Floor Roundup Part 1, you can find it by clicking on the linked title.  It's been a week since CES ended, so without further ado, enjoy the last of my coverage.
We'll start this off with the next model of a product I mentioned, and used, a couple years ago, the Reliefband 2.0.  This is a wristband which, through the use of electric pulses, can mitigate the symptoms of nausea, from a variety of causes.  I use mine to prevent me from becoming motion sick in the car during road trips, or on boats.  This is especially appreciated once a year when I go for a 2-hour whale watching excursion off the Southern California coast.  The new Reliefband 2.0 is a comfortable wristband in the style of an activity tracker, and fits snuggly on most sizes of wrist.  The electrode disk sits flush against your inner wrist, over your median nerve, and you control the strength of electrical pulses with the touch display on the top side.  The old model had 5 levels of intensity, where this new one has 10, giving you a more precise adjustment to fit everyone's comfort levels, and you can raise and lower the intensity as needed.  The median nerve is connected to the "nausea control center" in your brain, and by directing electric pulses through it, you can use your own neuropathways to block feelings of nausea that are being sent from the stomach.  This FDA-cleared device is clinically proven to help with nausea from motion sickness, morning sickness, and chemotherapy.  It also claims to help those who suffer from nausea caused by using VR technology.  The band is latex-free and hypoallergenic, easy to put on and adjust to fit, and will last for about 17 hours on the medium setting.  The old model has really helped me in several situations where I usually feel sick, and I'm really looking forward to trying out this new and improved model, with its more discrete style and increased incremental adjustments.  www.Reliefband.com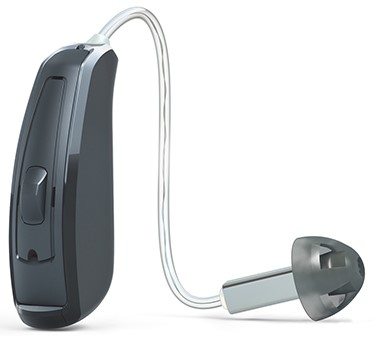 Next, I'd like to briefly talk about a product that I'll probably be doing a full story on at a later date, GN Hearing's ReSound LiNX 3D hearing aid with the ReSound Smart 3D companion app for remote fine-tuning.  The combination of the high-quality hearing aid and the new app gives patients the chance, with the remote help of their audiologists, to customize their device's settings for optimization in every environment they visit.  A classroom won't have the same sound profile as a rock concert, so why should your hearing aid's settings be the same for both?  The app allows you, in conjunction with your audiologist, to customize settings for all of your recurring situations, and even geotag these settings to be easily accessed every time you encounter the same circumstances.  Just send your doctor a request through the app, with details of the environment you're having difficulty in.  He can make adjustments to your hearing aid settings profile in the app, and then you can update your device, also through the app, when you receive notice that he has seen to your request.  You can adjust certain parameters in the app yourself, like bass, treble, middle tones, and mic direction, but if you want to have more precise adjustments, you'll still need your doctor's assistance.  I sat through a very informative meeting with the minds behind this product, and there is so much more to say about it, but you'll have to watch for my full review article.  Or, visit their site and discover the impressive ReSound LiNX 3D for yourself.  www.ReSound.com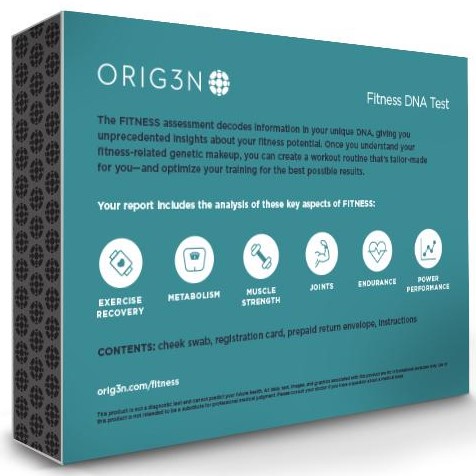 The next health product is a bit different, in that it isn't technology that you can hold and use yourself.  Orig3n is a DNA testing company who puts out home test kits with a variety of parameters.  You simply choose what you want to learn about your biology, order the kit, then swab the inside of your cheek with the sterile cotton swab when it comes in the mail.  Enclose your swab safely in its tube and send it back to the Orig3n lab in Boston.  About 2 weeks later, they'll send you the secrets of your DNA.  They won't sell or share your info with any third parties, so no need to worry about your genetic details being leaked to anyone you didn't authorize.  You can test for traits related to fitness, beauty, behavior, nutrition, metabolism, and a lot more.  Depending on the test, and how many traits it looks for, the prices vary between $29 and $149.  I'm a little skeptical that your genes can tell you some of the things they claim, like your ability to learn a language, or how prone you are to risk taking, as social and upbringing variables play big parts in things like this, but other elements like your level of physical endurance or whether you're prone to baldness in middle age are more obviously genetically determined.  At the show, they did a sample DNA test for free, with 4 different fitness variables, so I'll be interested to get my results in the mail.  It's incredible to me that modern lab technology can make unlocking our own DNA accessible to the average consumer, and at a relatively low price.  www.orig3n.com
To straddle the health and connected home topics this time around, we're going with a product related to one of my favorite beverages…wine.  Red wine has been said to have positive health benefits, and some people even make a practice of having one glass every night for their heart health.  I would posit that a glass of any kind of wine can have a positive effect on your mental and emotional health as well, due to the happy and relaxed state that enjoying one can create.  A product that can help you to better savor a nice glass of your favorite vino is the Coravin Model Eleven, the first fully automatic, smart connected, wine preservation bottle opener.  Other models of the Coravin have been out for several years, but this will be the 1st to have app connectivity.  The genius behind any model of the Coravin is that you needn't pull the cork out of a bottle to be able to pour a glass.  By inserting a hollow needle through the cork instead of a large screw, the wine is allowed to pour through the device, while leaving the integrity of the cork intact.  The nature of cork, and the pressure from the neck of the bottle, allows the hole to close up as the needle is retracted.  This way, air never touches the wine still inside the bottle, and you can leave it on your shelf for weeks, months, even years more, instead of having to rush to finish an expensive bottle before it goes bad.  You can have a glass of whichever bottle you want, instead of simply the one that's already open.  The connected app, Coravin Moments, takes the device to the next step for wine lovers.  You'll be able to use it to find pairing suggestions, get detailed information on each wine, connect with other wine connoisseurs, and check the battery and other stats on your opener.  The price is pretty steep, so you really gotta LOVE wine, but if you're the kind of person who can afford a cellar full of expensive bottles, you just might want the Coravin Model Eleven to extend the life of those bottles beyond the initial pour.  www.coravin.com/modeleleven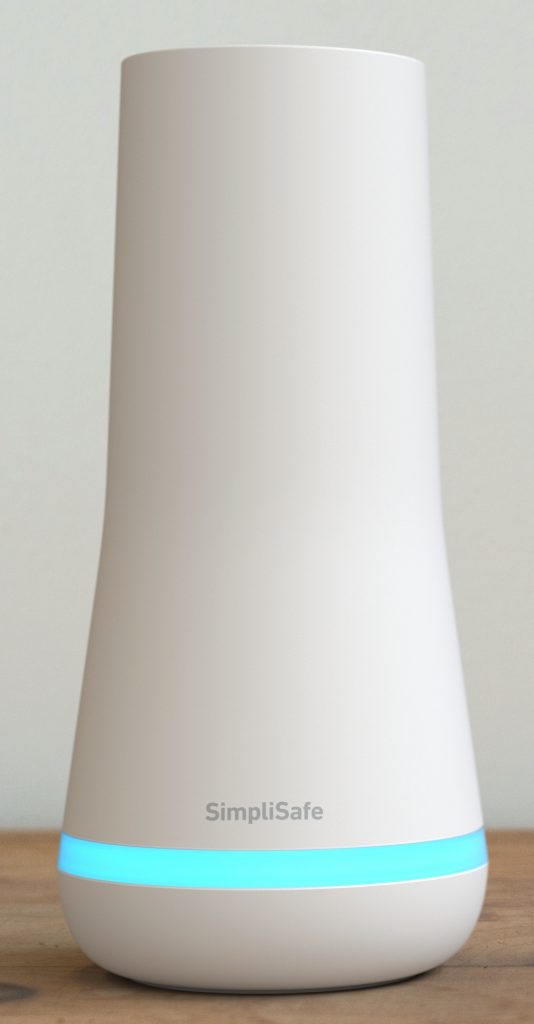 Going fully into the connected home now, the SimpliSafe connected security system is a complete safety package for whole-home protection.  The Base Station, pictured here, is the connected hub controlling a plethora of sensor devices.  You can get entry sensors, glass break sensors, motion sensors, indoor/outdoor cameras, smart locks, CO detectors, smoke detectors, and much more, all controlled and monitored through the Base Station and the companion app.  This thing has a number of backups and safeguards, to make extra sure that even if an intruder messes with the system, or the power goes out, the authorities can still be notified if necessary.  The system is smart enough to learning the difference between pets moving around and intruders, between someone breaking a water glass and someone breaking your window glass, thus decreasing the likelihood of constant false alarms.  The sensors are all discretely designed, so you can have them everywhere in the house, but hardly notice they're there.  Soon, it will even be able to connect to an Amazon Alexa, for added convenience and control.  With its full range of sensors and monitoring devices, this product package is so much more than your standard security system.  www.simplisafe.com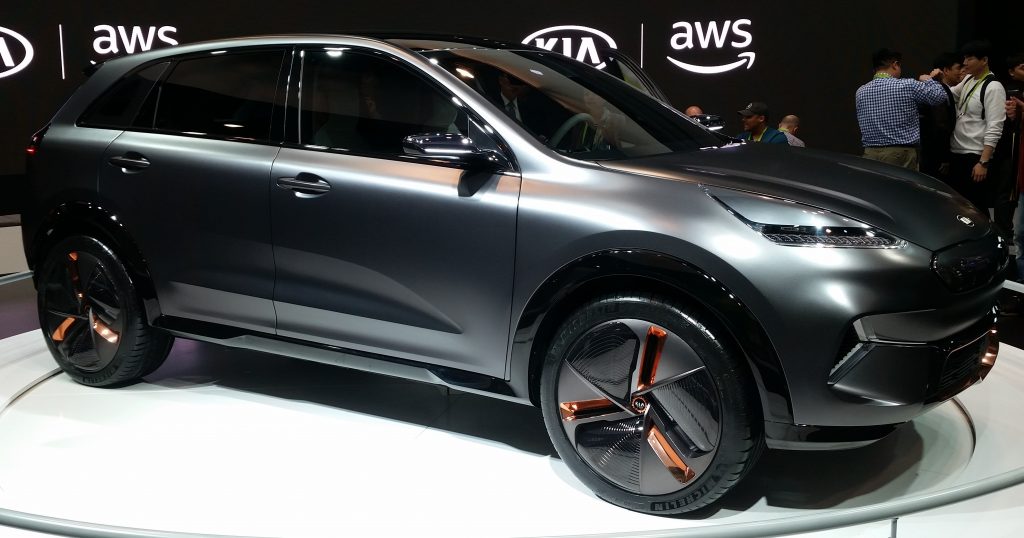 Stepping outside the home to the garage for a minute, KIA was exhibiting their new Uvo KIA app, which connects with your Google Assistant and allows you to talk you your car.  Use it to remote start or stop the engine, adjust the climate controls, start or stop the charging station, remote lock or unlock the doors, and more.  It is currently compatible with the Niro Plug-In Hybrid, Optima Plug-In Hybrid, Soul EV, and K900, but the company has plans to make every car in their line a connected car in the future, with further plans for all vehicles to be autonomous and electric as well.  They were spotlighting their Niro EV Concept car, which is a prototype for a fully-electric, compact SUV, with an Active Pedestrian Warning System, a 238-mile driving range, and zero tailpipe emissions.  Smooth and stylish on the outside and inside, cocooning the passengers in comfort and safety, this concept car is a great example of what awaits us in our vehicular future.  I have to say, seeing this car changed my impression of KIA, and I look forward to the Niro EV, or something similar to this concept, hitting the market soon.  www.kianewscenter.com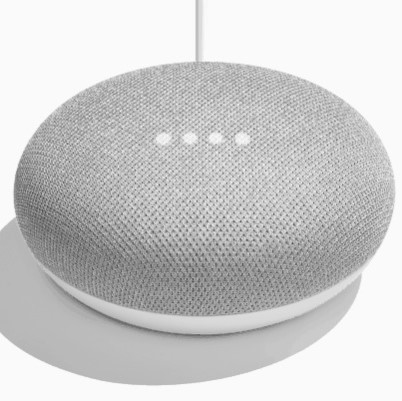 My last, and lengthiest entry for this article will be Google Assistant in general, and the Google Home Mini specifically.  Google was absolutely EVERYwhere at CES, with ads on billboards, signs on taxis, the Monorail, hotel marquees, little minions in white coveralls and pompom topped beanies running around, notices in other companies' booths whose products were compatible with the Google Assistant, a huge Google booth at the LVCC, and 3 satellite game booths around town.  You couldn't get away from Google if you wanted to, but with so many opportunities to participate in fun activities, and even win some cool products, most people were flocking TO them rather than trying to avoid them.  I, myself, won a Google Home Mini at their Google Express station, a smart power plug at their gumball machine game at the LINQ, a $100 Ticketmaster giftcard at their LVCC gumball machine game, and a Google tote bag at their Sands Convention Center one.  At their giant LVCC Central Plaza booth, you could stand in long lines for a variety of activities, all accessed in some way through your interaction with Google Assistant.  You could watch cooking demonstrations from celebrity chefs, get the Google Assistant to give you a free donut (or a free Google Home Mini to a lucky few) and a minion to give you a free coffee, sit through an airing of a podcast, enjoy a sample of a delicious cocktail mixer, or even whiz down a big, blue, twisty slide.  There was so much to do, you could've spent the entire day enjoying Google related fun, all in pursuit of ensuring that no one left CES without being well aware of the existence of Google Assistant.  https://assistant.google.com
The Google Assistant is a complex app that can be housed on a number of devices, from your cell phone, to a smart speaker like the Google Home, to your watch, tv, car, and more.  So many of the smart home devices nowadays are compatible with Google Assistant.  The Google Home Mini is one of the newer products that has this connectivity.  It's a puck shaped speaker, about the size of a jelly donut, which has Google Assistant already onboard, and can be the connection hum for all of your smart home devices.  Once you set her up, you can use voice-commands to communicate with the Assistant inside your Google Home Mini, asking her questions or getting her to perform tasks for you, like turning your lights on, your thermostat up, streaming a favorite Netflix show on your TV, etc.  You could ask, "Hey Google, what's the weather like today?" or "Hey Google, what's the meaning of life?"  You'll get real answers when possible, and creative ones when the questions are a bit more open to interpretation.  You can use commands like "Hey Google, turn on the coffee maker." Or "Hey Google, start the car.", provided you have the appropriate smart coffee maker, or smart car of course.  There's a lot that this little device can do, and I'm excited to take mine out of the box and start learning all about it.  https://store.google.com/us/product/google_home_mini
Well, that's it for my CES 2018 coverage.  If you haven't read my other articles about the show, head over to our Home Page and find them all under the CES 2018 section.  Check back here often over the next few months, for full reviews on many of the products I briefly mentioned over the last week.  We have an exciting few months ahead, so don't miss out.