Editors' Choice Automotive
February 2018
Tough Tested Jolt
Review by Angie Kibiloski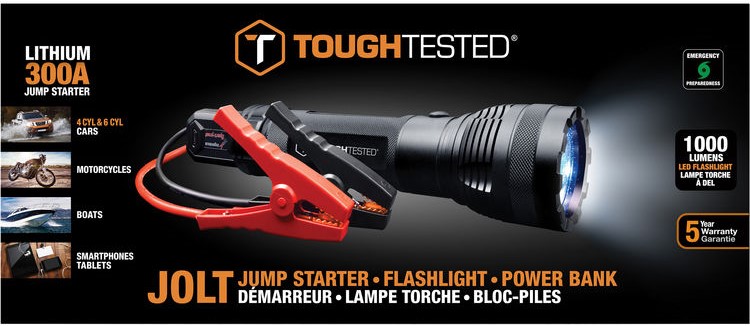 One of the most annoying things to have happen, especially when you're on your way to work, is to get in your car, turn the key, and have nothing happen.  Your battery is dead.  You'll probably spend the next hour waiting for AAA to send someone to give you a jump, just to get enough power to get to the store and buy a new battery…and be late to work.  Wouldn't it be nice if you could give your battery that life extending jump yourself, in a matter of minutes?  Well, Tough Tested has released the Jolt (Retail $189.99), a USB charged flashlight with jumper cables, that does exactly that.  You'll never be stranded with a drained battery again, because you'll carry up to 10 jumps worth of power right in your car.
The Jolt has a very heavy-duty flashlight body, which can be used to break glass in an emergency, and an extremely bright 1,000 lumen LED bulb, which has 5 light modes (low, medium, high, strobe, and SOS), with a 600ft beam, and can shine for up to 11 hours.  The 5100mAh device is charged by USB cable, and comes with a 12V car lighter adapter, to recharge on the go.  You can connect any mini-USB compatible device, like a cell phone, and power it up to 3 times if the Jolt is charged to 100%.  The main purpose of this device, though, is charging a dead 12V battery in any car, truck, motorcycle, or boat, which has an engine up to 3.5L and 6 cylinders.  To that purpose, the Jolt comes with a set of attachable jumper cables, that are spark-proof and smart.  If either of the 2 jumper clamps is not connected properly to the battery, a red indicator light will come on to let you know that you need to adjust the connection.  If everything is hooked up right, and the Jolt has enough juice for a jump, a green indicator light will let you know it's safe to turn your ignition key and charge your battery.  Sometimes the first jump doesn't do the trick, even with professional grade jump starters.  Luckily, the Jolt can jump your battery up to 10 times, depending on how full the device's own battery was to begin with.
The Jolt is a great tool to have in your car, so you'll always be ready for a dead battery emergency.  Since it's also a super powerful flashlight and mobile power bank, as well as a jump starter, you'll be able to get a lot of use out of this product even when not experiencing an emergency.  It comes with a sturdy, double pouched carrying case, that holds the flashlight on one side and the jumper cables, USB cord, and car lighter adapter in the other.  I'm not sure why you'd want to bring it on an airplane, but it meets IATA (International Air Transportation Association) requirements, so you can.  With a lifespan of up to 1000 charging cycles, the Jolt will last you for many years, especially if you're mostly saving it for emergency jumps, and the occasional phone charge.  As someone who has been stranded with a dead battery more times than I'm happy with, the Jolt is a welcome addition to my in-car emergency kit.  Thanks, Tough Tested!  If you have a larger, V8 engine, they have a product for your vehicle too, the Jump Starter + Power Bank.  You can grab one for yourself, or learn about Tough Tested's other jumper products, at www.toughtested.com.