CES 2019: Digital Experience Press Event
CES 2019: Pepcom's Digital Experience Press Event
By Angie Kibiloski
Monday night, January 7th, marked the official start to my CES week full of Press parties and product discoveries.  Pepcom's Digital Experience Press party was everything I've come to expect from their yearly events.  This company sure knows how to throw a party!  I ate tasty food, drank cool cocktails at an ice bar, and got my hands on a TON of fabulous new products, from over 200 hand-picked exhibitors!  There were products from all categories, like home security and improvement, mobile phones and accessories, health care, and entertainment.  I could talk for a week about what I saw during the 3.5-hour event, which I always wish was at least an hour longer, but I'll pare it down to my top 10 gems for now.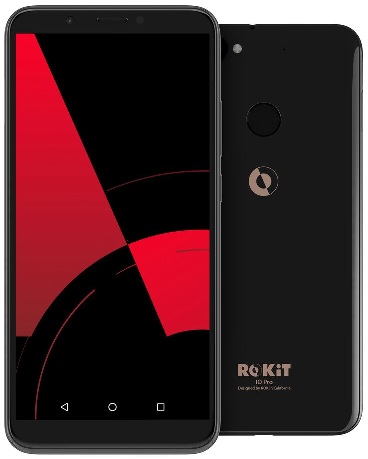 First up we have the ROKiT IO 3D Pro, a full-featured smartphone that'll cost you only $275 instead of a month's rent like the leading brands.  This phone is unlocked for all service providers, comes with the latest Android features and apps, has a glasses-free 3D capable screen, with access to a full library of 3D content, PLUS a year of free telemedicine and pharmacy discounts from their ROK Health division.  ROKiT also has 4 other models of phones, with fewer features and lower price points, but this top-of-the-line model was the winner of Digital Experience for me.  It's sleek, fully-loaded, and comes with all the features you'd want from a smartphone, at a fraction of the cost.  No one will ever know that you aren't using the latest $1,000 phone model from the 2 leading phone giants, unless you want to tell them and make them jealous of your technological savvy.  You'll be able to purchase this phone starting in March, but in the meantime, you can find more information at www.rokitphones.com.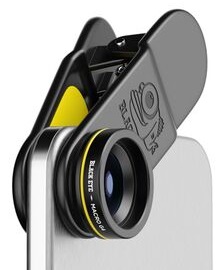 Next, we'll stay in the mobile realm and talk about the new line of photo lens attachments from Black Eye.  This company has been providing Europe with quality mobile lenses for several years, and is now bringing their 4th generation of products to the US.  Their line of cell phone lens extensions includes the Wide G4 and Macro G4 models, among others.  The Wide G4 extends your cell phone camera lens to a wide 160° angle, allowing you to fit twice as much into your frame as the built-in camera.  The Macro G4, my favorite, gives you a 15x zoom, with a minimum focal distance of 20mm, which allows you to get up close and personal with your smaller subjects, an impressive feat with a cell phone.  These 2, and their entire lens line, can easily fit most phone and tablet models, due to their easy to use universal clip attachment.  Take mobile photos like never before, and stun your friends and followers with your skills.  Check out these, and all of their lenses, at blackeyelens.com.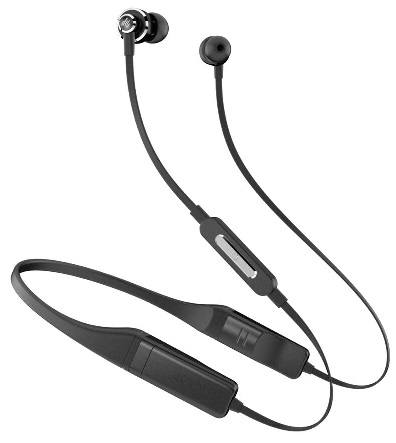 So, you have your cool, affordable new phone, an impressive photo lens to go with it, but what about mobile audio and a power source for it?  49101 has the answer to both of those needs with one device, their Changer wireless earbuds with built-in, 2-way charging and data cable.  This set of stylish earbuds provides great sound quality while connecting wirelessly to your mobile device.  It also comes equipped with a 2-way USB cable, which serves as its behind-the-neck tether while not in use.  You can use this cable to charge your earbuds from an external power source, like a power bank, a wall plug, or even your cell phone.  If your cell phone is low on battery, you can detach both ends of this cable from the earbuds, allowing you to charge your phone as well, from any micro-USB, Lightning, or Type-C compatible power source, even a generous friend's own cell phone, due to the 2-way plug design.  If this weren't enough, the cord can also be used as a data-transfer cable, to add music or other files to your devices.  No more forgetting the appropriate cables for all of your devices.  As long as you have your Changer with you, you'll always have a convenient way to power everything you carry.  You can learn more about this company at https://www.49101.com.tw, and start buying this product in February.
Let's change up the pace a bit, and have some fun with robotic toys.  The JIMU Robots, from Ubtech, are super cute as well as educational.  Each of their new line comes in a kit, requiring your child to build their new friend piece by piece.  Then, through the connected app, your kids will learn to code, just by playing with their new favorite programmable companion.  Each model is full of personality, and set up for many, many hours of fun and learning.  In an ever-expanding world of technology, where STEM skills are becoming mandatory for success, your age 8+ kids can get a leg up on their peers with at-home educational toys like this.  My favorite is their new Unicornbot, because who wouldn't want a purple-maned robot unicorn?  The rest of the line is super cute too though, including my runner up favorite, the Astrobot.  Go to www.ubtrobot.com/collections/jimu-robots to see all of their fun, codable robot options.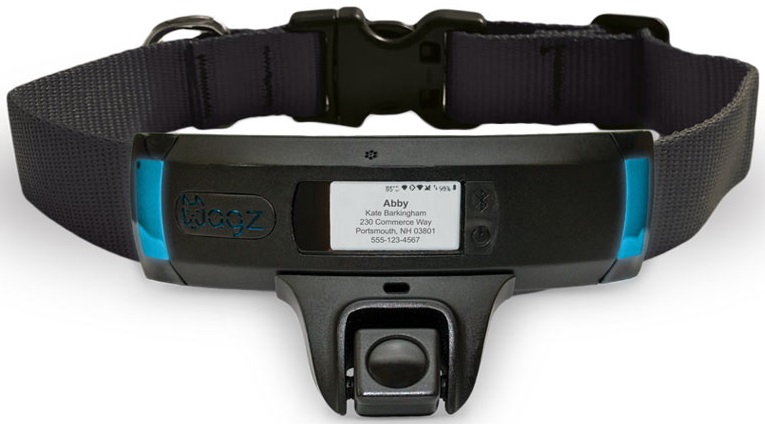 From robotic companions to the furrier, four-legged kind, Wagz is the next company I'd like to highlight.  They make a line of sensor-driven pet products, like a sonic smart collar, smart food bowl, and smart doggie doors, that will make your pet's life safer, and in turn, make your life easier and more worry-free.  I'll focus on the Explore Smart Collar, because it's the center point of their entire line of devices, and can control all of the others.  Unlike other invisible fence collars, this device uses GPS to mark your dog's boundaries, instead of in-ground stakes, and a shock-free correction alert that works using gentle vibration and a dog whistle style sonic cue.  The collar also has temperature alerts, to let you know if your pooch is getting too hot or too cold, an activity tracker so you can adjust food portions and human-assisted exercise levels, a streaming HD camera so you can see what your dog is getting up to while you're not there, and a digital tag to make sure a kind stranger can get them home safely if they get lost.  This collar, as well as the free app, can control the other products in the line, like the Go Smart Door, the Serve Smart Feeder, or the Petzi Treat Cam, and even connects to your voice-controlled home assistants for more functionality.  It's a little pricey, at $495, but I know some pet parents who would be more than willing to pay this for their precious poochie.  Take a look at the Explore Smart Collar, and all the other Wagz devices at www.wagz.com.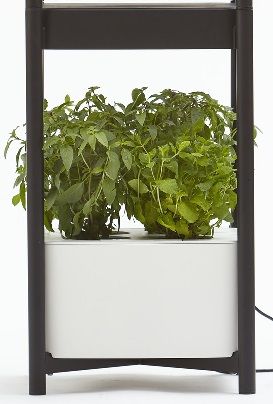 What if your choice in companions veers more towards the green, leafy variety?  Well, the new Miracle-Gro Twelve indoor growing compartments can make any living space into the perfect environment for some beautiful plants to flourish and keep you company, or keep you fed, depending on your horticultural preferences.  The Miracle-Gro Twelve is a Bluetooth enabled indoor growing container, which is app-controlled to give all of your plants the perfect care for their individual needs.  The smaller model, with stackable frames to fit your floor space, is suitable for shorter plants like lettuce, basil, or cilantro.  If you want to grow taller things like tomatoes or peppers, the Sola Edition would be the way to go. Both versions allow you to monitor and manage the lighting, watering, and feeding of your fabulous foliage with the accompanying app.  The original version will be available in March for $299, and the Sola in October for $399.  This may seem like a steep price, but for anyone who has tried, and failed, to have a successful kitchen garden indoors, this is a small price to pay to be able to harvest delicious herbs and veggies without the frustration.  Head over to miraclegrotwelve.com to get in the gardening mood.
Let's switch gears again, and focus on 3 products that revolve around your own person, starting with the part that's most on my mind during a trade show…feet.  Dr. Scholl's is partnering with Wiivv to create their Custom 3D Inserts, which are individually molded, 3D printed insoles for everyone who has access to a smartphone.  All you need to do to get started is download the Custom 3D Inserts app, and follow the instructions to take photos of all the necessary angles of your feet.  The app will process this data and create the perfect insole for your unique foot.  $99 and 2 weeks later, you'll get your custom insoles in the mail.  There's even a 30 day return window, in case you didn't put your best foot forward (so to speak) with your photos, and the insoles are a little off.  Foot health is a commonly overlooked personal care area, and it's a super important one, not just for your feet, but for your back, posture, and overall wellness.  I've bought insoles before, and worn them once, because the mold just doesn't feel right with my feet, either the arch is in a funny place, or my heel steps on the back ridge.  Now, without the need to go see a specialist, or use the gross insole fitting devices at the drugstores, I can get insoles that are perfect for my individual foot structure.  I'm very excited to get my 1st pair in the mail!  If you would like to try them for yourself, or just want to read more about the technology, head over to drscholls.com/3Dinserts to get started giving your feet the support they crave.  Enter the promo code SOLEMATE20 at checkout, to get $20 off your purchase by 3/31/19.
Another area of personal care, that often gets pushed to the side, is skin care.  I know that I have the best intentions with my morning and evening beauty routines, to keep my skin healthy, moisturized, and hopefully not looking its age.  The reality, though, is that I'm usually so rushed that I skip all but the most essential cleansing steps, and my routine gets ignored until I start seeing signs of neglect and I panic.  The Setlist app and connected device, from P&G Beauty, won't give you more time in the mornings, or eliminate your number of needed products, but it will help keep you motivated to follow each step of your routine, and even reward you with real-life incentives for sticking to it.  Aside from the tedium of a routine that often makes us skip it, there's the confusion over which products out of the hundreds we see on store shelves to choose.  This app and assistant device will help you customize which products will be best suited for your individual needs.  By taking away the uncertainty of product selection, and the boredom of sticking to a routine, there's no reason why you can't have the best, most glowing, healthy skin possible.  I do not have pricing or availability info yet, but I'll post a review of this product when it makes a full release.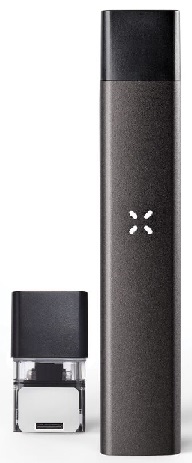 The 3rd item in the personal care realm, is one that you'll have to live in the correct states to use, at least for the time being.  The PAX Era is a really awesome, smart cannabinoid vape device, with cool app-controlled customization and security features.  The Era has actually been around for a couple of years, but the app has been expanded, and PAX recently split from its partner company, JUUL, making this a brand new era for the Era.  The device is nice and slim, making it comfortable to hold and easy to slip into your pocket.  The cannabis oil pods that fit on top are also petite.  PAX has partnered with a ton of quality cannabis producers, individual to each state, so you'll be able to find the best product for your needs wherever you live.  Among other things, the app allows you to adjust the heat of the burn, set an exact dosage amount, so no matter how long you draw a breath from the pod, you'll only get your chosen amount of product, and lock your Era so no one can use it but you.  This last is a great feature for households with kids.  You can use the Era without the app, still being able to control the heat settings with a simple shake of the device, but to experience its full potential, the app is a must.  This vape device is leaps and bounds above the other models I've seen on the market, both in form and function.  If you live in CA, NV, or some other weed-friendly state, check out the Era at www.paxvapor.com/era.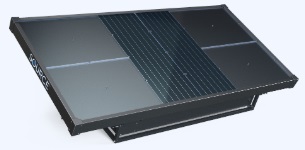 Lastly, I want to introduce you to Zero Mass Water, a company who is trying to get the world away from buying wasteful bottles of water, and offering you a more sustainable and cost-effective way to produce your own water, using the sun, the air, and their SOURCE hydropanel set-up.  The panel needs no external power supply, so it isn't drawing from the grid, and does not create any harmful waste to put back into the environment.  Not only is this system great for people wanting to reduce their environmental footprint while saving money, because it can draw moisture from even the most arid climates, it's also ideal for areas where access to clean drinking water isn't always available.  Each array of 2 panels can produce as much clean drinking water as 20 standard size plastic bottles every day.  You'll have an upfront cost of the hardware and installation, but over the array's lifetime, you'll spend half as much as you would if buying water from the store.  Go to www.zeromasswater.com to find out more out this innovative technology, and how you can get your own water producing array.
As I mentioned, these 10 products are only a fraction of the great things that I saw at Digital Experience, so keep your eyes open for future articles highlighting even more items.  Also, be sure to check back on this site in the months to come, for in-depth reviews of these featured products, as I get them into the office for a closer review.  Next up, check out my upcoming article on Tuesday night's major Press party, called ShowStoppers.