CES 2021: Interesting Products for the Home
CES 2021: Interesting Products for the Home
Article by Angie Kibiloski
As you may have seen me say in my previous CES 2021 article, Interesting Products for Creativity, this year I really wanted to point my focus towards products that I thought were different in some way, and not just the next model of a technology we're all familiar with.  I saw a LOT of wireless earbuds and charging docks at CES 2021, but those aren't necessarily interesting to read about year after year.  Today's article will continue in that vein of different and interesting things, and focus on 5 products I found to use in the home.
Let's start the way I start every day, with coffee.  Sonic Dutch, a South Korean company, made the 1st coffee machine in the world to brew your java using sound waves.  Their latest model, the Super Sonic S1, can make a perfect cup of cold brew in 5 minutes, instead of the several hours the standard method of cold brew takes.  By using sonic waves and a magnetic circuit to vertically vibrate the panel beneath the coffee cannister, the cold or room temp water is constantly being moved around the grounds, which are also being moved against each other to create friction, both actions working together to extract the coffee more efficiently.  You can adjust the strength and flavor of your coffee by using the dials to set the Time, Frequency, and Intensity of the sound waves, to create your perfectly crafted cup in a very short time.  The 5-minute mark will give you a milder flavor, but if you want a very strong, bold, dark cup, you can go up to 20 minutes.  It has a Bluetooth speaker built-in, so you can listen to your favorite morning wake up song while you wait for your beverage.   If you like cold brew, but don't like waiting 10 hours for it to brew in the standard way, check out the Super Sonic S1 ($550) on Sonic Dutch's US store site.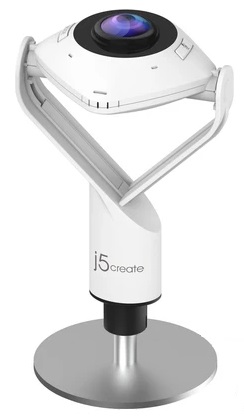 Coffee in hand, we can move into our home office, and get set up for a video conference, with the JVCU360 360° All Around Webcam from j5Create.  This webcam, which looks a bit like a UFO parked in dry dock, provides 1080p 360° video coverage, with an omni-direction microphone, so you can stream a conference call featuring everyone in the room.  There are 6 display modes to choose from, controllable through the app or by touching the surface of the device itself, including a continuous panoramic view, or singling out individuals to display in their own video windows.  Plug-and-play set-up is easy with the USB cable, and it has an adjustable stand so you can get the perfect height to see everyone.  Obviously, at this particular moment in time, the group conference functionality won't necessarily be used much, unless you want to have a video call with you family all sat around the dinner table, but in the post-pandemic back-to-normal world, this will be a great feature to use in the office.  For now, while most of us are still stuck working alone at home, the camera can be rotated vertically, to switch to a 90° single camera angle instead, to look just at you.  In this mode, it looks less like a UFO, more like a friendly Eye of Sauron.  Bring home your own JVCU360 360° All Around Webcam today, for just $129.99, from j5Create, and start video calling in style.
From the home office to the home entertainment system, let's jump over to the Soundbeamer 1.0, from Noveto.  This smart personal audio device uses its on-board 3D camera to scan a listener's location within its field of view, map their face, then direct pockets of sound to their ears, and their ears alone, with its patented ultrasonic SoundBeaming technology.  This creates a private listening experience for the user, without headphones, and without disturbing other people in the room.  Listen to music, watch movies, take a conference call, or even follow along with a fitness training video, and never get griped at by your roommate to turn the volume down.  Through AI and face tracking capabilities, you can get up and move around, as long as you stay within the camera's sight, and your personal sound bubble will follow you.  Admittedly, this is a product I'm a tiny bit skeptical about, but if it works well, it'll be a home audio revolution.  I look forward to December of this year, when it is set to come out, and I can see if it lives up to its promise.  Until then, if you'd like to learn more about it, including all the more technical aspects, like DSP algorithms and its internal custom transducer array, check it out on the Noveto website.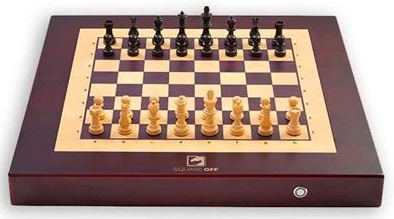 Done with work for the day, let's have a nice relaxing game of chess, since we're all likely obsessed with it now, due to binging The Queen's Gambit over quarantine.  Square Off has made some stunning smart chess boards, made from boxwood and rosewood accents, with AI inside, and self-moving pieces.  Their Kingdom ($449) and Grand Kingdom ($399) wooden sets are on the market currently, and their 2 next sets, the Neo ($179) and the Swap ($249), will be coming out very soon.  These 2 will be more compact, and made with lighter materials, along with plastic instead of wooden pieces, giving them a lower price point, and making them more portable.  With all 4 of these boards, you can either play against the AI, with 20-30 levels of difficulty depending on the set, or connect to millions of players all over the world, to test your skills against other Square Off or Chess.com users.  When your game is over, the Grand Kingdom and Swap boards will automatically reset the pieces, so they'll be ready for the next match to begin.  You can play between 10-30 games on a single battery charge, depending on the model, which will either last a casual gamer quite a while, or the avid pro half a day.  With the Square Off app, you can analyze your games, so you can improve your skill and study what mistakes you may have made.  The Neo will offer personalized coaching to improve your game, and the Swap will have pieces and programming for checkers, connect 4, and halma, in addition to chess.  Take a look at the gorgeous Kingdom and Grand Kingdom boards for yourself on the Square Off  site right now.  The Neo and Swap are still in their prototype manufacturing phase, but you can still check them out on their Kickstart Campaign page.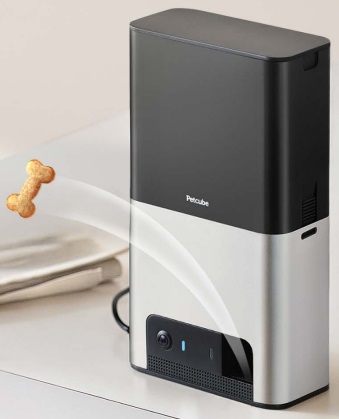 Finally, here's a product line to care your furry companions, from Petcube, which includes the Bites 2 and Play 2.  These devices are interactive smart cameras with 160° wide angle lenses, 1080p HD streaming video, 4x zoom, night vision, 2-way audio, AI-driven smart alerts triggered by motion or sound, and built-in Alexa voice control.  The Bites 2 allows you to remotely interact with your dog by using the app to dispense their favorite treats.  You can slide your finger across your mobile screen to control the distance that the device flings the treat, allowing you to play with your pooch from afar, and reward him for being a good boy while you're away.  The Play 2 lets you do something similar with your cat, but instead of controlling treats, you control a laser pointer, so you can play cat-and-laser mouse with your feline friend.  Both of these models allow you to live chat with your vet, and find answers about your pet's health, behaviors, and nutrition through the app.  Many pets suffer from separation anxiety, and being able to interact with them, using your voice and actual physical actions, can help them when they're left home alone.  It's also nice for pet parents to be able to check in and see what sort of mischief their fluffy pals are getting up to, or whether they just sleep the day away in that nice little spot of sun by the window.  You can check out the Bites 2 ($249) and Play 2 ($199) on the Petcube site, as well as their original pet cam model, then order one for your pets right away.
These 5 products, along with the 4 from my previous article, are only a handful of the interesting tech I found at the all-digital CES 2021.  Go ahead and click on the links to these products' web pages within each paragraph, and then check back here at Computer Times for more articles in the near future, featuring even more interesting items that I discovered.  If you want more products to read about immediately, make sure to check out my last article, Interesting Products for Creativity, or my coverage of the 3 Press events I attended, Pepcom's Digital Experience, ShowStoppers TAITRA, and Techfluence.