ShowStoppers TAITRA Event-CES 2021
ShowStoppers TAITRA Event-CES 2021
Article by Angie Kibiloski
ShowStoppers has organized several CES events throughout this week and next, to showcase a curated range of companies who will be exhibiting at CES.  Today's event partnered with TAITRA, a trade promoting organization in Taiwan, to highlight 18 new technologies from that country.  The video conference portion of the event, which was moderated by industry consultant and analyst Tim Bajarin, focused on 7 of these companies, which were some of the winners of the Taiwan Excellence Awards, with brief presentations from their representatives.  In this article, I'll be sharing the 5 products I found most interesting, both from among those presentations, and from the other companies participating in the full event.
Let's start with a security solution from CyberLink.  I've known them in the past for their photo and video editing software, but their new FaceMe facial recognition engine has shown me their imaging expertise in a whole new light.  Through its AI deep machine learning algorithms, FaceMe achieves a 99.7% accuracy, and is one of the fastest and most precise facial recognition engines out there.  This software can be deployed across a variety of platforms, from high-end business applications, to personal mobile devices, to lower-end IoT products.  So, FaceMe could be used to screen individuals entering a building, to confirm that you are the one accessing your mobile banking account, or to interact with your smart home devices.  I'm particularly interested in the personal banking security, because I am often too nervous to access my account from my cell phone.  Plus, in this time of COVID-19, it could be launched on ATMs, to use in lieu of inserting a card, to facilitate touch-free transactions.  It can even recognize a person's identity if they are wearing a mask.  If you'd like to learn more about how the algorithms actually process information, and all the applications this software can be used for, please visit CyberLink's FaceMe site for all of this and more.
Over the last unorthodox year, many of us have become more sedentary than we've ever been, spending a lot more time inside, and potentially on the sofa.  It's a brand-new year, and time to get moving again, while still maintaining a safe distance from people.  The Sole CC81 Cardio Climber, from Sole Fitness, will let you enjoy a satisfying cardio workout, safely and conveniently from home.  This machine combines elements of both a stepper and climber, creating a full-body vertical workout, while minimizing impact on your joints.  The built-in programs, which track your workout progress, will help you target specific areas of your body, increase strength and endurance, increase coordination and agility, and get you back into your pre-quarantine shape.  Sole Fitness isn't just looking out for your health, but also the health of the planet.  The Sole CC81 Cardio Climber is made from recyclable materials, and their manufacturing process is a low on emissions.  The $1,599.99 price tag might seem a little steep, but you have to weigh the convenience of having access to a high-end fitness machine at home, with the uncertainty of going to a gym at this moment in time, as well as purchasing from a responsible, green company.  Check out more about this machine, on its page on the Sole Fitness site.
Most of us never leave home without our cell phones, and some of us never let them leave our hand.  We're constantly taking photos and videos, posting a select few, but storing quite a few more on our phone's memory.  What happens if we lose our phones, or accidentally press the wrong icon and delete all our selfies from the last great group outing before lockdown?  We know we should backup our files on a regular basis, but few of us actually make that a habit.  Maktar makes that easier for us, with the Qubii, a small cube with a memory card slot, which you plug your phone's power cable into just like a charging cube.  The Qubii then plugs into the top of your actual charging cube, so you can backup your files and charge your phone at the same time.  Once you set up your backup preferences in the companion app, the device will automatically start backing up all your new photos, videos, and contacts every time you plug in.  Since you insert your own microSD card into the device, you can have as much external storage as you want.  The app will even notify you when the card is getting full, so you can replace it with a blank one.  It's compatible with both iOS and Android, and doesn't need either internet or Wi-Fi to work.  You can also use the app to lock your microSD card, so that your files and data are secured, in case your device is lost or stolen.  I'm guilty of letting my photos pile up on my phone, and I don't think I've ever transferred my contacts list.  I love the idea of never having to worry about losing any of my files or phone numbers, because they'll be backed up on external memory for me, every time I charge my phone.  If, like me, Qubii is a device that you need in your life, go grab one right now, for just $39.99.
If you suffer from allergies, or are even just sensitive to certain pollutants in the air, you know how important a good air purifier can be.  LUFTQI is introducing their new LUFT Duo, a personal, portable air purifier that you can use at home or in the car.  From dust, to smoke, to pollen, and even viruses, this device will break down contaminants to their molecular level.  Instead of expensive filters that need to be replaced, the LUFT Duo uses UVA LED and photocatalytic tech to break down unwanted airborne elements that are invading your air space.  This purification method allows the device to eliminate pollutants that are too small for even HEPA filters to trap, like formaldehyde, mold, VOCs (Volatile Organic Compounds) and other pathogens.  The filter that it does have is washable and reusable, so you won't create waste like with other units, and the small design means you won't be wasting any space either.  It's also quieter than other models, so you can keep it running without being annoyed by the sound, and it can even be turned quieter still in Night Mode, emitting just 19 dB of sound so you can sleep peacefully, while still breathing clean air.  It can purify up to a 240-sq. ft. space, so it's perfect for small apartment living.  You can read more about the LUFT Duo on its site, then follow their link to its IndieGoGo page, where you can buy it for $149.99.  It comes with a travel bag, cup holder for the car, and a directional vent cap for controlled air flow.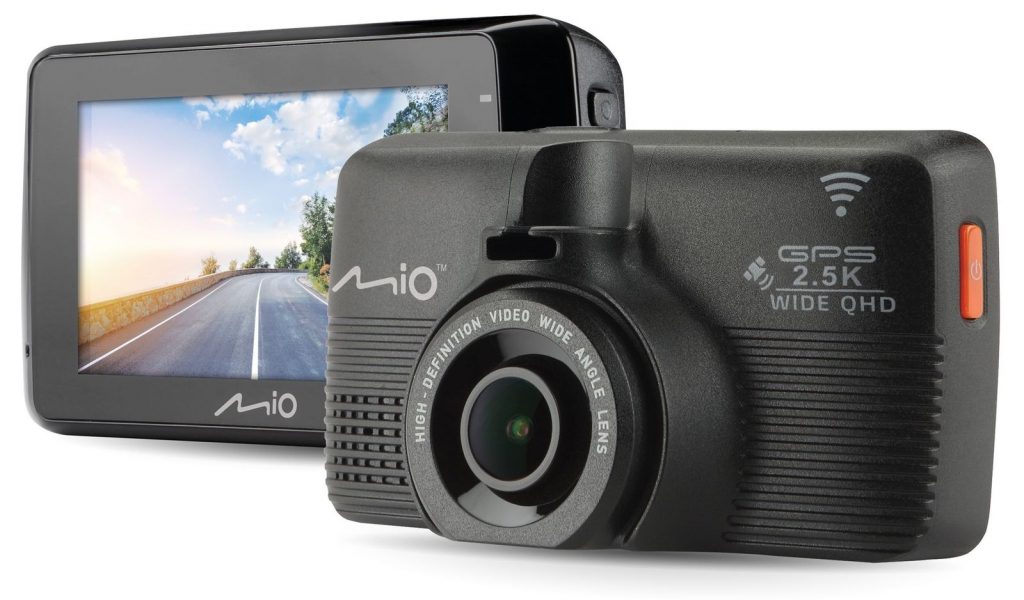 Finally, protect yourself and your car with the newest dashboard camera from Mio, the MiVue 798.  This high-quality dash cam comes with Sony's STARVIS CMOS sensor, allowing for clear videos even in low-light environments.  With 2.5K QHD recording quality of 1600p, the 150° wide angle lens will capture clear details of what is happening outside your vehicle, including reading license plate numbers.  The main function of a dash cam is to record footage for security purposes, like evidence of someone breaking into your car while parked, or as proof of how an accident occurred for your insurance company.  With the integrated Wi-Fi and MiVue Pro app, all of your photos and videos will be immediately backed up to your smartphone, so you won't have to worry about remembering to download them in a stressful moment.  The Advanced Driver Assistance System provides additional safety functionality while driving.  The imbedded GPS module will log your location and speed, while the Smart Alert will notify you of changes in higher speeds.  It also has a Lane Departure Warning System, a Fatigue Alert, and a Forward Collision Warning System, all of which sound like things every car should be outfitted with.  When the 3-axis G-Sensor detects a sudden change in motion, like a sharp veer to one side or a hard brake, it will immediately save a protected video file that can't be overwritten, so you can be sure you have a record of any critical moments.  This seems like a great device, and I wish I could test it out for you.  Unfortunately, this model is not yet available for the US market, but if you live in other parts of the world, check out the MiVue 798 site, and secure yourself and your vehicle today.
That'll wrap up the ShowStoppers event for today, which featured Taiwanese products in association with TAITRA.  If these products sounded interesting to you, as they did to me, click on the links in their paragraphs to learn more about them.  We'll have more coverage of the other ShowStoppers events, as well as the upcoming huge Pepcom event on Monday, and on into the full CES 2021 digital convention starting Tuesday, so make sure to keep checking back on our Home Page under the CES 2021 heading.  You'll already find some articles there, including our Editor's coverage of the ShowStoppers Jetro event yesterday, and my coverage of the Techfluence event, so go ahead and check those out now.   I look forward to adding more CES content for you very soon.