Pepcom's Digital Experience-CES 2021
Pepcom's Digital Experience-CES 2021
Article by Angie Kibiloski
There are so many changes to CES this year, it's nice to be able to count on one thing staying the same, and that's Pepcom throwing a great Press event the day before the official start of CES.  Though their Digital Experience was truly digital this time around, it still managed to bring together some really fantastic companies, with products from quite a few sectors of the tech industry.  There were 55 companies displaying their newest products in Pepcom's convenient, very user-friendly interface, and we got the chance to Zoom chat with reps from each, read Press Releases, and watch product demo videos.  It's not quite as fun as being able to get my hands on the products while walking around a large ballroom, sampling the buffet food, and enjoying the open bar, but it was pretty nice to be able to attend the event from the relaxed comfort of home.  I've picked 10 products out of the group that I'd like to feature here, and hope to get in for further review in the near future.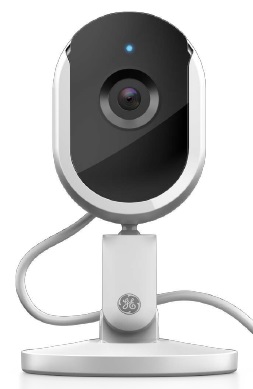 Did you know that GE Lighting made anything other than, well, lighting?  I didn't, but thanks to this event, now I do.  The Cync Indoor Smart Camera is a low-profile home security camera, that protects your space as well as your privacy.  Unlike some other cameras that allow you to block audio and video recording through an app only, this camera has a physical shutter that slides up and over the lens, locking in place, so you know for certain that you aren't being recorded when you don't want to be.  When you do want to record, you can set up the camera to upload video to the cloud, or store it on a microSD card for added security.  If you choose the cloud storage, there's a subscription service available, so you can watch your footage from anywhere.  The camera records in full HD with 1080p resolution, and has night vision, motion-detection, and two-way audio.  It'll be available in May, but until then, you can read more about the Cync Indoor Smart Camera, and their other upcoming products on the GE Lighting website.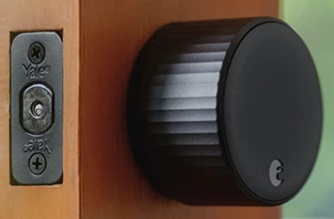 As an apartment dweller, I always look in envy at all of the cool smart locks that you can install on your front door, to give you that added peace of mind when you're away from home.  My landlord wouldn't be happy if I go changing my locks.  However, August has a solution for me, with their Wi-Fi Smart Lock ($249.99), that easily installs on the inside of your door only, working with your existing deadbolt, and allowing you to keep your original key.  It has built-in Wi-Fi, which connects to the companion app, as well as any other home security products you already have incorporated into your space.  In the app, you'll be able to see if your door is open or closed, see a 24/7 activity tracker, set it to unlock at certain times for expected guests, and configure it to automatically unlock and lock when you arrive or leave home.  This last feature is great for those times when you're balancing armfuls of groceries or maybe hauling luggage out the door for vacation.  Now, if only it could turn the knob and push the door open and closed for me too, that would really be something.  You can even pair the lock with Alexa, Google Assistant, or Siri, so you can have voice control of your door.  Now, when I'm laying in bed wondering if I locked the door, all I have to say is "Hey Google, is my door locked?"  Anyone with a single cylinder deadbolt on their door can use this W-Fi Smart Lock, but especially if you live in an apartment, swing by the August website and unlock your front door's future.
We often focus our safety concerns on our home, with cameras and sensors to protect us from all manner of harm, but we can forget that we need to think about safety in our vehicles as well.  Having a dashboard camera in your car, filled with life-saving, accident-preventing features, could be a game changer. The 622GW Dash Cam from NextBase can help keep you safe while on the road, in all conditions.  This device easily attaches to your windshield, and both monitors and records what is in front of you, as well as behind you if you add the optional rear-view camera module.  It has digital image stabilization, so your 4K, 30 fps video is always crisp and clear enough to read fine details.  It has night vision too, which will automatically turn on when the camera detects low-light conditions.  It will also detect foggy conditions, and will enhance the footage with larger pixels, and still be able to record details like license plates.  In the case of an accident, not only will you have a clear recording of the incident, the device will alert emergency services to your location, without the need for mobile or internet service.  You can also use the camera to connect to Alexa, for listening to music, making calls, checking the weather, etc.  When you're out of your car, the intelligent parking feature will record any bumps or movement, so if you find a new dent in your bumper upon returning, you can see what happened, and potentially catch the license plate of the car who hit you.  The 622GW Dash Cam has so many great features, all for just $399.99.  Read more about it on the NextBase website.
One product category that always seems to saturate CES is personal audio, and especially headphones.  So much so, it's rare that I see a stand-out model and think, "Ooh, now those look cool!"  That's what I thought when I saw the new M-200 ANC headphones from V-MODA, though.  The hexagonal shape of the earcups look edgy, and you can make them look even sharper with the fully customizable, decorative aluminum shields on the outside.  The fact that this decently sized headset folds down to fit in a fairly small clam shell case is awesome too, and really caught my interest.  These headphones don't just look amazing, though, the tech inside rises to meet the same standard.  The M-200 ANC is V-MODA's first Bluetooth active noise cancelling headphones, with 10 ANC levels.  In the companion app, you'll be able to adjust your levels, as well as switch between 6 EQ presets, or perfectly fine tune your listening experience by controlling your bass, mids, trebles, and highs.  With 20 hours of playback per charge, it's a good thing that the PU leather covered memory foam earpads, and broad cushioned headband provide for comfortable extended wear.  Google Assistant and Siri compatibility, and multiple device pairing give these headphones convenience on top of quality.  I encourage you to check out the M-200 ANC Headphones ($499) on the V-MODA website, and dive deeper into the tech inside.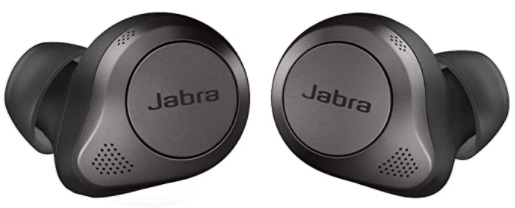 Just like headphones, CES always serves up a huge portion of earbuds, and good ones can get lost in the crowd.  However, I know that Jabra is a solid go-to brand, that can always be relied upon to offer up a quality product and rise above the rest.  This year, they've brought their ELITE 85t Earbuds, with Advanced Active Noise Cancellation.  With dual chipsets in the earbuds to provide fully adjustable ANC, 12mm speakers, along with 6 microphones and wind protection, you'll get crisp, clear incoming and outgoing audio.  The oval silicon EarGels and semi-open design allow for a comfortable fit while limiting ear pressure and allowing for longer wear.  Speaking of which, you'll get 5.5 hours of battery life per charge, with up to 25 hours with the fully juiced up wireless charging case.  With the Sound+ app, you'll find a customizable equalizer, and the MySound settings, which will optimize your sound for you, based on an in-app hearing test.  They're also compatible with both Google Assistant and Siri, so you can have your favorite virtual helper right in your ear.  Head on over to Jabra's website and get a closer look at the Elite 85t Earbuds ($229) right now.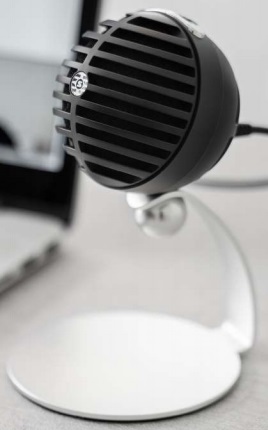 In this era of video calls and tele-meetings, one of the great annoyances is a low-quality computer mic, letting your listeners know, through scratches, pops, or the fact that you're having to shout to be heard, that you're not working with the latest tech.  It might be time to upgrade your desktop with Shure's MV5C Home Office Microphone.  It's a digital, directional mic, which will focus in on your voice to avoid ambient interference.  The Speech Enhancement Mode will further clarify your voice by using automatic equalization to boost vocal frequencies.  It's USB plug-and-play, so there's no complicated set-up or software to install, and it's fully compatible with popular video conferencing programs like Zoom and Teams.  It looks really cool too, with a retro style grille, harkening back to classic radio mics, and an arched stand, which can be adjusted to point directly at your mouth.  It's an attractive, functional, and good quality mic for just $99, and would be a great addition to any work station.  Check out the MV5C Home Office Microphone, and go ahead and order yours, on the Shure website.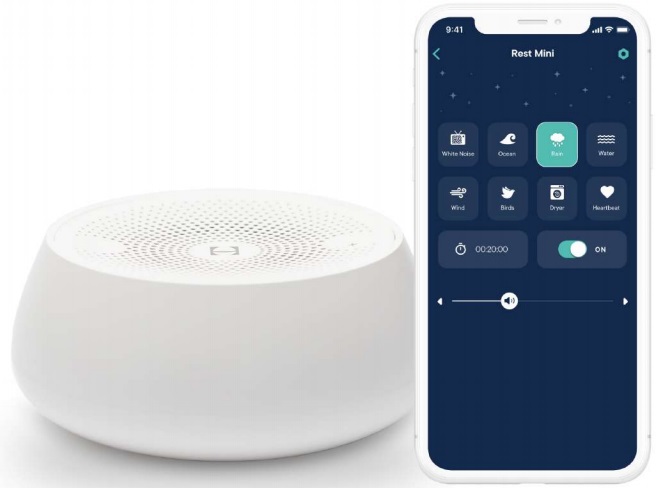 Getting to sleep can be hard for little ones, which in turn can make getting any sleep at all difficult for their parents too.  Hatch has launched a new smart sound machine, the Rest Mini, so that parents can affordably help their littlest kids get some much-needed shut eye, and themselves some much needed peace.  The Rest Mini is similar to their other sound machine models, but is simplified to be baby's first sound machine.  It has 8 soothing sounds, that have been found to be most effective with young children and babies, including Heartbeat, Ocean, Wind, and Birds.  There are no lighting effects on this device, like their more advances models, but it can still be controlled through the Hatch Sleep app.  In this app, parents can turn the device on and off, set a timer to turn itself on and off over a fixed duration, change the sound, adjust volume, and add users.  You can find the Rest Mini on the Hatch website now, for just $39.99, and later in the year, you'll be able to add the optional subscription service, which will give kids access to bedtime stories, music, and more great features for both babies and young children.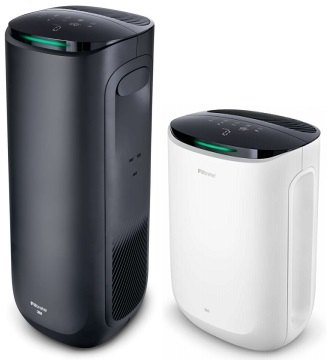 Living in a high-traffic urban area, the air quality isn't always ideal, and even your inside environment can suffer from it, on top of the airborne particles created from pets, smoking, and other indoor irritants.  Filtrete introduced 2 new Smart Air Purifiers, the Tower and the Console models, with 3M filtration technology, to help eliminate 99.97% of contaminants, down to 0.3 microns in size.  They can be set to Auto Mode, to monitor air quality through a laser-based sensor, and change fan speeds to fit your purifying needs moment by moment.  You'll be able to easily see these air quality readings with a color and numerical display on the units.  In the app, you can access more in-depth air quality readings, and get push notifications when the pollutants in your air spike, so you can get an idea what activities or times of day might negatively impact your air.  The Tower model can purify a room up to 310 sq. ft., and the Console can do a room up to 150 sq. ft.  You can track the life expectancy of your HEPA filter in the app, based on usage, air flow, and air quality, and be notified when it's reaching time to replace it, and you can even purchase a new one through the app.  You can also connect these devices to other smart home devices, including Google Assistant and Alexa, for convenient voice control.  Both the Smart Air Purifier Tower ($329) and the Console ($274) will be available in the Spring, but for now, you can get an idea of the rest of Filtrete's product line on their website.
Pretty much everything in our lives has a smart version now, from our kitchen appliances, to our watches, and even our insoles.  Considering the year we've all just lived through, it was inevitable that we'd be welcoming smart face masks into our lives as well.  I'll be more than happy to start covering my airways with the new AirPop Active+ with Halo Sensor, and give myself some extra peace of mind when I leave the house.  This mask tracks both air quality data and your breathing rate, so you can get a full picture of your respiratory health and environmental risks.  By keeping track of this information, the Halo sensor can inform you when it's time to change the filter in your mask for maximum protection, which is easily done with AirPop's snap-in filters, of which you get 4 included with your initial mask purchase.  Each filter blocks 99% of particles, down to 0.3 microns in size, including dust, allergens, and microbial matter.  When you replace the filter, you scan the QR code printed on it, so the app knows to start tracking data for a fresh filter.  The mask itself, with the Halo sensor removed, is washable, and constructed in a breathable, dome structure around a soft, medical-grade membrane, that gives you a good 360° seal at the edges.  I think it's pretty stylish looking too.  Like anything smart, you're going to pay a premium price, in this case $149 for the mask, sensor, and 4 filters, but if it makes you feel safer every time you go out to the grocery store, I'd say it's well worth the cost.  Pop over to the AirPop website and read more about it, then order yourself an Active+ with Halo Sensor, and level up your facial protection for the rest of the pandemic.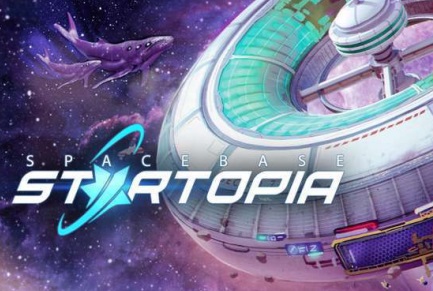 I did not expect to have my little gamer heart rewarded at the event today, but there among all the cool tech was Kalypso Media's upcoming Xbox and Steam game, Spacebase Startopia.  In this galactic RTS, you get to manage your own donut-shaped space station, with a mixture of city building, resource management, and Real Time Strategy elements.  You'll get to interact with a whole slew of funny alien species, all with their own specific needs and desires for their new home on your space station, and get guided through it all by the feisty robot host, VAL.  There's single-player campaign mode for those who like to space out on their own, a multi-player mode for more dynamic missions, and a configurable sandbox mode, so you can just build and play in your starlit home.  Whichever mode you choose, you'll need to keep your spacey residents happy, develop your sector of the celestial neighborhood, and complete missions, sometimes by thwarting nearby enemies.  We've all played RTS games before, and city-building games too, but I'm not sure if any have ever looked quite as cute and funny as this looks to me.  It's in the pre-order stage right now, for a discounted price of $44.99 ($5 off until launch), but this Spring, Spacebase Startopia will explode onto Xbox, Steam, Playstation, and Switch.  Check out some screenshots and gameplay footage on its Steam page, and get ready to make yourself a home among the stars.
The Pepcom Digital Experience event was a great success, even though it lacked a bit of the excitement of their normal annual in-person parties.  I think they did a fantastic job of curating a good selection of exhibitors, and in an event of only 55 companies, I found so many that I want to take a closer look at.  These 10 products I picked to highlight are just the tip of the iceberg when it comes to all the tech I'm sure to discover on the CES "show floor" this week.  Click on all of the links to these products in their respective paragraphs to learn more about any that grabbed your interest, then make sure to come back to our Home Page throughout this week to find out what cool devices we discover from the main CES show.  If you want more products to learn about immediately, check out our articles on the Techfluence, ShowStoppers Jetro, and ShowStoppers TAITRA events that were posted last week.