Pepcom's Home Now! Technology Showcase
Pepcom's Home Now! Technology Showcase
Article by Angie Kibiloski
This week, Pepcom once again held a great virtual technology event, called Home Now!, showcasing 32 companies, exhibiting a variety of products for every aspect of the home environment.  These products ranged from home security, to digital storage, to kitchen gadgets, to tech items for kids, and more.  I always enjoy attending their events, both in person and virtually, since I can invariably discover interesting products that bring something new to the market.  Here are 6 products I'd like to briefly highlight from Home Now!, on which I hope to bring you more in-depth reviews in the future, when I can get my hands on them in person.
First up, we have a product for the kitchen, that will help you cleanly and greenly dispose of food waste.  Lomi, from Pela, is a countertop composting device, that will convert the organic matter you'd usually throw away into safe, usable composting dirt.  Don't let your orange peels, carrot tops, and meat scraps create a stinky mess in your garbage bin, when you can turn them into nutrients for your garden.  Imagine no more mystery smells wafting from the trash, smelly liquids leaking from the bags, or sudden invasions of fruit flies from something you didn't wrap up well enough before throwing away.  Lomi uses heat, oxygen, and abrasion to break down and convert a wide variety of consumable waste into composting soil, even including cloth and bioplastics.  With 3 modes to choose from, depending on what materials you put into the Lomi, it can turn waste into compost in as little as 4 hours, with just the touch of a button, and the carbon filter retains all odors inside the device while it works.  The stainless steal inner container is dishwasher safe, and can hold up to 3L of pre-composted waste.  Pela is an international company that has been making sustainable, environmentally friendly products for a while, including compostable phone cases, and striving to reduce the plastic consumption of the planet.  They overwhelmingly met their crowdfunding goal, and will begin to ship out the Lomi to Indiegogo backers in Q4 of 2021, and to US pre-orders in Q1 of 2022, with worldwide shipping later in 2022.  You can pre-order now, with a couple different pricing plans, starting at $299.  Check out Lomi on Pela's website for purchasing options, and to read more about the technology inside, as well as the positive environmental impact that owning one can have on your waste footprint.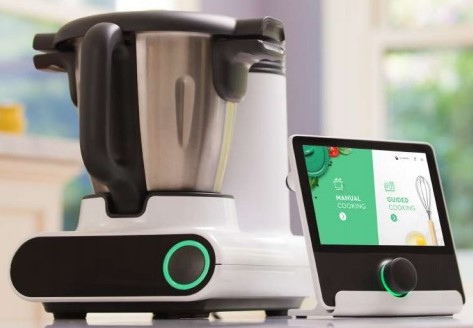 Staying in the kitchen for now, CookingPal has come out with their latest all-in-one smart kitchen gadget, called Multo, an AI-driven cooking system that helps you quickly and effortlessly make full meals, with little skill required on your part.  Multo consists of 2 components, the Smart Kitchen Hub and the Smart Kitchen Appliance (very creative names).  The 8.9″ touch-tablet style Smart Kitchen Hub is the brains of this system, suggesting meals from an ever-growing, tailor-made recipe library, based on your preferences and what you have favorited in the past.  It'll provide you with step-by-step video guides for each recipe, telling you exactly what ingredients to put in, and which settings to adjust.  This device can be controlled by its touch screen, by the physical dial on the front (for when messy hands prevent screen usage), or from the CookingPal app for iOS.  The Smart Kitchen Appliance is the workhorse of the system, handling a wide range of cooking tasks in one single unit, including weighing, chopping, kneading, mixing, cooking, and steaming.  You only need to add the ingredients, in the order and quantity the Hub tells you, and the Appliance will do the rest.  It can even do its own clean-up when it's finished making your dinner.  The Smart Kitchen Appliance is compact (17.3″ x 12.2″ x 14.5″), with a generous 3L capacity stainless steel bowl.  The scale can measure up to 175 oz., with an accuracy down to 0.25 oz.  The 10-speed motor gets up to 5200 rpm, and the heating coils can reach 265 °F.  Without higher heat, it won't replace your oven, but think of it like a hybrid between an oven and a food processor, with lots of bells and whistles in the mix.  It's currently in pre-sale on the CookingPal site, for $799, and will start shipping in July.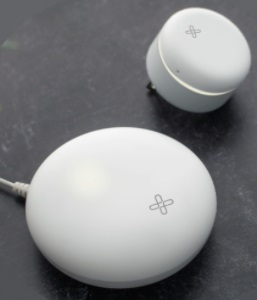 Let's move ourselves out of the house, but leave some tech standing sentinel over it.  Hex Home, from Origin Wireless, is a Wi-Fi wave-based system, that connects plug-and-play Hex Sense wall plug sensors to a central Hex Command desktop hub, then to your mobile app.  When the Wi-Fi waves emitted by your home network are disrupted by motion, the Hex Sense plugs are able to detect this, and notify the Hex Command AI, which will determine if this is normal at-home motion, for instance from a pet or vacuum robot, or if it's an unwelcome intruder.  The Hex Home system fills in the gaps where standard camera-based monitoring systems fall short, namely blind spots in the home.  A camera can't see around a corner, but since Wi-Fi waves aren't blocked by standard home walls, Hex Home won't be limited by a viewing angle, and will be able to not only see around corners, but through walls too, as long as that space is within its wave-sensing diameter.  A single plug sensor can cover a 1000 sq. ft. space, 2 can cover 1,500 sq. ft., and 3 can cover 2,000 sq. ft.  The Hex Home companion app allows users to not only monitor movement inside their home, but also switch modes, set detection sensitivity, and view historical motion levels day-to-day.  Set the loud siren to go off when movement is detected, or you can remotely sound the alarm yourself.  One of the 3 modes the system can be set to is Guardian Mode, which alerts the user to activity in the house without sounding the alarm, so you aren't having the siren go off every time a kid comes home from school, or the dog walker lets themselves in.  You can also upgrade the app to include an optional 24/7 professional monitoring service for $9.99/mo., if you want emergency services to be notified in addition to your own app.  The basic Hex Home pack, which comes with a Hex Command hub and one Hex Sense plug, can be pre-ordered from the Origin Wireless Hex Home site for $179.99, and will start shipping in September.  There are also packs available with 2 or 3 Hex Sense plugs, for people with larger square footage needs.
Next, let's check out the first of 2 storage products I want to highlight, the Envoy Pro FX portable SSD, from OWC.  This is the higher end device of the 2, and probably more for the digital professional rather than a casual consumer.  It has super fast data transfer speeds (up to 2800MB/s), meaning it can handle large file sizes seamlessly, without data corruption or freezing, which can be a frustrating issue with some external drives.  You could confidently use this device to backup the photographic works of art you just got finished touching up in Photoshop, store your vast library of Steam games for your next e-sports tournament, house your massive library of sound samples and plug-in instruments for your soon-to-top-the-charts musical project, or transport all of your raw indie film footage for editing.  Bus-powered, and compatible with just about every device (through Thunderbolt and USB-C/A), you can simply plug-and-play with most Mac, Windows, Linux, iPad, Chrome, and Surface systems.  The IP67 rated, heat-dissipating aluminum body is water/dust/drop proof, making it rugged and durable for on-the-go file backup.  Checking your power and activity status is easy with the LED, and the rubber feet mean you won't have to worry about it skidding off your desk or other surface.  It doesn't just protect your data from environmental damage, but cyber damage as well, being fully compatible with Mac and Windows encryption, allowing password protection for your precious files.  It comes in a variety of capacity sizes, starting with 240GB for $219, going up to 2TB for $549, all available on OWC's Envoy Pro FX page.
The other portable storage device I'd like to look at is actually a set of 2, the My Passport and My Cloud, from Western Digital, and is more for the casual consumer on a budget.  Between these 2 storage solutions, WD provides convenient file backup for all of your everyday needs, both on-the-go and at home.  The My Passport, a USB 3.2 portable storage device, with capacities ranging from 1TB ($59.99) to 5TB ($149.99) is small enough to fit in your pocket (4.22″ x 2.95″), so it's perfect for taking your files on the road.  Backup your photos, videos, and sound files, at home or while travelling, and carry them with you for convenient access or sharing with a friend.  It comes with the handy WD Backup software and secure password protection, available through Windows, so your data will be protected even when your device is out in the wild.  It's compatible with Windows 10/8.1 and Chrome OS, and can be reformatted for other OSs.  Check out the available capacities and 4 color options on WD's My Passport page.  The other option, the My Cloud Home, is a great desktop Wi-Fi storage device, with capacity levels ranging from 2TB ($159.99) to 8TB ($289.99).  Your files are stored in this drive, but you can access them from anywhere in the world, via your personal cloud in the My Cloud Home app.  Since it is Wi-Fi enabled, you can transfer and store files from any of your devices, including USB drives, mobile devices, computers, or other cloud-based accounts.  It works with Windows Backup, Time Machine, and your phone's camera roll to easily backup your files on a schedule, and then lets you organize and search for files by a variety of parameters for convenient access.  You can even remotely share access and storage space with friends and family, who you can invite to use their own, separate partitions on the drive.  Compatible with Windows, Mac, Android, and iOS, the My Cloud Home opens up more versatility than its portable My Passport companion.  Check out all the capacity options on WD's My Cloud Home page.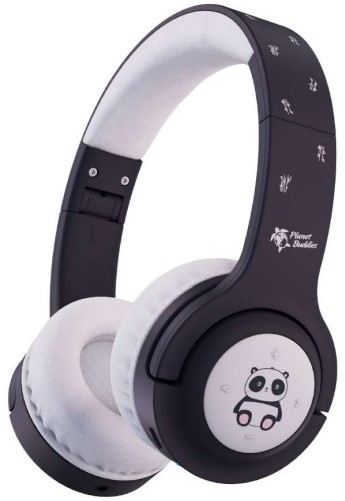 Finally, I wanted to feature a fun product for kids, that will not only protect their tender ears, but encourage them to do their part to protect our planet too.  Planet Buddies is an environmentally conscious company, with a line of adorable, endangered animal themed products.  They're now launching the newest addition to this line, wireless Bluetooth headphones for kids.  Each set of headphones is branded with 1 of 6 different endangered or threatened animals, coming packaged with interesting information about that animal, why they are on the endangered species list, and ways in which your kids can help protect their habitats, and do their part for the wider environment.  The endangered animals featured include Pepper the Penguin, Milo the Turtle, Charlie the Tiger, Pippin the Panda, and are all super cute.  The headphones are child-friendly, with soft, padded headbands and earcups, easy-to-use controls, foldable sides for portability to school and play, and an 85db volume limit, to protect their hearing even through long-term use.  They're compatible with iOS and Android, have 38 hours of usage after a 2-hour charge, have a built-in mic, line-out jack for music sharing, and come with a carrying pouch so your kids can easily bring their new favorite headphones on-the-go.  With every purchase, a portion of the profits go to World Land Trust and Marine Conservation Society, so not only are you helping spread environmental awareness to the next generation, you're also actively contributing to organizations that are striving for a better environmental tomorrow.  Planet Buddies also has wired headphones, speakers, tablet cushions, and more, all featuring sweet endangered animals, and coming to you in 100% sustainable, recyclable packaging.  The wireless models will be available for $44.99, starting in August, but in the meantime, you can take a look at their other great products, and read about the cute animal characters on the Planet Buddies site.
These 6 products were just a taste of what I saw at Pepcom's Home Now! event this week, and this article is only a brief glimpse at each.  As these products release to retail, I hope to be able to get my hands on them myself, and bring you more in-depth reviews of them all, along with other products from the event that I didn't highlight.  Keep your eyes on our Home Page under Featured Reviews for future coverage.  Until then, I encourage you to visit each company's website to learn more about their existing and upcoming products, and if you feel so inclined, pre-order those with that option, so you can get them as soon as they hit the shelves.