CES 2021: Interesting Products for Creativity
CES 2021: Interesting Products for Creativity
Article by Angie Kibiloski
The last 2 days have seen the debut of the 1st all-digital CES 2021, and though I hope they keep some of the convenient online elements in years to come, let's hope that next year we can be back to a mostly in-person convention.  Don't get me wrong, it was actually pretty nice not to have to travel to Las Vegas, stay in an over-priced hotel, fight should-to-shoulder crowds on the convention floors, and crawl in bed each night exhausted, with an aching back and feet.  However, aside from the annoyance of the CES 2021 website having some technical issues, with lag and some of the functions glitching out on the 2nd day, it was just a bit boring to sit in front of my laptop screen for 2 days straight, basically doing internet research, instead of walking around dynamic and engaging booths, getting to interact with the products, and talk to the people who were exhibiting them.  Live Chat is fine, but it's no real substitute for being there.  Having said that, I did have 2 productive days at CES 2021, with my focus this year being on finding products that I thought were different or interesting, instead of just the next version of something I'd already seen.  This will be my first of several articles, featuring 4 of those interesting products, geared towards creativity.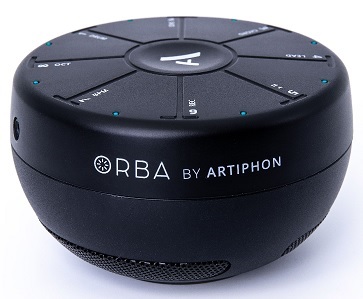 I've been getting interested in music production lately, spurred on by all the quarantine down-time, so let's start out with a product that will help with that.  The Orba, from Artiphon, is a fist-sized music production device, with a syth, looper, and speaker on-board, so you can compose your own tunes on-the-go.  Using a combination of button pushes and hand movements, like tapping, sliding, waving, and shaking, you can access a ton of pre-loaded sounds, with various instruments and effects.  You can connect the Orba to the free companion app, to help you build your song, layer by layer, or connect it to your computer via Bluetooth, to use as a MIDI controller with your favorite music production software, like Pro Tools or Ableton, and unlock unlimited instruments and sounds.  It's supposed to be easy to use, so it'll be great for beginners as well as experienced musicians.  It seems like a lot of fun too, and I can't wait for a chance to play with it, and see if I can start building my music production skills.  Visit Artiphon's website to check out the Orba, watch some fun videos of it in action, and pick one up for yourself for only $99.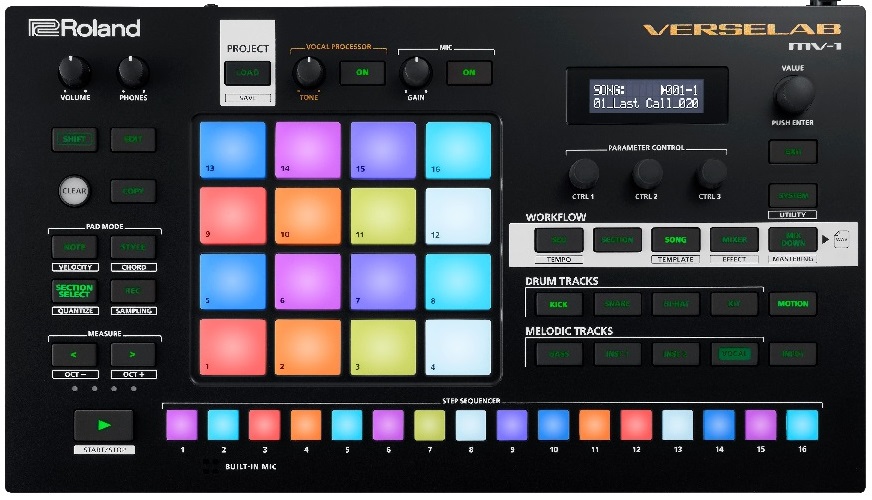 Sticking with music production, Roland's VERSELAB MV-1 Song Production Studio is an all-in-one music composition device, with everything you need to start creating professional quality tunes.  Roland has stocked it with sounds, song templates, and a load of tools to help even the beginner build dynamic songs, through the on-board ZEN-Core sound engine.  Vocal recording is made easy through the interface, with either the built-in mic or a peripheral, along with effects like reverb and delay to spice it up.  Easily add beats and other instrument sounds to your song with the 16 velocity-sensitive pads, mix all your tracks right on the device, master your finished song, then upload it to your computer or device.  It's compatible with Roland's Zenbeats music creation app, so you'll be able to expand VERSELAB's capabilities even further.  Beginners and seasoned musicians alike will appreciate that VERSELAB can guide them through the layers of song creation, helping them focus on one step at a time, so as not to get struck by option paralysis.  If you've ever stared at a blank canvas, paint brush poised, for minutes on end, or even just gazed, lost, at a wall full of color swatches at the store, you know how overwhelming an infinite abundance of choice can be, and how a little direction can go a long way.  For $699, you can have a VERSELAB MV-1 of your own, so go discover everything it has to offer at Roland.com.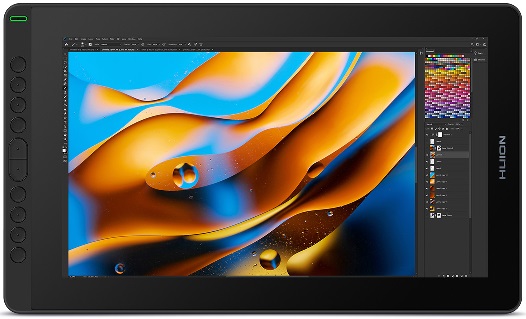 Switching from audio to visual, let's get digitally artsy, with the Kamvas 16 Pen Display ($399), from Huion.  This is a digital drawing surface, with a 15.6″ screen, and 1920 x 1080 resolution, 120% sRGB color gamut, and minimal parallax between the glass and LED layers of the screen.  The matte finish of the surface gives you a paper-like texture under the nib of the digital pen.  The PW517 pen, with PenTech 3.0 technology, gives you a natural drawing experience, with positional accuracy and no latency.  The pen is pressure and tilt sensitive, to provide an organic feel when applying effects like different stroke weights or shading.  The display has 10 programmable buttons on the side, so you can have your most used drawing tools easily accessible with one tap.  Just under half an inch thick, and less than 3 lbs., the Kamvas 16 is perfect for carrying with you for those random moments of inspiration.  You'll connect it to your mobile device while out and about, or your PC when at home, with the USB-C cord.  It's compatible with a variety of mobile devices and drawing apps, which you can see listed on their compatibility page.  The Kamvas 16 is an input surface, not a stand-alone tablet, so you will need to be connected to a device to use it, though Huion does make full Pen Tablets and Pen Computers if you want independent functionality.  Take a look at all the features of the Kamvas 16 on Huion's site, as well as all their other drawing devices.
Finally, let's talk about a fun subscription service for kids, that lets them express their creativity while interacting with a story app and activity pack.  Dipongo is a monthly subscription, that will ship a unique interactive story box to your door each month, unlocking a new story in the app.  The box includes an activity book, access to the story within the app, and other adorably fun goodies.  In the app, you child will enjoy watching the animated story move along, until a challenge arises.  They'll need to help the characters solve that challenge to progress, by interacting with the app using the materials included in the box, or any other arts and craft materials they have on hand.  It's all about being as creative as they want.  For instance, the main character might need an airplane to reach his next destination in the story.  Your child will need to create that airplane, by drawing one, making one from paper, clay, or anything else.  They'll then take a picture of their creation on your mobile device, and the app will use their actual creation in the next story animation.  If your child gets stuck, they can find inspiration from the artwork other kids have done for the same challenge.  There's a ton of subscription services out there, but this one is so cute, creative, educational, and mindful, as each story incorporates not only imagination, but also social and environmental concepts as well.  Dipongo won't start shipping boxes in English until March, but for now, you can still go and check out what the subscription offers at Dipongo.co.  Subscription and shipping prices for the US to be determined.
CES 2021, even though it was all-digital, was huge, covering almost 2,000 companies, across all sorts of categories of technology.  I found so many interesting products, across many categories, and I'm going to try to organize all of them for you, in some sort of logical manner.  Today's article focused on a collection of products for creativity, but I also have products for your home office, your outdoor activities, your health, wellness, fitness, and more.  So, click on the links for these 4 great products, then check back over the next several days for my next installment of fantastic tech to share with you.  If you want more to read right this moment, why not click over to my articles featuring products from the Techfluence event, ShowStoppers TAITRA event, and Pepcom's Digital Experience event.