ShowStoppers CES 2021 Virtual Jetro Event
By Terry Kibiloski
"Jetro – ShowStoppers"  – Jan. 7, 2021 11:00 AM Eastern Time (US and Canada)
At the Jetro – ShowStoppers virtual event, seven Japanese startup businesses were highlighted. It was hosted by John Biggs, Editor-in-Chief of Gizmodo, who introduced each of the presenters. This was an interesting session because the products were very creative.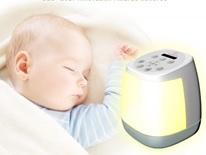 The first product was an Artificial intelligence (AI) sleep trainer for your baby called aineene Baby Sleep Trainer, from First Ascent Inc., which is a CES 2021 Innovation Awards honoree. After testing 150,000 babies, in over 150 countries, this product's CryAnalyzer's AI has been shown to analyze baby cries with up to 80% accuracy to let you know if the baby is crying because of a wet diaper, or because they are hungry, or for other reasons. Baby Sleep Trainer is also designed to reset your baby's clock (circadian rhythm) by using light, plus there is a white noise feature and a blue light for reduced light. It can connect to its own smartphone app. First Ascent worked closely with the National Center for Child Health and Development (NCCHD), one of the most prestigious childcare research centers in Japan. More information is available at https://ainenne.com/english

The next product was Actcast, developed for edge computing technology by Idein Inc. Using the Raspberry Pi built-in GPU, Idien has been able to accelerate deep learning inference, thus raising the limits of edge processing ability. A potential use of this technology in brick and mortar retail stores, would be to use cameras to track the number and flow of visitors, detect the visitors' gender and age, what brand of clothing they are wearing, the products they pick up in the store, and other AI trackable data. Further information can be found at https://idein.jp/en/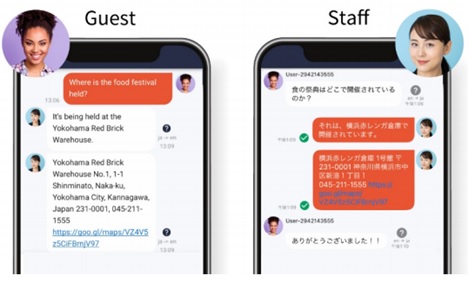 The third product, at the ShowStoppers' virtual event was "Kotozna In-Room" developed by Kotozna Inc. The presentation began with a humorous video showing a naked hotel guest with a towel wrapped around his waste trying to get someone to come up and open his room since it appeared that he may have tried to make a quick trip down the hall for some reason only to return to a locked room. The comedy continued with the guest speaking one language and the hotel front desk person speaking another, neither understanding each other. Kotozna In-Room can solve problems like this, plus any other guest service problem in any business that needs instant language translation. This product is capable of translating between 109 languages to provide multilingual, contactless guest service which is so important during the COVID-19 pandemic. There is no upfront cost since it launches on a smartphone's, or tablet's web browser with a quick scanning QR code. It can be customized to offer coupons, sightseeing information, and various other services. Further information is available at https://kotozna.com/en/

The fourth product Efficiera, came from LeapMind, their motto being "to create innovative devices with machine leaning and make them available everywhere. LeapMind's current focus with Efficiera is focused on movies and photos with applications like estimating the percent of people who are focused on a seminar, improving low-light camera images, and noise reduction for camera images. Further information is available at https://leapmind.io/en/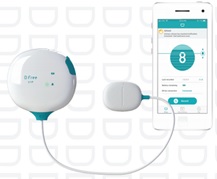 The fifth product was DFree, from Triple W, which empowers people with urinary incontinence to live without worry. The is the first wearable device that notifies the user how full their bladder is to determine when it's time to go to the bathroom. This can help prevent urinary accidents for seniors, those with disabilities, and provisional short-term needs like during pregnancy.  This is a non-invasive device that tapes to your belly and uses an ultrasound sensor which wirelessly connects to your smartphone to provide alerts to correspond with the notification threshold you have set in the app. Two models are available: DFree Personal, and DFree Professional. The professional model is designed for use in medical care facilities where it can monitor multiple patients. More information is available at www.dfreeus.biz.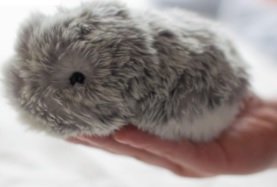 The sixth product was Moflin, from Vanguard Industries, which is a soft and cuddly palm-sized AI pet robot, that responds, evolves, and develops its own personality and emotions to fit the environment. The target market is for the elderly, or anyone else, who needs companionship but may not be able to own a pet. It is also ideal for STEM programs studying AI. It's cuddly exterior can be unzipped for washing. With a 4 hour charge, you get around 8 hours of cuddly companionship. You can find more information at https://www.vanguard-industries.com/#News
The final company to present products at this ShowStoppers' virtual event was Yukai Engineering, which introduced three products: Petit Qoobo, BOCCO emo, and Create-a-critter. Petit Qoobo is a therapy AI robot in the form of a cushion with a tail. If you stroke it, the tail waves gently. If you rub it, the tail playfully swings back and forth. Sometimes the tail wags just to say "hello.' It will also wag in response to your voice. It comes in four colors.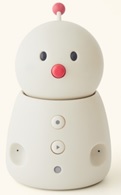 BOCCO emo is a family voice exchange robot that can accept either voice or text messages via the BOOCO app on your smartphone and read your messages out loud to your family. This is ideal for families who have elderly relatives or children at home and you need to send them notification messages about impending weather, your current location, your delays, or give them directions like "time to do your homework," or "time to watch your favorite program." When you talk to BOCCO emo, it provides emotional responses expressing itself with its own special sound effects and body language. You can set a "wake-up" word and connect it with IFTTT home smart devices to monitor things like room temperature, door locking, and so on. The last product presented was Yukai Engineering's create-a-critter-robot-kit, which includes motor, battery case, switch, jumper cable, and other items to let you create an original critter robot. Further information can be found at https://www.ux-xu.com/en