CES 2021: Interesting Products for Health and Fitness
CES 2021: Interesting Products for Health and Fitness
Article by Angie Kibiloski
Since CES 2021 wrapped up last week, I've been introducing you to some of the interesting new products I discovered there.  First up was an article filled with Products for Creativity, then one for Products for the Home, each of which I encourage you to check out through those links, or by visiting our Home Page.  My goal this year was to find items that were different in some way, and stood out from the crowd.  Today, we'll continue to uncover a few more of those, with 5 products to help keep you healthy and fit.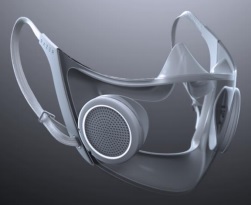 To start, let's talk about a product that has been on all of our minds for the last 10 months, a face mask.  Razer, a company most well-known for leading the industry in gaming computers and peripherals, has announced a smart face mask, though it's still in its preliminary prototype phase.  They've titled the prototype Project Hazel, and I look forward to watching its progress.  The Project Hazel mask will be certified as a surgical N95 respirator, with a high fluid resistance that protects against droplets at its filter points.  The front of the mask is made from a transparent, recycled plastic shield, molded to be away from the surface of your face, with a soft, silicon guard edge to create a flexible, yet secure seal all around the mask.  There are 2 detachable and rechargeable smart filters near the front of the mask, each providing active ventilation, to bring in cool air from outside the mask, and reduce the heat build-up from your exhaled breath inside the mask.  These filters have 95% bacterial filtration efficiency, which is what N95 stands for.  Due to the clear plastic of the face plate, this mask is not only safer than fabric masks, but it allows for improved social interactions, since the person you're talking to can see your mouth and full expression.  There will even be interior lights that come on when it gets dark, so you can still express yourself at night.  There will also be a built-in mic and amplifier, which will allow your voice to come out of the filter areas unmuffled.  For cleaning, the mask will come with a dual-purpose case, that will both charge the mask and sanitize it with UV-light.  As it is still in the prototype phase, Razer has not set a release date or price yet, but you can see more concept images, and keep an eye Project Hazel here.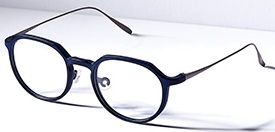 While we're thinking of our faces, let's talk about a very cool mobile app and 3D printing service, that will allow you to scan your face from home, and get custom-printed eye glasses in the mail.  Breezm is revolutionizing shopping for eye glasses, making it easier and more convenient to find the perfect frames for your face, by making them specifically to fit your face.  The mobile app, which will be finalized later this year, will ask you to take images from multiple angles around your face, then Breezm will analyze these images to get your exact measurements, from 6 key points around where your glasses rest.  You'll then browse the styles and colors of frames, getting to virtually try them on in the app.  You'll place your order, and your new custom glasses will be delivered right to your door within 2-3 weeks.  In addition to the custom fit, since they're 3D printed, the frames are thin and light-weight, making them all the more comfortable to wear.  Despite the thinness of the frames, they'll still be compatible with higher prescriptions that require thicker lenses.  Before the mobile app rolls out, there will be pop-up in-person locations in a few select US cities, contingent on public safety guidelines of course, with robotic scanning arms that move around your face.  This technology has already been on the market in South Korea, for in-person fittings, with great success.  Once Breezm launches in the US, you'll be able to choose your customization level, starting at $220, up to $390, based on how many parts on the frames you wish to customize.  If you want to learn more about the app, and see some of the styles, visit Breezm on their temporary post-CES info page here.
From head to toe, let's move on down to a product for your feet, the Smart Insoles from Digitsole.  These Smart Insoles connect to companion walking and running apps, to track your exercise, and monitor the biomechanics of your movement as you walk or run, to help you adjust your stride and perform these activities more safely and efficiently.  Digitsole partnered with healthcare professionals, who specialize in walking and running health, to determine the biometric parameters that need to be monitored.  Both the walking and running apps will analyze 10 biomechanical measurements, and create a profile of your movements, give you a score on your stride health, then provide tips to adjust your stride to improve performance, and decrease risk of injury.  Among the parameters that will be tracked are Stride Pattern, Step Length, Impact Force, and Contact Time.  The built-in GPS will even allow you to see which area of your running or walking path may have affected your measurements, by looking at your route in the apps.  You won't need to bring your phone with you on your run, because the Smart Insoles will upload their data to the apps when you get back in range of your device.  After a full charge, they have 40 days of battery life, meaning you only have to charge them less than once a month.  They are also light-weight, waterproof, and anti-bacterial, making them perfect for daily use.  You might never think about how you walk or run, but there are definitely more and less healthy ways to do both.  Find out more, and maybe buy yourself a pair here.  Being a French start-up, you'll see the price in Euros (99€, approx. $120), but you'll be able to order them to be shipped anywhere.
Going full-body now, let's learn about the Wondercise Multi-Pulse System, a motion-matching training program, with connected leg and wrist sensors.  These sensors, housed inside a wristband and leg band, pair with the Wondercise app to track your movements and other metrics, like heart rate and caloric burn.  As you watch a Wondercise fitness video, either live or pre-recorded, the upper and lower body sensors work together to more accurately track your body position than with a single wearable, and will detect how close you're matching the movements of the on-screen trainer.  This is important, not only to get the most out of our workout, but also so that we don't risk injuring ourselves by performing an exercise move incorrectly.  You'll get a score based on your accuracy, so you can set goals for yourself, and see how you improve over time.  Being given a score to beat can be a fun way to get motivated to get out of bed each morning to sweat.  The leg and wrist sensors are designed to track cardio, resistance, or weight training movements, and will last for up to 7 days on a single charge.  For even greater accuracy, you can connect an Apple Watch or Garmin wearable for 3-point motion sensing.  In the subscription-based app ($35/yr.), you'll have access to over 300 classes, featuring trainers from a variety of fitness backgrounds.  The price and release date for the Wondercise Multi-Pulse System, with leg and wrist bands, are yet to be set, but you can go ahead and check out the Wondercise training app here, along with their previous wrist band models.
We've discussed healthy products for all over our body, so let's focus on internal wellness now, and wrap up this article the way we began, with a helpful prototype.  The Water Band from MyElixa is an upcoming product for seniors, to turn any bottle or cup into a smart bottle or smart cup.  It's a flexible, rubberized band, with a sensor inside the attractive water drop module, that will fit around any beverage container, and help keep track of how much water the user is drinking every day.  Dehydration is a surprisingly common challenge for older people, who may have cognitive disorders or are simply slowing down and getting a bit forgetful, and can be a big contributing factor for hospitalizations.  The Water Band not only monitors water intake, by sensing the tilt of the container it's attached to, it will also remind a user with light and sound when it's time to take another drink of water, based on the daily water goal that was set up in the app.  This not only lets the user independently maintain their own health, but allows family members or caregivers to remotely keep track via the app, and be alerted if goals are not being reached.  Charging the device is easy with the wireless charging base, so all the user needs to do is set the band down on top, and then a single charge will last for a week.  This Swiss start-up will be finalizing the Water Band in the next couple of months, and expects to have it on the US market before the end of the year, for around $87.  In the meantime, you can visit MyElixa and read more about their debut product here.
There you have it, 5 health and fitness products that stood out to me as different and interesting, picked out from the slew of awesome new tech at CES 2021.  There was so much to see at the show this year, from all corners of the tech industry, and it was a lot of fun sharing my discoveries with you.  As we wrap up these 3 Interesting Products articles, and with them my CES 2021 coverage, be sure to click on the links to all these great products within their paragraphs, and if you haven't already, check out my previous 2 articles in the series, Interesting Products for Creativity, and Interesting Products for the Home.  Then, in the very near future, check back for full reviews of many of these products, as they arrive in our offices.  I've already got 2 sitting on my desk next to me, waiting to be shared, so keep an eye on the Featured Reviews section of our Home Page.  Thank you for joining me the last 2 weeks for the all-digital CES 2021!