CES 2019: Convention Show Floors
CES 2019: Convention Show Floors
By Angie Kibiloski
From Tuesday, January 8th, through Friday January 11th, CES 2019 was held in every exhibit hall of the Las Vegas Convention Center, both floors of the Sands Expo Center, and many, many suites in the Venetian and other hotels along the Strip.  With 182,000 attendees, and 4,500 exhibitors, covering 2.9 million square feet this year, the show was bigger than ever.  CES claims to be the biggest technology trade show in the world, and it really does seem like the entire world comes to Las Vegas during this week.  One person alone can't physically cover that much square footage in 4 days, but just wandering around the LVCC and the Sands, I saw an insane number of products, both large and small, to dazzle, wow, and impress any lover of technology, from the easily awed tech newbie, to the jaded industry veteran.  If you can think of a type of technology, it's probably represented somewhere among the exhibit halls or suites.
The sheer size of CES can be intimidating, and I'm thankful that each exhibit hall is roughly divided into categories of tech, to make it easier to organize my time, and not be overwhelmed by the sea of merchandise.  The LVCC North Hall, for instance, is totally devoted to automotive, whether that be the newest self-driving car prototype, high-end car audio, or for the 1st time ever, a smart YACHT, parked right in the middle of the convention hall.  The LVCC Central Hall is where all the giants in televisions, consumer audio, and photography take up huge booth space, showing off their shiny new, usually expensive stuff.  LG made a splash with their curved TV display, with dozens of screens formed into waves, with an ultra-HD forest waterfall crashing down the entire array.  The LVCC South Hall is a vast collection of smaller consumer electronics, like drones, phones, and AI robots.  Google claimed space in the LVCC Central Plaza again this year, with a theme park-style ride taking you through a day in the life of a family using the Google Assistant.  It was extremely cute, and just as worth the wait in line as anything at a theme park.  Across town at the Sands Expo Center, the bottom floor hall is all the Eureka Park area, where over a thousand start-ups from around the globe can introduce themselves to a world-wide market.  The top floor hall has all sorts of smart home devices, educational products, health care, and fitness.
As I mentioned, with so much acreage to cover, it's difficult to do it justice in only 4 days, and even harder to distill everything into one wrap-up article.  I've pulled 10 products that I think you'll like, and that I thought were cool enough to tell all my friends about when I got home.  I've stayed away from highlighting the big guys, like Google, Polaroid, and Samsung, because you know about them already.  I like to introduce you to companies that you probably haven't heard of before.  After all, that's the fun of going to a trade show, discovering treasures that you never knew existed.  So, without further ado, here's my Top 10 List from the Convention Show Floors.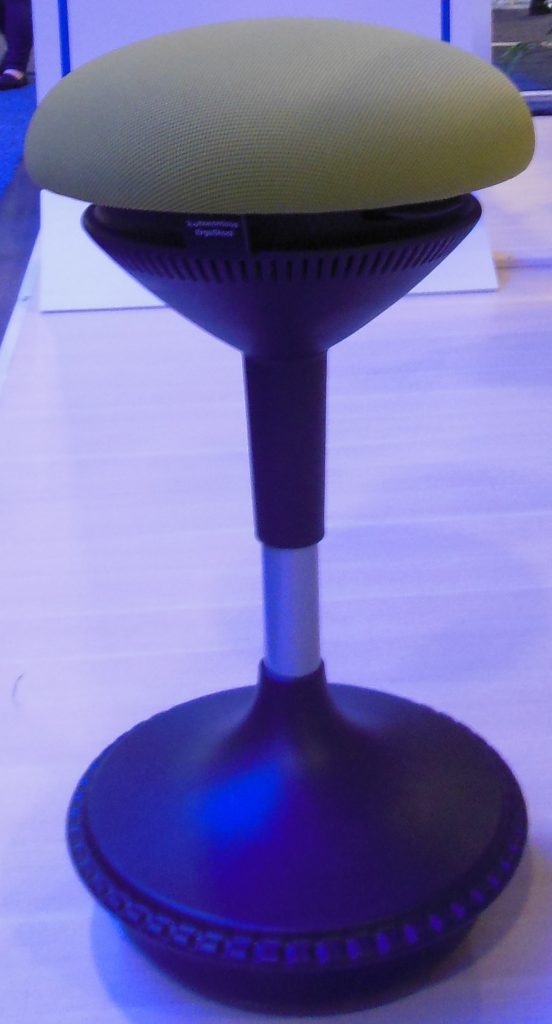 We'll begin with a few products that can make your work space more comfortable and healthy.  You've seen many models of ergonomic desk chairs, but I bet you've never seen one quite like the ErgoStool from Autonomous, which will give you a core workout as you sit, like balancing on an exercise ball.  If you're old enough to remember the Weeble Wobble toys, sitting on this stool made me feel like I was one of those.  The weighted medicine ball base keeps the stool in place and mostly upright, though you do have to sit up straight in order not to start tilting.  The round base also gives you a wide range of motion, so instead of having to throw yourself against the arm of your chair to roll it across your floor liner, all you have to do is lean.  There's no back on the stool, so you can't be tempted to slouch in your chair while you're meant to be looking professional, and this posture helps you maintain good circulation in your lower body, even though you're sitting.  With a 10-inch height adjustment range, the ErgoStool can fit just about anyone.  Strengthen your back and core while being comfortably productive at your desk, and if you get bored, you can also have a lot of fun doing some wobbly spinning in place.  It comes in 4 colors, is only $89, and you can find it and other Autonomous ergonomic work furniture at www.autonomous.ai.
If you prefer a standing desk, then your feet may need some quality insoles, and the Albert interactive foot scanner, from Aetrex, can help you find the perfect pair for your unique feet.  This retail store located scanner takes photos of your feet from 16 angles, and also uses a pressure plate with hundreds of sensors, to get a super detailed landscape of your feet, and figure out where you put the most stress on them.  The scanner will give you all sorts of measurements about your feet, and how you compare, percentage wise, with the rest of the population.  You get to find out nuanced dimensions of your feet, your arch type, pressure points, and see a rotatable 3D image of your feet.  You can have access to this information, and compare any future scans you get, at www.myfeet.com.  Their AlbertOS software will recommend which insoles will be best for you, for a range of footwear types, like Athletic, Everyday, and Dress, which you'll then be able to either order online, or buy in the same store where you were scanned.  There aren't too many retailers who carry this scanner yet, but you can find out if there's one near you at www.foot.com., as well as learn a lot of cool information about feet and orthotics.  If you don't have a conveniently located retailer who houses an Albert scanner, you can always tell your favorite local footcare store how awesome it is, and encourage them to get one in their store in the future.  If you want to learn more about the technology behind the scanner, check it out at www.aetrextechnology.com.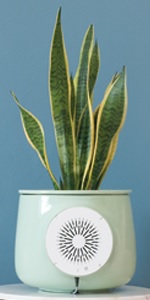 When you work in an office, unless you leave all the windows open, you probably have to deal with stagnant, indoor air all day, which can actually have 5 times more pollutants than the air outside.  To eliminate the pollutants that you might inhale, an indoor air purifier is a must.  Natede, from Clairy, combines an air filter with a lovely potted plant, to utilize the natural powers of our green, leafy friends, and maximize its air purifying efficacy.  The Natede draws air into the device, through the filter, and directs it towards the roots of the plant inside.  The plant processes the pollutants in the air, through a process called phytoremediation, which naturally renders toxins in soil, air, and water harmless, like they do with carbon dioxide.  In conjunction with a photocatalytic filter that does not need to be changed, the plant potted inside a Natede can eliminate 93% of VOCs (Volatile Organic Compounds), 99% of airborne bacteria, viruses, particulates, and even odors.  You'll know at a glance if you're breathing optimally pure air, because there's a light on the front of the device that blinks when it has pollutants to filter, and stays constant when your air is at its best quality.  Through the sensors inside the Natede, the connected app can monitor air quality, temperature, humidity, carbon dioxide, and carbon monoxide in your space.  It can also connect to your preferred voice assistant.  Your plant will be well taken care of too, since Natede has a self-watering system, with a reservoir that can last up to a month.  For every Natede purchased, Clairy will plant 10 trees through the Eden Reforestation Projects, helping our planet breathe better too.  With over $1M raised on Indiegogo, the future of this product looks bright.  Start to naturally purify your own space at www.clairy.com.
Okay, so your office, or home, has clean air, but what to do about the floors?  Whether you have carpets, wood, or tile, nobody likes vacuuming and mopping. GenHigh can help keep your space clean, with their new smart, self-cleaning robot vacuum and mop, the Narwal.  Aside from having a really cool name, this little housekeeping bot has some power too.  When I first saw it, I thought, "Okay, another Roomba, big deal," but I was soon proven wrong, this little beast is on the next level.  The Narwal has the dual skills of vacuuming and mopping, and will automatically detect which floor type it's roaming on, and switch settings accordingly.  During the vacuuming mode, its strong suction can pick up dust and debris for about 300 square meters before it needs to be emptied, and in its mopping mode, the 5-liter water and detergent tank can clean up to 200 square meters before it's empty.  The mopping heads are made of durable silicon sponges, which give it traction to scrub and remove stains like no other cleaning robot before.  Aside from re-parking itself in the charging dock when it's low on battery, it also conveniently sanitizes and dries its own mopping heads, so you'll never have to worry about the mops getting that weird, mildew smell from sitting damp.  The Narwal maps your rooms on its first introduction to your space, and senses if there's an obstruction, like a pile of clothing on the ground, and can navigate around it, so it won't try to suck up a sock, or mop up your meandering pet turtle.  It can also easily adapt to the moving of furniture, with a little bit of realignment of its internal mapping.  It's super quiet, so you'll barely know this stealthy little sucker is there unless you trip over it.  You can use the connected app to position it for spot cleaning, monitoring the cleaning progress, customizing the cleaning route, or checking the battery life.  This device won't be out for retail until the summer, but you can check out all of its features and on-board technology at www.narwalrobotics.com, or head over to www.genhigh.com to see their other range of products.
You're busy at work and will be tied up at the office for the next 2 days, but you REALLY need to do some shopping.  You'd normally go straight to Amazon, right?  Well, maybe not for long.  JD.com is China's largest retailer, with over 300 million users, and they're coming to the US, bringing some enhanced shopping and delivery options to our shores.  In its home country, JD.com is a giant online source just like Amazon, with autonomous delivery vehicles, like the one shown, as well as unmanned brick-and-mortar retail locations, with AR Styling and Fitting stations to allow customers to virtually try on makeup and clothing just by interacting with the touch screen interface.  Their unmanned stores also have drone shopping carts, which follow customers down the aisles.  I think this would be particularly cool to have here.  With their AR shopping app, you can see how a new desk chair will look in your office space before you buy it from their site.  When you order, their troupe of robots will pull your purchase from the warehouse shelves, and depending on where you live, their delivery drones could even bring your package to your door, either by street or by air.  I'm not sure if JD.com will rival Amazon in the States any time soon, but I wish them, and their legion of helpful bots, some very good luck.  Have a browse at www.jd.com.
Perhaps one of your projects you finished at work today was creating hundreds of promotional fliers, but you realize you've somehow forgotten to print the company name and logo at the top of the pages.  Do you waste another ream of paper printing new ones?  Not if you have a Printbrush XDR, the first truly mobile, handheld, portable inkjet printer for smartphones.  Designed for fast, on-the-go printing, this cool little device allows you to print on anything, anywhere you are.  You can print on paper, walls, plastic, clothing, mugs, anything with a flat enough surface to get contact with the bottom of the device.  So, in your hypothetical flier dilemma, once you've printed your logo on all the pages, you could even get extra credit with your boss by making promotional merchandise too, in a matter of seconds.  Just use the app to program in the image or text you need printed, then drag the fist-sized device along your printing surface, and voila.  The Printbrush XDR will let you print left to right, right to left, top to bottom, and even in a curve, just load up your image and drag the device along.  It's easy, fast, and fun.  It uses a custom, tri-color ink cartridge, specially made for them by HP, which will last for thousands of print jobs.  When you load an image into the app, it will tell you how many times you can print that specific image with your remaining ink.  You aren't limited to printing small projects either.  The device allows you to print up to 3 separate lines, with small spaces between the lines, guiding you when to move the printer with helpful beeps.  Read more about the tech inside this device, see videos of it in action, and order yours from their Kickstarter, at www.printbrush.com.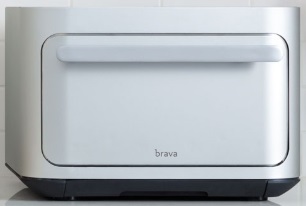 Your difficult week at work is finally over, and the last thing you want to do is cook dinner.  The thought of spending hours standing over a stove to make a nice steak and a couple vegetable sides is depressing.  Fortunately, if you have the Brava smart oven, this task is not so onerous.  You could cook all of your dishes in the same oven space, and in half the normal cook time, while being guided the entire way by the oven itself.  Unfortunately, it can't do anything for your prep time, but the on-board screen WILL give you easy to follow, step-by-step instructions, for over 120 pre-installed, chef-developed recipes.  From the size you should cut your pieces of potato, to the herbs and spices you should use to rub on your steak, to which sector of the oven you should place each food item, just follow the directions, and Brava will get you through dinner with as little stress as possible.  It uses infrared technology inside the oven, which is able to reach 500° in a second, so on top of cutting your cooking time in half, there's no pre-heat time to get up to temperature.  It isn't a very large oven, so you won't be feeding a family of 12, but for 2-4 people, you're good to go.  Of course, you could cook for more people by cooking one item at a time, for a larger quantity of each, and with the decreased cook times, this is a totally viable option, but if you're looking to cook complete meals all at once, fewer diners is ideal.  After you've finished getting all of the cooking instructions you need from the LCD touch screen, and your meal is cooking away inside the toasty warm interior, you can watch your food come to mouth-watering completion on this screen, because there's a camera inside the oven.  Brava has a hefty price tag, at just under $1,000, but for the ease and convenience of cooking your meat, veggies, and starches in the same oven, cutting your cook time in half, and having an instructional guide built-in, it would be well worth the cost to people who cook several times a week.  Get your kitchen helper at www.brava.com.
What are your kids gonna do while you're cooking dinner?  Most likely play a game on some kind of screen, right?  If you have kids under the age of 8, then why not get them the Square Panda phonics-teaching letter board and connected app?  The app has 11 different learning games, set in SquareLand, teaching various elements of phonics, all utilizing the connected grid and plastic, magnetic letters, along with your tablet.  It's like playing with letters on the outside of the fridge, but with a tablet app to guide you and make it much more exciting.  The games all star the most adorable little helper creatures, like a chameleon who will sound out any word you place into the grid, and put up an image of that word, or a set of funny faced rocks who will make the sound of each letter in a word, and ask you to place it in the grid, as you use coconuts to bowl them over.  The concept of the device is simple, but I love that it incorporates real-world playing pieces with the virtual world on the tablet.  It gets kids out of the screen, even while using one.  Don't be a square, be a Square Panda, and get in on the fun at www.squarepanda.com.
For even more real-world incorporation, the Woobo is a fluffy, connected monster friend, kind of like a super-duper, connected Furby.  Woobo has a soft, plush, huggable body, light-up, silicon ears, an HD LCD touchscreen, and oodles of personality.  The screen doubles as the Woobo's eyes, and when you aren't playing a game with it, he has the sweetest doe-eyes you've ever seen on a virtual pet.  When you are interacting with it, Woobo can answer your questions in a kid-friendly way, read you stories, play fun learning games with you, or play your favorite song list.  Woobo's library of content is always being updated, so you and your kid will have plenty of activity options.  It has a motion sensor, a light sensor, and 2 touch sensors, so it can actually react directly to your kids and the environment.  Through the parental control app, you can leave your kids voice messages, help them stick to their daily routine, and more.  You can unzip and remove the fur for cleaning purposes, and soon, you'll be able to buy different sets of fur and outfits for your Woobo for even more interactive fun.  If you'd like to get this adorable smart pet for your kids, or just enjoy looking at some fluffy cuteness, go to www.woobo.io now.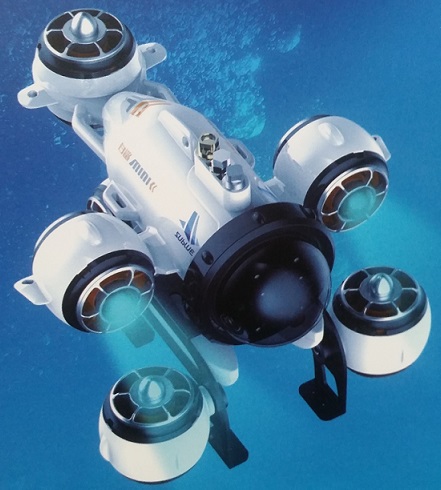 You can't work all of the time, and a family vacation is a must, at least once a year.  Is your family adventurous?  Do you like going to the beach, the lake, or just the pool?  Sublue may have the perfect vacation tech for you, with their White Shark Mini II, a rather cool looking underwater drone.  This little submarine is more than just a toy.  It has a full HD camera, shooting at 1920 x 1080 dpi and 25 fps, with a 90° vertical panning axis. The 3 vertical, and 3 horizontal propellers keep this craft stable, for optimal viewing and recording, as well as precision control over its dives and turns.  It can dive to a depth of 100 meters, and travel at 2 knots (1 meter/sec).  It's compatible with additional water quality, ph level, and sonar sensor extensions, so you could use this drone for scientific or work-related purposes as well as for fun.  Underwater drones were a huge sub-set of new products at CES this year, with dozens of companies showing their versions, but I really liked the look, and cordless control of this particular one.  Let the WhiteShark Mini II be your new aquatic buddy, and open up a whole new world of recreational possibilities.  Later this year, you'll find it docked at www.sublue.com, along with other great products like their Swii Electronic Kickboard.
There were so many more incredible products I could have featured in this article, but I have to stop somewhere.  Like from the other lists I've made over the last week, I hope to get many of these products in the office for a closer look.  Make sure you check back on this site for in-depth reviews of these, and other products I was unable to mention here today.  CES 2019 was one heck of a crazy, busy week, but like always, it was filled with non-stop fun and exciting discovery.  Now that I've had a little break from the chaos, I'm already looking forward to doing it all again next year.  First though, I can't wait to jump right into all of the upcoming post-show product reviews.  I'll see you all back here for those.