CES 2023 Pre-Show Event: Digital Experience
CES 2023 Pre-Show Event: Digital Experience
Article by Angie Kibiloski
On Wednesday, January 4th, on the eve of CES 2023, my favorite Press event of the convention each year took place. Pepcom's Digital Experience, featuring 130+ companies, held this year at Caesar's Palace, was 3.5 hours of product discovery, accompanied by some delicious buffet-style food and tasty cocktails served from an ice-sculpted bar. Like the CES Unveiled event the previous night, I could never do justice to the sheer number of cool products at this event, so once again I've chosen 5 that stood out to me, to briefly feature here. I'll be writing more in-depth coverage of several of these products in the future. In fact, I brought a couple home with me from the show for immediate review, so look for those in the very near future.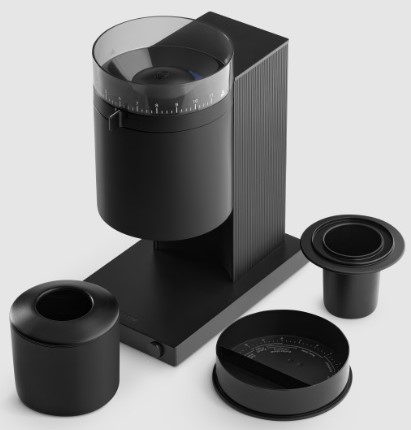 Opus is a conical burr grinder from Fellow, a coffee lover's dream company. They have so many sleek and incredible coffee accessories in their product line, and the Opus is a great new addition. With a 6-blade burr attached to a powerful motor, 110 g capacity container, easy measuring lid, anti-static technology to cut down on messy ground dust, and a stunning array of 41 precise grind level settings, all housed inside an attractively minimalistic, matte-finished body, the Opus is perfect for the true home-brew aficionado. This grinder is impressively quiet as well, something many electric grinders struggle with. CES came at the perfect time for me, as I've coincidentally been researching coffee grinders for myself this past month. I covet this stunning little machine, and I'll be very happy to be able to acquire one in late February, for just $195. It isn't listed on their product pages yet, but you can get an idea of Fellow's design aesthetic with their existing product line, including a stylish kettle, a pour-over brewer, and some cool travel mugs.
Reencle Prime is one of several in-home composting machines that I saw at CES, to cut down on the amount of food waste we throw into the landfills from our home kitchens. Some of the devices use heat and blades to dehydrate and condense the waste, but Reencle uses composting microorganisms to actually break down organic material like a standard backyard composting bin does, just in a smaller form factor, sitting conveniently next to your kitchen counter. You can place up to 1.5 lbs. of organic food waste into the unit, and in as little as 2 hours, the microorganisms that live within the composting environment will turn that waste into usable fertilizer for your garden, or simply reduce the size of your waste matter by 90% if you have no need to reuse it. Unlike some devices that require you to continually purchase composting compound, you will typically only need to buy the initial ReencleMicrobe once. As long as you retain a small portion of composted material inside the device for the next batch, the microbe will continue to replicate itself as you feed it new waste material. The Reencle Prime has been out since late Spring 2022, and has sold more than 100,000 units worldwide. The company has also planted 10,000 trees through One Tree Planted, an environmental charity planting trees around the world. Learn more and get your own Reencle Prime at reencleus.com. The regular price is $699, but you can get it on sale for a limited time for $499.
Neoplants is a ground-breaking company, with some very cool, bioengineered houseplants, that are not only attractive additions to your household foliage, but will also purify your air by neutralizing a variety of pollutants that regular plants can't process. They've altered the DNA of a popular houseplant to create Neo P1, a new sub-species of the friendly little Pothos plant. Using the plant's natural air-filtering processes as a starting point, they've adjusted the genetics of the Neo P1 to not only intake and process carbon dioxide from the air, but also formaldehyde, benzene, toluene, and xylene, 4 substances that are toxic to humans in large doses. The 1st batch of Neo P1 plants are being cultivated from single cells, and will be fully grown and ready to ship in about 9 months. Later batches will be quicker to grow, since they'll be bred from mother-plant cuttings. You'll be able to adopt your own Neo P1, nestled safely in its auto-watering, biodegradable Shell pot, designed for optimum air flow and soil health, for $179 later this year. Learn all about the company, the plants, and the science at neoplants.com, and join the waiting list to adopt a Neo P1 for your home.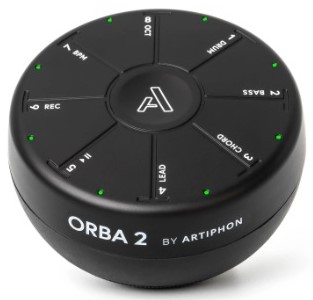 Orba 2 is the 2nd generation of the fun, handheld musical instrument from Artiphon. It's a synthesizer, loop recorder, and MIDI controller all in one, using both touch and motion gestures to create music using up to 120 programmable stored sounds. 4 instruments can be loaded and used per loop, by assigning your chosen instruments to the drum, base, chord, and lead sections of the Orba 2. Cycle through each as you record a song one layer at a time, making a loop of up to 128 bars, longer than the original Orba allowed. In addition to being able to play any of the sounds that come pre-loaded with the unit, you can upload your own samples, or capture a new sound directly on the device, and turn it into a playable, 8-note scale. All you need to play is the device itself, but by using the Orba app, you can open up so many customization features to help you create the perfect song on the go. Orba 2 is great for beginner musicians who want an easy entry point to satisfying song creation, as well as professionals looking for a fun way to sketch out song ideas while away from the studio. It can also be used as a MIDI controller, to input tracks into studio software like Ableton Live, Pro Tools, FL Studio, and more. Read all about the new features of the Orba 2, and watch a demo video at artiphon.com, then order yours for $149.99. Also, this is one of the products I brought home from CES, so check our Reviews section in the near future for a longer article on this device.
Ekwe is an upcoming app-based music creation platform, bringing together a huge library of real musical instrument samples from around the world, and an intuitive, easy to learn interface, for music lovers of all ages to be able to create masterpieces right from their phones or tablets. Ekwe approaches music creation in several different ways than a standard DAW (digital audio workstation) program. First off, users can sort through samples by region or instrument type instead of by genre. Even as someone familiar with both instruments and music creation, sifting instruments and sounds into all the various genres and sub-genre labels can be confusing. Additionally, the interface itself is intuitive, using touchscreen controls and common sense visual editing, making the learning curve to creating via Ekwe a lot easier than with a traditional program. Each instrument sample comes as a pre-set loop, to get you started with a baseline composition, which you can then edit as you like to fit your song. You aren't limited to the 150 instruments pre-set into Ekwe, although with the interesting educational information that comes loaded with each one, those can keep you busy for awhile. You can also record your own instruments and vocals to play with inside the software, as well as connecting it to hardware MIDI devices for expanded controls. Ekwe is currently in its final beta testing phase, but look for its open release around April. You may also be able to find a more in-depth review of it from myself in the upcoming weeks, as I'm very much looking forward to playing with this program with an early access code. In the meantime, learn more and watch a video from one of the creators at ekwe.app.
Pepcom's Digital Experience 2023 was a blast, and this was just a tiny handful of the products displayed there. I'm looking forward to bringing you further coverage on several products featured here, as well as some I didn't mention, so keep a look out for those soon. For more product discoveries right now, check out my previous article on 5 featured products from CES Unveiled, and check back for my upcoming articles on the ShowStoppers event, and the LVCC and Venetian convention halls.