CES 2023 Press Event: ShowStoppers
CES 2023 Press Event: ShowStoppers
Article by Angie Kibiloski
After a long opening Thursday on the CES convention floors, Press got the treat of attending ShowStoppers, the last of the 3 major Press events during the convention. Hosting almost 100 companies this year, in a beautiful ballroom at the Bellagio, we got to spend a leisurely 4 hours dining on a wide assortment of food, enjoying free flowing adult beverages, and meeting quite a few hand-picked exhibitors and their product offerings. I always appreciate the ratio of booth quantity to event duration at ShowStoppers, as it allows me to spend more quality time chatting with each exhibitor, instead of running from booth to booth to cram them all into the allotted time. You'll see full-length reviews of a few of the below products, and some that I'm not listing, but for now I'll just briefly mention 5 that were particularly memorable for me.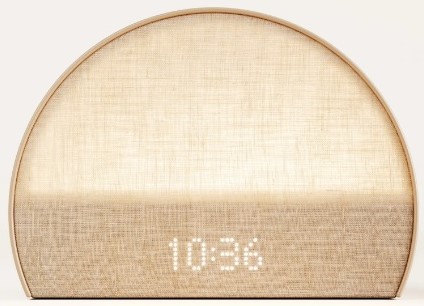 Restore 2, from Hatch, is the newest model in their sleep aid product line. Sleep can be hard to come by nowadays, with life stressors, blue light from screens, and disrupted routines. Restore 2 will help you fall asleep, stay asleep, and awake gently, with the use of light, sound, and guided relaxation exercises, all programmable through the companion app. The half dome shape of the device is designed to invoke the feel of the horizon, and will look like the sunset at night, and the sunrise in the morning. Choose to accompany the sunset with dreamscape soundtracks or soothing sleep stories, then transition to quiet ambient sounds to keep you snoozing. With the sunrise, the audio can come in with morning bird song, a gentle alarm, and their newest "Morning Moments" feature, which will prepare you for the day with some inspirational narration. Available in 3 soft colors, with a retro linen front panel, this small, minimalist device is an attractive addition to your bedside table. There's a basic free version of the app, but you'll really benefit from the full membership subscription, that provides access to a wide library of sleep content for just $4.99/mo. Choose which color Restore 2 you'd like to pre-order, and start getting better sleep in February, for just $199 from Hatch.co.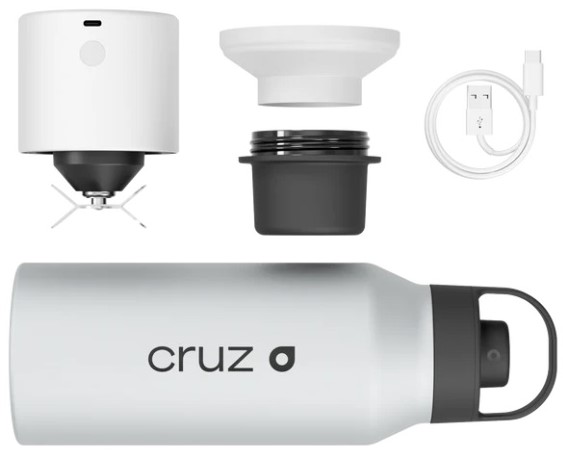 BlenderCap is a high-powered portable beverage blender from Cruz, a team of ex-Apple designers who were looking for a better way to blend. The aluminum alloy body screws onto the wide-mouthed Cruz bottles, and is also compatible with some bottles from other major brands like HydroFlask. Housed inside the BlenderCap is a solid pack of 9 lithium-ion battery cells, giving the 18,000 RPM motor 300 watts of power, and can blend around ten 32 oz. Cruz bottles full of smoothies on a single charge. The high-quality stainless-steel blades can reliably handle ice, frozen fruit, and solid foods that some other beverage blenders can't manage. This hefty little cap isn't the lightest thing to throw in your gym bag, but for a better blended protein smoothie, I think the extra weight is a fair trade off. Available for shipping in March, you can pre-order your set, complete with BlenderCap, insulated Cruz bottle, handy silicone funnel, and safety blade cover now, for just $129 at cruzlife.com. Having spent almost that much on a disappointing competitor that gets stuck on ice cubes, I'm very much looking forward to trying out the BlenderCap.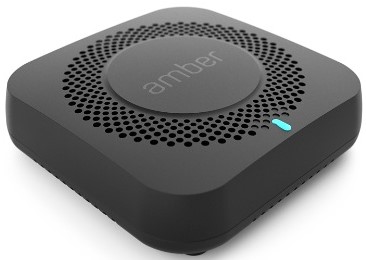 Amber X is a personal cloud device, and your new best friend for home file storage, from LatticeWork. Stop paying a subscription fee to send your data to someone else's cloud. Host it in your own personal cloud, accessible from anywhere, via all of your devices. Enjoy smooth, fast access, easily backup your files, and seamlessly gather your content from all devices, whether it's on your iOS phone, Android tablet, Windows desktop, SD card, or legacy storage drive. Have peace of mind over your privacy and security during every step, with data transfer and disk encryption. Use the Amber iX app's AI to conveniently sort and organize photos by theme, subject, or filter out duplicates, a handy function not available with other backup solutions. You can also use it to grant cloud access to other people, set your Amber X to automatically backup your mobile devices, and stream your media content seamlessly from any connected device. Each Amber X can host 500GB of storage, with optional USB expansion capability. The Amber X is available for $199, or if you need a larger cloud without the need for USB expansion, you can get 1TB or 2TB models of the AmberPRO for $449 and $549 respectively. Choose the Amber that suits your needs at myamberlife.com. I just received mine in the mail yesterday, so keep an eye out for a full review soon.
Luminar Neo is an amazing photo editing package, from Skylum, that I cannot wait to spend hours playing with. It has so many cool features to not only enhance, but completely evolve your photographs. The toolbox full of intuitive AI editing functions will allow both amateur and pro photographers to beautifully enhance color, clarity, backgrounds, focus, and a host of other elements. Bring a single item into perfect focus, eliminate intrusive objects from a distracting area of the background, brighten the color of the sunset on the horizon, etc. One very cool feature is batch editing, where you can make adjustments to a single image, but then apply those same adjustments automatically to all other images in the same batch. So, if you've scanned in a lot of old B&W family photos, like I did last year, and you need to eliminate noise from age, dust, or the scanner plate, all you'll need to do is create your edit settings for the 1st image, then the AI can smartly apply those settings to the rest. I'm looking forward to trying out this feature especially. Luminar Neo allows you to apply many layers of tools to a single image without taxing your system and creating latency, so your editing will be fast and smooth as well as super cool. There are a ton more incredible features, and I'm very excited to have come home with a copy of the full program, so come back for my review on this very soon. Luminar Neo is available as a one-time download for $149 ($179 if you add the 2022 Extension Pack), or by subscription, starting at $9.95/mo. Find out more info on Luminar Neo and then browse the plans for the one that will suit you best.
eQuinox 2, the new smart telescope from Unistellar, will help turn every novice stargazer into a pro. Find, view, and capture stunning celestial sights, even from the light-polluted city. In fact, the eQuinox 2 is specifically designed for urban dwellers in mind, with their enhanced Smart Light Pollution Reduction, digitally removing the effects of ambient light pollution to cut through to the vibrant colors and clarity of the lights in the far reaches of space. Through other digital enhancement technology, eQuinox 2 allows you to observe everything in crystal clarity, from the red spot on Jupiter, to the tail of a passing comet, to the star-creating clouds of distant nebulas. There are 2 models available, with or without an eye piece, and images through both are viewable in the companion app. The app also helps you in locating all the wonders of the night sky with precision. Unlike some other smart telescope brands, your phone doesn't need to be physically attached to the telescope to do this, making it far more convenient. By becoming part of the Unistellar network, you also get the opportunity to join astronomers worldwide and contribute your observations to organizations like SETI and NASA, aiding in projects that identify and document objects in space. Shipping will start for the eQuinox 2 in February, but you can pre-order now for $2,499.00, and get a free carrier backpack with your purchase, so you can transport your new star gazing assistant in protective style.
ShowStoppers delighted attendees as it does every year, exhibiting a choice selection of products in a relaxed atmosphere. The 5 mentioned above were only a small sample of what I got to see, and I'll be bringing longer reviews of these and others in the coming weeks. If you'd like to read more CES 2023 coverage, check out my 2 previous articles on CES Unveiled and Pepcom's Digital Experience, as well as my upcoming article on the LVCC and Venetian convention halls.