Skylanders: Spyro's Adventure

Editors' Choice Game
Skylanders: Spyro's Adventure
Review by Angie Kibiloski (February 2012)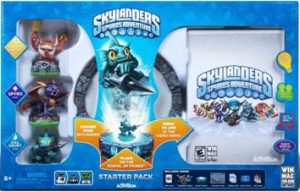 There's a super cool multi-platform, action/adventure game out for kids and teens, called Skylanders: Spyro's Adventure (Retail $59.99 PC/Mac, $69.99 all other consoles), from Activision.  It is more than just a video game though; it is a whole system of interactive toys too.  When you first purchase the game, you not only get the DVD-ROM, you also get 3 character figurines and a Portal of Power, which is the peripheral device through which the figures interact with the game.  You can purchase additional characters in booster packs, for a collection of over 30 different creatures.  Whichever character is resting on the Portal of Power, that is the character you will currently be playing in the game.  Battle your way through sprawling levels in the world of Skyland, searching for the elements to rebuild an ancient power that will help you and the Skylanders defeat the evil Kaos, who is trying to dominate Skyland and its people.  Collect all of the Skylanders: Spyro's Adventure characters to get the most out of the game and have the greatest advantages throughout the levels.
The world of Skyland is a fantasy realm of floating islands, which are home to cute little furry creatures that resemble cats, bears, rodents, and other harmless animals.  It is a colorful and friendly place, where magic and technology unite.  As you roam around the rolling landscapes, you'll need to collect coins and other treasure to complete collections, gather hats to give your characters skill boosts, and upgrade their abilities.  You'll also need to be on the look out for things in the environment to interact with, like canons, barrels, gates, etc.  Your way will not be unhindered however.  Around every turn could be the minions of Kaos, sent by him to destroy Skyland and keep you from your goal.  Use your characters' special fighting abilities against them and rid each Skyland area of their habitation.
Each Skylander character has different stats and skills, and each belongs to one of 8 elemental categories.  You can view these on either the trading card that comes with each figure or in an in-game character menu.  Some areas of a level might be better suited to one character over another.  In fact, there are certain areas that only specific types of Skylanders can access.  The game will let you know if, for instance, a Skylander of the water element has more power in a certain area, or if only a Skylander of the earth element can open a special gate.  The great thing is if you need to switch characters, even mid-level, all you have to do is pick one up off of the Portal of Power and place another one on it.  This doesn't interrupt your game at all.  When you want to switch back to the original character, do the same action, simply lift one off the Portal of Power and put the first one back.  Easy!
The character figurines are really awesome!  Not only are they an ingenious way to swap playable characters, they are also quite smart.  All of your saved data which is specific to a character, like which hat they are wearing, the level they have earned, their upgraded powers, and how much gold they have individually collected is stored directly inside of that character figurine.  The Portal of Power uploads that information whenever each character is sitting on top of it.  You haven't heard the best part yet though.  Since this character information is stored in the characters themselves, you can take your figures over to your friend's house and use them with his game, retaining all of your upgrades and levels to use on his system.  You can have 2 Skylanders on the Portal of Power at one time, so you and your friend can play together and help each other through the levels, or battle it out in the arena to see who's Skylander is more powerful.  Plus, the figures work cross-platform too!  This means, if you own the PC version of the game, and your friend owns the PS3 version, your figures will work with both!  This is a truly amazing feature and the part of this game which I think I might be most excited about.
Even if you aren't playing the game, you can still have some fun with your Skylander figures.  Each one comes with a special code that can be used online to unlock more content and an online social community called Skylanders: Spyro's Universe.  Here you are given a lair for all of your uploaded Skylanders to live, and a small Skyland island of your own.  This acts as your home base, which you can customize and interact with.  You can visit other players' islands or go to the main social area, where all players can roam around completing tasks and playing arcade like games and challenges.  You can even upload your character data from in the game so that it shows up in your character stats online.  Find other players roaming around and invite them to be your friends.  You can message or chat with them as well as visit their islands and view their collections.  It is in its Beta stage right now, so expect improvements and additions in the future.
As you can see, Skylanders: Spyro's Adventure is far more than a simple video game.  It is also collectible toys, an online community, and an innovative way to share your game playing with all of your friends.  My nephews are nuts about this game, and after playing it myself, I have to admit that I am too.  The characters are adorable and have really cool powers, the storyline and world they inhabit are well developed and textured, and there are more than enough hours of quality game play to keep you going for quite awhile, especially with the online game community too.  The storyline was actually penned by the award-winning writers of Toy Story, so you know it has to be good.  Anyone who loves a good fantasy style action/adventure will want to jump right in and join the craze to save Skyland from Kaos.  You can find out more information on the game and view all of the Skylanders character at http://www.skylanders.com.  Available for PC/Mac, PS3, Xbox 360, Wii, and 3DS.
System Requirements:
 PC
OS: Windows XP/Vista/7
Processor: Intel Core 2 Duo E6300 1.86 GHz/AMD Athlon 64 X2 4200 or better
Video Card: Nvidia GeForce 7800 GTX/ATI Radeon X1800 or better with 512 MB 3D Graphics Accelerator
RAM: 2GB
Hard Disk Space: 11GB
 Mac
OS: Mac OS X Snow Leopard 10.6.7 or better
Processor: Intel Core i5 or better
Video Card: Nvidia GeForce GT 330M or better with 512 MB 3D Graphics Accelerator
RAM: 4GB
Hard Disk Space: 11GB