Nancy Drew: The Silent Spy

Editors' Choice Game
Nancy Drew: The Silent Spy
Review by Angie Kibiloski (November 2013)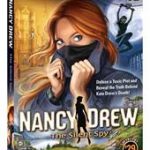 Nancy Drew: The Silent Spy (Retail $19.99), from Her Interactive, is the latest addition to this amazingly popular mystery adventure series, for PC and MAC.  In this new installment, Nancy Drew makes a trip to Scotland to uncover more information on the death of her mother 8 years prior.  She quickly finds herself surrounded by international spies, intrigue, and suspected terrorist plots.  You must help her sort the facts from the lies, decide which of her new contacts to trust, and wrap up her mother's case, before Nancy gets herself killed.
Like past Nancy Drew titles, you'll have to solve a number of puzzles on your way through the story.  These could range from finding the correct object to use with something, figuring out a computer password based on clues you'll discover, or decoding a cipher.  Each of the numerous puzzles is unique and fits seamlessly and logically into the plot.  The plot itself is very interesting, and kept me focused throughout.  The story is very smart and complex, and is evidence of how much this franchise has matured.  No small town mischief for THIS Nancy Drew, she's stepped into a fully modern spy thriller.  As in any good spy story, nobody Nancy meets is quite who they say they are, and you'll slowly peel away their masks as you learn more about each of the characters, through both clues and conversations.
The mechanics of the game are simple, requiring only your mouse and a bit of common sense.  Game play follows a basically linear plot line, but gives you a certain amount of freedom of exploration as far as the order in which you visit locations or speak to people.  For instance, you could travel from point A, to point C, and then to point B, but you might find that you'll have to solve a puzzle in B before you're able to find a needed clue in C.  If that doesn't make sense, it will when you start to play.  If you get stuck on a puzzle, or can't figure out how to complete a task, you can call Nancy's friend Ned, or her Dad, to get a little advice or pep talk.  If you've chosen the Amateur Sleuth difficulty level, you'll be able to access hints to each of the tasks as well.  This is not available as a Master Sleuth, but if you want more of a challenge, then this is the level to go with.
If you've never gotten into this series of games in the past, this is a great place to jump in.  Nancy Drew: The Silent Spy is a super fun, challenging, and attention grabbing title that will keep you attached to your screen for hours.  I have enjoyed each and every title previously published, but I was extra pleased with this newest addition, due in large part to the intriguing plot, as well as the variety of puzzles and locations to explore.  I've always been a Nancy Drew fan, now it's time for you to become one too.
System Requirements:
Processor: 1.5 GHZ or greater Pentium 4 CPU or equivalent
RAM: 512 MB
Hard Drive Space: 3 GB
Video Card: 128 MB, DirectX 9.0 compatible
Sound Card: 16 bit, DirectX compatible