CES 2020: 10 Cool Products at Pepcom's Digital Experience Event
Article by Angie Kibiloski
Pepcom's Digital Experience event, which is always my favorite Press event during the show, provided another stellar evening the night before CES 2020.  There was a groovy, 60's theme this year, with lots of far-out decorations, including a peace sign ice sculpture, a martini bar carved from ice, and a fleet of cool, classic cars.  175 quality companies, hand-picked to impress, showcased their brand-new product lines amid the retro flare, to a horde of Media attendees like myself.  As we walked from booth to booth, in one of the spacious ballrooms of the Mirage Event Center, we were treated to good food and adult beverages alongside all the cool new tech, and flower-power ornaments.  I was pleased to see a varied assortment of some of my favorite companies, as well as some I've never seen before.  Like I do every year, I've chosen 10 of those companies to highlight here, and talk a little about their new products.  I hope to be able to provide a more in-depth, and hands-on review of each of them, as they get released to retail, and I can get them into the office to play with.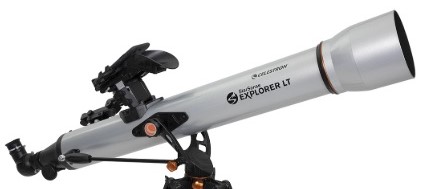 We'll start with the fun items this time around, and in honor of this stellar event, and the upcoming Lunar New Year, the 1st company I'll highlight is Celestron, and in particular, one of their newest novice level telescope, the StarSense Explorer LT  80AZ, a smartphone app-enabled refractor telescope, retailing for only $179.95.  It has an 80mm refractor, with glass coated optics, comes with 25mm and 10mm eyepieces, a 2x Barlow lens to enhance the eyepiece magnifications, a smartphone mount, and a full-size tripod.  The entire rig weighs just 9 lbs., so it's easy to transport if you want to get out of the city to darker skies.  The compatible app provides the user with helpful maps of the night sky, including what is visible at that current moment, and a helpful targeting system to help you easily locate your desired object.  No more frustrating hunting around in the general area of where you think a planet might be.  Just follow the on-screen arrows until you reach the planet, star, or galaxy of your choice, and the bullseye turns green.  You can also use this model during the day, to view wildlife or just far away landscapes, using the 90-degree erect image diagonal, which is a viewing mirror set out from the body of the telescope.  Celestron is a well-know, quality telescope brand, and their product lines range from the affordable beginner devices like this, all the way up to super-powerful professional level models.  Check out this model here, then browse the rest of their catalog while you're on their site.
Next up, we'll come back down from the dizzying heights of space, to enjoy a dizzying cocktail.  The good people at Keurig, who've made us all baristas at home, have introduced the Drinkworks Home Bar, so we can all be mixologists too.  Working much like their classic coffee machines, Drinkworks uses convenient drink pods, filled with liquor and mixers, to create the perfect cocktail at the push of a button.  Other companies have released cocktail pod machines in the past, but what they all were lacking, was having the alcohol actually in the pods.  You had to fill reservoirs with your own booze, which made those products seem pointless to me.  Keurig and Drinkworks have solved this problem by using cask-strength liquor and concentrated mixers, to be able to fit all the cocktail essentials into the pods, minus only the water, which you provide in the machine's reservoir, like you do with your Keurig coffee machine.  After you've added water to the machine, just choose your beverage, pop in the pod, press the button, and watch as Drinkworks adds cooled, carbonated water, and dispenses a delicious cocktail for your imbibing pleasure.  They have a large catalog of drink choices, like Margarita, Old Fashioned, Moscow Mule, Sangria, and even Cider.  The machine sells for $299, with the pods running at around $4 each.  Learn more and see their full drink pod collection at www.Drinkworks.com.
Maybe alcohol isn't your thing.  Maybe you like a more plant-based option for an evening's relaxation.  Your bud-loving buddies over at PAX have a new cannabis vaporizer to suit your needs, the sophisticated Era Pro, which is app-connected, and improves on all the features of the original Era, and adds even more.  Using the app, you can control the temperature of your burn, the dosage of your session, and set the Era Pro to remember these settings for each individual pod, letting you customize your experience strain by strain.  There are safety features built-in, like device locking, so only you can use it.  It also now comes in 4 attractive colors, including the gorgeous deep raspberry toned Red that I now own…thank you PAX.  Now, like me, you may have become nervous with the recent vaping illnesses that have been in the news, and shied away from using these types of products.  However, even though PAX started developing the Era Pro 2 years ago, they seem to have anticipated these issues in a very prescient way.  The Era Pro eliminates the risk of accidentally using those dangerous, black market cartridges, by scanning and recognizing built-in PodID codes on legitimate cartridges when you insert them into the device.  Then, through the app, you can view detailed manufacturing data, like oil content, strain information, producer information, and state-regulated test results.  For an avid label reader like me, this lets me vape with confidence, and settles my recent nerves surrounding these products.  This sleek, stylish, light-weight, and safety-conscious Era Pro is $69.99, and you can read even more about it, and the accompanying app, at PAX.com.  Since I brought one home from CES, also look out for my upcoming full review.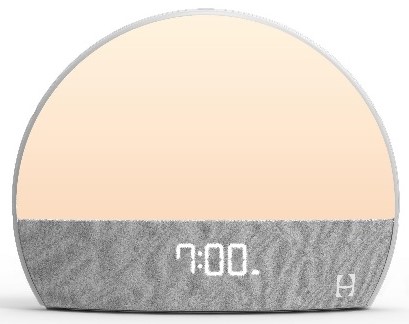 Transitioning from fun to a bit of personal health maintenance, let's talk about the Restore, the all-in-one sleep aid from Hatch.  This stylish, bedside device provides a solution for adults to fall asleep easier, stay asleep throughout the night, and wake up gently, with its combination of sounds, lights, and a sunrise alarm.  You can control your Restore using the phone app, or simply by touch, for a screen-free bedroom routine.  For pre-sleep bedtime, the reading light function will reduce blue light exposure to promote relaxation.  For falling asleep and staying that way, there is a library full of pleasing white noise options to choose from.  When waking up, the sunrise alarm will gradually increase the light level before your alarm goes off, to ease you out of slumber, instead of jolting you awake without warning.  A good night's sleep is one of the most important things we can do for our bodies, and the lack of it is also one of the most common issues we all share.  Any device that can help us achieve a better 8 hours of rest is worth a closer look.  The Restore will be available in the upcoming months, at www.Hatch.co.  You can add your name to their mailing list on that site, if you want to be notified as soon as it hits the market.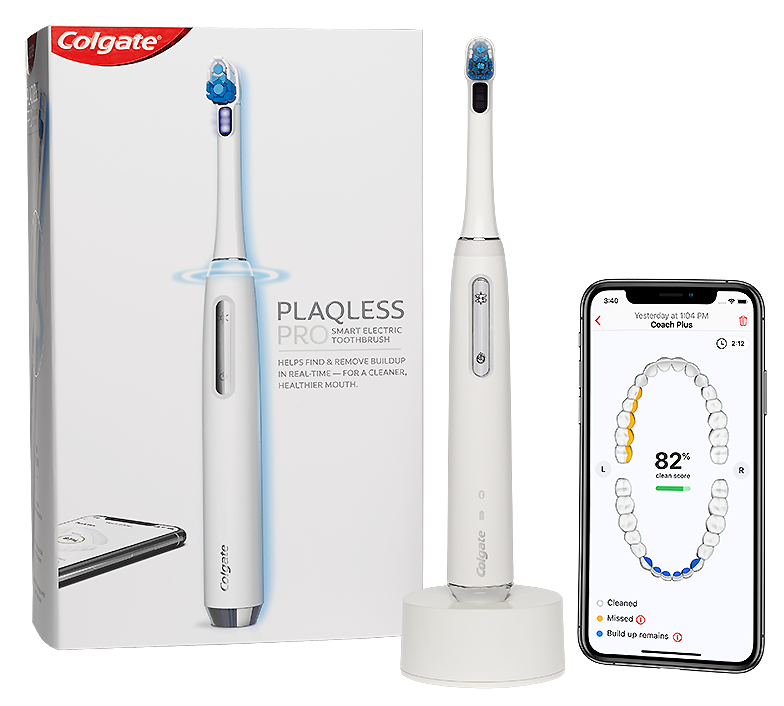 Before we go to sleep, there's something else we all (hopefully) do each night, and that's brush our teeth.  This is also an area that many people struggle with, as far as knowing whether they're really getting a thoroughly clean set of choppers when they brush.  Colgate has a new smart toothbrush model that can help with that, the Plaqless Pro.  Unlike other models that have only tracked the duration of your brushing, and the location of the brush, using accelerometer measurements, this brush also has an optic sensor near the brush head, to detect the biofilm buildup of plaque on your teeth as you brush them.  You'll never have to wonder if you got all that gross plaque off your molars, because now your brush can see back there for you, and direct you to your problem areas through the app, as well as simply by lighting up a ring around the handle when you need to stay in one place longer.  The sensors in the brush head will also map your individual mouth, so you get a truly customized landscape of your own teeth, instead of a generic oral diagram like with other models.  I'm really looking forward to using this brush, and I hope to get a chance as soon as it comes out a little later this year.  If you want to read more, or stay up to date on its release, visit their site here.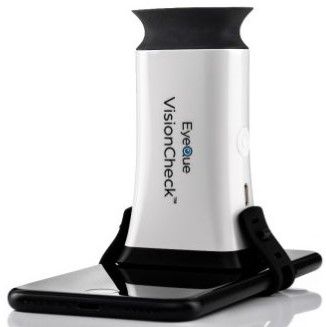 From healthy teeth to healthy peepers, let's take a look at a new way to test your eye sight, with EyeQue, and their at-home, smartphone vision tests.  EyeQue has been helping people test their vision at home for a couple years now, with the Insight ($89.99) smartphone attachment headset, which tests your visual acuity, color and contrast sensitivity, and determines if you need glasses.  Last year they came out with VisionCheck ($69.99), which took this one step further, by measuring the lens power needed to correct your vision, and generating the numbers you'll need to actually order glasses without visiting an optometrist.  This year, they've added even more convenience, with their $15 Try-On Glasses, which are basically test pairs of glasses, made with your VisionCheck numbers, so you can make sure your results are accurate before ordering a more expensive pair.  These Try-On Glasses will be available in limited quantities in February, with a full release in April.  If you want to get a jump on your at-home vision test, go to www.EyeQue.com, and learn how to order your kit.  You can use the code CES2020 at checkout to get 10% off any of their products, as well as a free pair of Try-On Glasses during their February beta.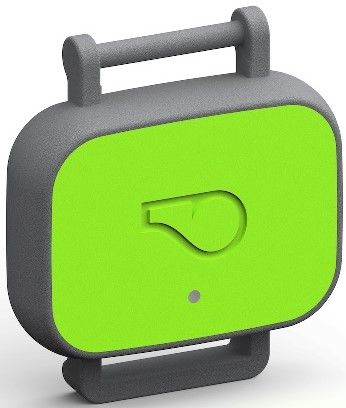 When thinking about your family's health, you don't want to forget your four-legged family members.  The new Whistle FIT is a wearable for your dogs, to help you monitor their wellness, and support their preventative healthcare routine.  Just slip the device onto your dog's collar, and connect it to the app.  After you set up your dog's profile, with breed, age, weight, and lifestyle information, you'll be able to keep track of all of their daily activities, like how far they've walked, how many minutes they've been active, how many calories they've burned, etc.  The device can also differentiate between the motions of walking, sleeping, playing, and even scratching and licking, so you can get a very robust view of your dog's day.  Based on your pet's activity levels, the FIT can give you dietary and lifestyle recommendations, too maximize your furry friend's health.  You'll be able to access a 30-day record of information, to see your dog's progress over time, and share it with your veterinarian.  The FIT will be available at the end of January, for $79.95, with a $35.40 annual membership for full access to the health and fitness features.  Check out www.Whistle.com for more information, and to see their previously released pet tracker products.
Now I want to mention a couple of companies with some cool home security cameras.  The 1st is BodyGuardz, and their line of portable cameras, ideal for the traveler, or for renters who cannot install a permanent security system on their property.  The Portable 360° Security Camera ($199.95) is a light-weight, wireless, desktop camera, that can be easily placed anywhere you want, to watch your kids in the backyard, your pets while you're at work, and even thrown in your suitcase, to be set up in your hotel room.  The rechargeable battery lasts for 5 days, and you can pan the camera a full 360°, to view every angle of the room, remotely from the app.  With HD recording, night vision, motion detection, and more, this really is a great little device.  The Portable Over-Door Camera ($279.95) is a device I'm really excited about, bringing the functionality of an installed doorbell camera to renters, without them risking the wrath of their landlords.  This wireless camera fits over the top of any door, with its adjustable bracket, and has an HD camera with night vision and motion detection on the outward facing side, a viewing screen on the inside panel, along with another inward facing camera for monitoring your apartment when you're not home, and 2-way audio, so you and your potential visitors can hear each other on either side of the door.  The rechargeable battery lasts for 2 months, and you don't even need to remove the device from the door to recharge.  Now renters can enjoy the same level of security at their front doors as home owners, and that's super exciting.  Both of these BodyGuardz products will be out soon, and you can get notified of their release by entering your email, and learn more about each one, on the BodyGuardz Smart Home site.
The other security camera company I want to share is Kami, who offers a full range of home security cameras, including the upcoming Kami Outdoor Battery Camera, and their soon-to-be-released KamiBaby.  The Outdoor Battery Camera is a wireless, weather-resistant, Alexa supported camera, with a rechargeable battery, night vision, motion detection, and a 140° viewing angle, which can be mounted anywhere, for limitless, hassle-free monitoring of all of your outdoor spaces.  This camera will be available later this year.  The KamiBaby, which was funded through an Indiegogo campaign, will release to wide retail as soon as it has shipped to all of its Backers.  This is a baby monitoring camera that not only lets you watch your precious angel sleeping, but can also detect and magnify their breathing movements, so you can easily keep an eye on their sleep health.  It can also detect crying, measure air temperature and humidity, and has 2-way audio, so you can communicate with your baby.  Take photos and video of your little one from the device, and livestream it, or save it to the cloud.  The adorable design of the camera will go great in any baby's room, as well.  Check out Kami's previously released camera models, and keep your eyes peeled for both of these to be available, on the Kami Home site.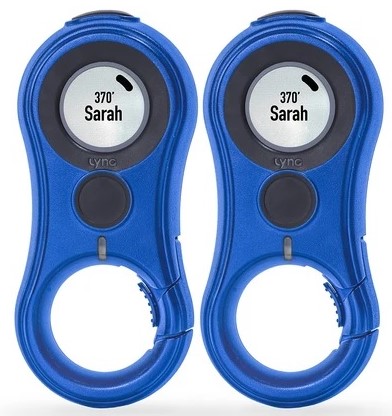 Finally, let's get back out of the house and go adventuring, while safely keeping track of each member of our party, with LynQ.  Wherever you like to adventure, be that hiking the trails in Yosemite, braving the crowds at Disneyland, or just shopping at the mall on a Saturday, LynQ can help you find your family members if you get separated from each other, without the need to use your phones.  LynQ is a handheld, clip-on device, with a compass-like digital display, that points you in the direction of other connected LynQ devices.  By simply following the moving dot on the screen, you can navigate your way to whichever friend's LynQ is currently displayed on your screen.  Up to 12 LynQ devices can be paired at once.  The devices do not require any cell service or other networks beyond their own, and have a 3-mile range, with 3 days of battery life, so they're perfect for off-the-grid activities.  They're also great for keeping track of your kids, or any special needs individuals under your care, as you can also be notified, through sound or vibration, whenever a particular device goes outside of a set zone.  This seems like a fun device to use, as well as a convenient and helpful one, and might lend itself to a good game of wilderness hide-and-seek.  If you want to take a further look, or buy a set ($249 for a set of 2) go check it out at LynQMe.com.
Well, there you have it, my Top 10 of Digital Experience 2020.  A few of these products are available for purchase now, some are coming out in the near future, and all of them are worth taking a closer look at.  I hope to get my hands on every one of them, and give you a more in-depth review of all the bells and whistles each has to offer.  Keep coming back to Computer Times in the upcoming weeks and months, for my Editor's Choice reviews, and in the meantime, check out their respective sites, which I've linked in each paragraph.  Also, be sure to take a look at my highlighted products from the ShowStoppers event, and the Sands and LVCC Convention Center CES Show Floors, in the CES Articles section of our Ho