CES 2020: ShowStoppers Event Product Highlights
Article by Angie Kibiloski
After the Convention Show Floors closed the 1st night of CES, the ShowStoppers Press event kept the excitement going for a few hours.  They showcased a selection of 100 companies, in a cozy ballroom at the Wynn.  With almost half the products as the Press event the night before, ShowStoppers allowed for a more leisurely stroll between them, and the time to really get to know the people behind the products.  This chance to not feel the need to race around the room has always been something I've appreciated at this event.  The food and drink left a little to be desired this year, but that's what after parties are for.  Since this was a smaller event, I'll be highlighting 5 products that I felt were particularly interesting.  I hope to be able to get my hands on each of these in the upcoming months, so be sure to look for my full reviews in the near future.
Let's start with an adorable little robot, called Artie 3000, by Educational Insights.  Artie 3000 teaches kids ages 7+ how to code, in multiple coding languages, by having them tell him what to draw.  Artie, who American Mensa named an Honorary Member, will read the coded instructions a user inputs, then draw a design with his on-board marker, based on that code.  By adjusting individual lines of code, a user will see right away the difference in the image Artie draws, and be able to understand the building blocks of each coding language.  He can draw shapes, letters, artistic designs, and even play games like Tic-tac-toe.  Artie 3000 does not require an internet connection, and can connect to any phone, tablet, or computer via his internal Wi-Fi, making him both safe and convenient to use.  It's really fun to fiddle with some lines of code, then watch as this wide-eye little artist trundles around the page, drawing your collaborative design.  For just $69.99, Artie 3000 is a great way to give your kids a head start with coding, a skill that will help them in any future STEM career.  Delve deeper into what makes Artie 3000 tick at CodeWithArtie.com.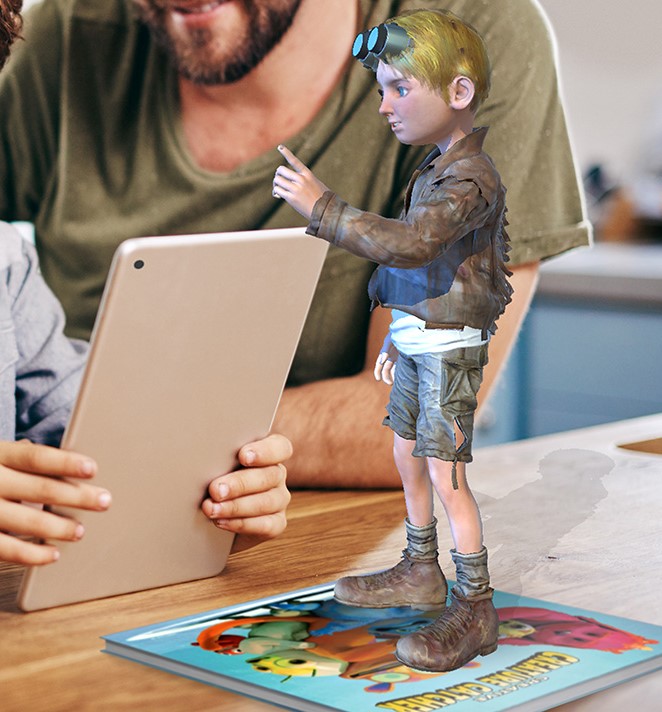 Next up, Anomaly Productions is publishing a full range of books, from children's stories to science fiction epics, that are enhanced by free Augmented Reality apps, bringing the stories to life as they literally jump off the page on your phone or tablet screen.  For instance, when you use a book's app to scan a page in the children's title, Creative Creature Catcher, the main character will stand up out of the book and narrate the story.  Or, in the young adult alternate universe fantasy, Between Worlds, you can see 3D renders of the fantastical creatures the main characters find during their travels.  Their books are a little pricey, to be honest, with the comics starting at $10, with some full-length novels costing considerably more, but you have to account for the added AR content, and having a 2-in-1 book and animated app interactivity.  The author, Brian Haberlin, was at the event, and I was able to take home a signed copy of Creative Creature Catcher, so look for a review of that title and app very soon.  In the meantime, check out their full book collection, and learn more about the company, at ExperienceAnomaly.com. There's a different companion app for each book, and you can check those out by clicking on the app store link on each title's page.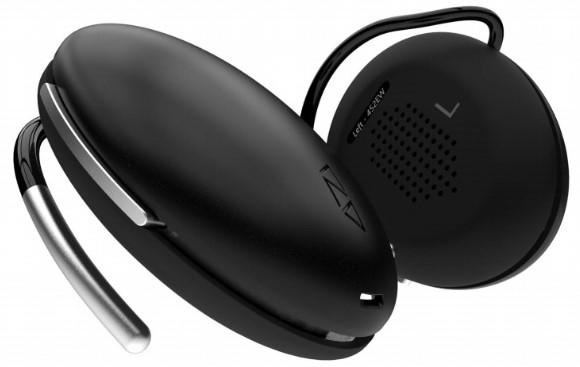 Do you like to travel?  Or maybe you work in a field with an international presence?  If you've ever felt the need to use Google Translate, or even just a pocket language-to-language dictionary, you might benefit from the next product, the Ambassador over-the-ear interpreter device, from Waverly Labs.  The Ambassador sits with the speaker and microphone resting on the outside of your ear, comfortably attached with a hook over the top.  It works in 3 modes: Listen, Lecture, and Converse.  If you are listening to someone, it will translate their speech from their native language to yours, both verbally in your ear and visually in the connected phone app.  If you're lecturing, the device will capture what you're saying and translate it through your smartphone's speaker or paired audio system, in the language of your audience.  If you're conversing with up to 3 other people, who also have Ambassador devices, each of your devices will translate the conversation into each individual's native tongue.  I think this is probably the coolest feature, allowing you to have a smooth conversation with a group from several countries at once, without much of a lag.  There is a several second processing lag between when you speak and when the device speaks the translation, but it's quick enough to be convenient.  The device can translate 20 languages, like French, German, Mandarin, and Korean, with 42 dialects.  Two units will come in a set, and they will be available for pre-order starting in May.  Take a look at the tech inside the device at WaverlyLabs.com.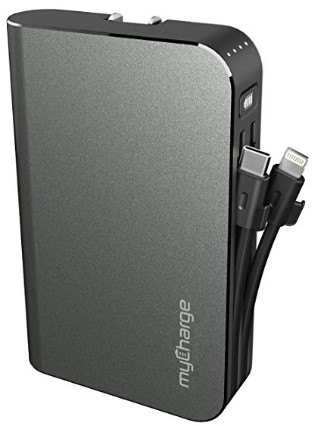 Moving on to one of my favorite portable power companies, myCharge.  Every year they come out with a new line of power banks, and this year brought the AdventureH20 series, the Razor Turbo, and the Hub Turbo.  The AdventureH20 series is an addition to last year's Adventure series, which I posted an Editor's Choice review for.  This newer series adds, as the name would imply, water resistance to the already rugged and durable Adventure models.  They can even survive being briefly submerged, as long as the silicon caps on the power ports are closed.  The Razor Turbo is super slim, and charges super fast, for when you really need that power boost on-the-go.  The Hub Turbo, which I brought back from CES, is an all-in-one powerhouse, which you'll see a full review on very soon. It has a smooth aluminum body, and can charge devices up to 75% faster than other power banks. It can charge 3 devices at once, through its USB-A, USB-C, and Lightening cables, which conveniently tuck into the body for convenient storage, and recharges itself through a built-in, collapsible wall plug.  Available with 10,050 mAh for $99.99, or 6,700 mAh for $79.99.  Read more about all of their portable power products at myCharge.com. This is a proven quality company, and any of their power bank models you choose will perform excellently for you.  I always keep one in my work bag, one in my car, and take another in my suitcase when I travel.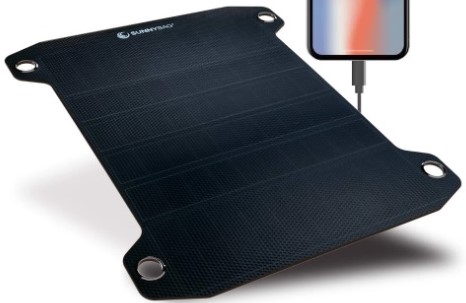 The final company I want to mention is another portable power solution, this time utilizing solar charging.  Sunnybag offers several solar charging products, but the 2 newest options are the Iconic backpack ($110.90), and the Leaf Pro panel (also $110.90), each housing the strongest solar cells on the market, with a 22.4% efficiency.  I don't know enough about solar cells to comment on the impressiveness of that number, but hopefully I'll be able to get one of these products in for review, and learn some more to share with you.  The Iconic backpack is made of sturdy, weatherproof fabric, has a roomy interior with numerous compartments, and features a 7-watt solar panel sewn into the front surface of the bag, constantly soaking up the sun as you hike, bike, or just stroll around town.  It will charge any device with a USB connection, with varying charge times for each device, starting at 2 hours for a smartphone.  The Leaf Pro solar panel is a flexible sheet of solar cells, which can be attached to any backpack you already own, the side of a tent, or just about any other surface compatible with the included fastening system of hooks, Velcro loops, carabiners, and suction cups.  Its weatherproof surface is scratch and impact resistant, and can even soak up a charge under partly cloudy skies.  With 7.5 watts of power, it can charge anything with a USB.  Both products seem like great powering options, but I'm particularly interested in trying the Leaf Pro, for its ability to attach to more than just a backpack.  Until I'm able to provide a full review, check out these products at Sunnybag.at.
That's all for this year's ShowStoppers event.  There were many more quality products showcased there, but these were just a handful I wanted to feature, to give you a taste of what was on display.  As I mentioned, I brought 2 of these products home from CES, and I hope to get the other 3 in the office very soon.  Check back on the Computer Times Home Page for my full-length reviews on these in the coming weeks and months, as well as other surprise products I didn't highlight.  If you haven't already, take a look at my previous article featuring 10 other cool products that I saw the night before ShowStoppers, at the Digital Experience Press event, and stay tuned for some of my favorite products from the Sands and LVCC Show Floors.