CES 2020: Having Fun and Finding Cool Products at the Sands and LVCC
Article by Angie Kibiloski
Rounding out my immediate post-CES coverage, I want to talk about my 2 days spent exploring the Show Floors of the Sands and Las Vegas Convention Center, and then highlight 10 products I came across that I think are worth mentioning.  The Show Floor areas are such a treat for the senses, with so much to draw the attention.  My head was on a swivel from the moment I walked in, especially at the LVCC.  The booths are huge, with impressive displays, flashing lights, exciting sounds, and brand-new tech goodies to gawk at around every corner.  Whereas the Press events give me opportunities to get up close and personal with a lot of products, in a relatively intimate setting, and have nothing but focused discovery time for 3 or 4 hours, the Show Floors are a multi-sensory, chaotic adventure, with a lot of emphasis on spectacle.
For instance, the US Postal Service, who was promoting their Informed Delivery, where you can digitally preview the mail you're getting, had a giant wall of mail boxes.  If you watched a promotional video, you were assigned a mailbox number, and when you opened it, there was a prize inside.  I got the logoed USB power cable…I really wanted the USPS socks.  Google, who always has a huge presence at the show, was promoting their Google Assistant vehicle integration, mixed in with some fun activities that spoke to my inner child.  Last year they had a Disney-esque dark ride.  This year, it was a huge set of 4 plastic slides, that emptied into a giant ball pit.  It was super fun, and I went twice!  They were also giving out free Dunkin' donuts, yum!  John Deere had a massive piece of equipment, showing how all of their farming machines are smart and connected now, making farming faster and easier for the humans who use them.  You could even climb up into the driver's seat if you wanted.
Not all the fun was on a massive scale.  Alexa (and the poor person stuck inside the box all day) gave me a free Coke Energy drink from a vending block.  I made a couple of adorable friends, 1st at the Kakao Friends smart home appliances booth, and then at the Energizer booth.  I also got to realize a childhood dream, and watch Martin Yan cook a meal in person.  My Mom and I watched Yan Can Cook together, so often when I was a kid in the 80's, and it was really thrilling to get a photo with him.  I was even lucky enough to be given a set of his branded chopsticks during his demo.  Speaking of food, Impossible had a booth to advertise their new release of Impossible Pork, and were giving out free Impossible Pork sliders in the morning, and free Impossible Beef White Castle sliders in the afternoon, along with some cool swag for spinning a prize wheel.  It really was a fun 2 days!
Of course, it wasn't all fun and games, I did some work too, and found a bunch of cool products to talk about.  Let's start my list of 10 with some wearables.  1st up will be a slightly different kind than usual.  The Prinker S is a handheld printer, which lets you quickly and easily print temporary tattoos on yourself and your friends.  Just use the app to choose a pre-set design, or upload your own.  Then, gently drag the printer along your skin in the place you want the image, and you'll get inked with your chosen design.  The inks are dermatologically tested and made with cosmetically certified ingredients, so it's safe for everyone.  It's waterproof, but soap-washable, in case you don't want to wait for the ink to fade, or you sneezed while applying it.  I can't say this product is particularly useful, but it's a fun way to be creative and decorate your body.  At $269 for the unit with black ink, and $299 for the one with color, this product is a bit on the expensive side at the moment, but I'll hope for a drop in price sometime in the future.  Take a look for yourself at Prinker.us.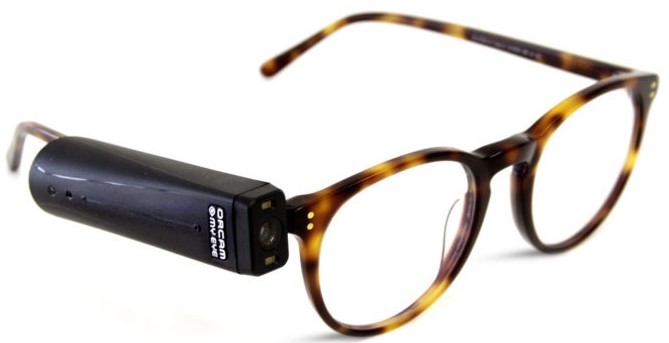 Sticking with wearables, let's move on to something incredibly useful, the OrCam MyEye 2, an AI driven device for the visually impaired.  This small, finger-sized device attaches to the ear piece of a set of glasses.  There's a camera on the end, which recognizes printed and digital text, and reads it to the wearer, through a discrete, on-board speaker.  It can detect where the wearer's finger is pointing on a page, and start to read only from that point, so someone could direct it to read a particular paragraph in a book, for instance, or just the price of an item on a menu.  It can also recognize faces, products, and common objects like door knobs, to help a visually impaired person navigate their world.  I was impressed by how quickly it recognized where I wanted it to start reading, and how accurate it was to the source text.  Now, this device is going to cost you around $4,000, but as a potentially life-changing wearable, especially for people with severe visual impairment, it's probably worth the price.  You can read more about this cool life aid on the OrCam MyEye2 site.
How about a wearable to help with motion sickness?  A few years ago, I reviewed the very 1st model of the Reliefband, a watch-like wristband that emits small electrical shocks to the median nerve, to block the signals of nausea to the brain, which occur during motion sickness, or even during pregnancy and after chemotherapy.  I get terribly sea sick, even on boats that are docked, and by wearing my Reliefband, I can comfortably be on a boat for as long as I want.  This year, Reliefband was at CES promoting their 2 newest models, the Travel and the Sport.  The Travel series (prices not released) are limited-use devices, with non-rechargeable batteries lasting for 48 hours, 72 hours, or 2 weeks, depending on the model purchased, and are designed for people who may only get motion sickness occasionally, and don't need their device to last forever.  You can turn the Travel on and off as many times as you like, to spread those time frames out over longer periods.  The Sport ($149) is a model I've been waiting for since the original debuted, with all the features of the original Reliefband, but is now also waterproof.  It has a rechargeable battery, 6 shock intensity levels, a comfortably adjustable wristband, and can be taken into the water.  I've always wanted to go on a cruise, and owning the Reliefband opened that option up for me, but I've been scared of what would happen when I had to take it off to shower, or paddle around at the pool.  The Sport fixes that problem for me.  Both the Travel and Sport will release to retail mid-year.  Until then, take a look at their existing models at Reliefband.com.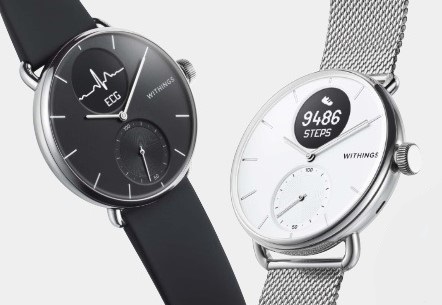 The 3rd wearable I want to mention is a cool watch from Withings, called Scanwatch, that can constantly monitor your heart, and take a 30 second EKG on demand.  Via the digital readout circle on the watch face, it will notify the wearer if it detects an irregular heart rate, which we often don't notice in ourselves.  Then, you can perform a medical-grade EKG at the touch of a button, which can determine if you're experiencing atrial fibrillation, or other rhythm abnormalities which could signal tachycardia or bradycardia.  Your results can be shared with your doctor through the connected app.  It also monitors your oxygen saturation levels while you sleep, which can help identify spells of sleep apnea.  To top it off, it's a fitness watch too, tracking your steps, distance travelled, floors climbed, and can even be worn while swimming.  With a rechargeable battery life of up to 30 days, 2 stylish analog watch faces, in 2 different diameter sizes, and numerous styles of bands, this is a fitness and heart health device that is both fashionable and functional.  It isn't out quite yet, but keep an eye on the Withings Scanwatch site for its release.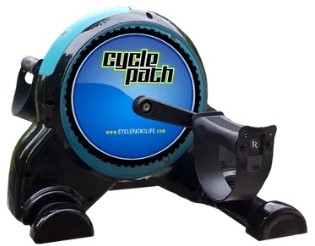 Let's move on into the realm of fitness with the CyclePath.  This is a set of stationary bike pedals, that can be synced up to your Fitbit via Bluetooth, or connected to your smartphone for some gaming while exercising.  At the most basic, it's the pedaling portion of a stationary bike, which you can use while sitting in any chair.  With the added connectivity, though, it allows you to expand your indoor biking sessions by tracking your speed, heart rate, distance pedaled, and calories burned, by pairing with the fitness band that comes included in the package.  As for the gaming aspect, there are currently 2 games they have developed to use with the device, which require you to keep pedaling to make your on-screen character move forward.  If you want to keep playing, you have to keep pedaling.  The product is still in development, and by the time it releases in June, there will be many more games available.  Also, since you're creating power as you pedal, you can even plug your phone or other USB compatible devices into the machine to charge while you cycle.  This may be a simple product, but anything that can help us stay fit, especially while having some fun gaming on our phones, is something to take a closer look at.  You can do just that at CyclePath2Life.com.  I find the cost a little steep at $445, but one can hope that price might drop before the release date.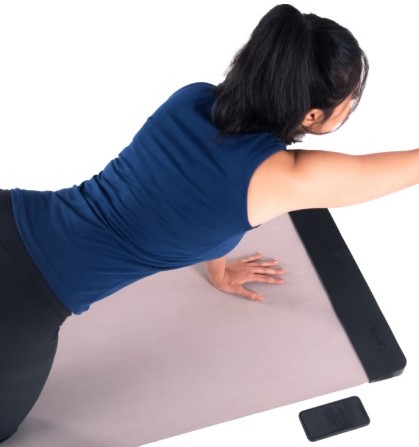 The 2nd fitness item I want to discuss is the YogiFi ($289) smart yoga mat and assistant.  The sensors throughout the mat detect the placement of your hands, feet, knees, or any other body parts touching the surface, as well as the level of pressure at each contact point.  Using this data, the connected app can tell if you're doing a particular yoga pose correctly, and give you helpful guidance to adjust your posture if you're not.  After you choose which of the daily wellness programs to follow, the app will take you through a guided yoga session, with instructions on how to perform each pose, and then help adjust your positioning so that you're always doing a safe, effective workout.  You can keep a record of each session, to track your progress over time, in aspects such as strength, endurance, and balance.  You can also connect other wearables, like a fitness tracker, to monitor your vitals while you exercise.  If you'd like more guidance than the virtual instructor in the app can provide, you can pay a $19/month subscription fee to have access to a real-life yoga coach, and other premium features in the app.  Have a peek at this product yourself on the YogiFi product site.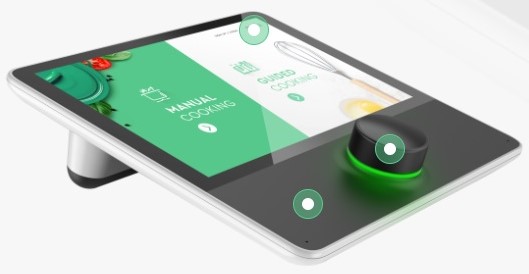 How about some healthy, easy cooking to go along with your healthy, easy workouts?  You'll want to check out the new Julia cooking system from CookingPal.  It's smart, Alexa connected, and multi-functional to the extreme.  It's like if the InstaPot, Vitamix, and a tricked-out food processor all had a baby together.  The Julia can chop, grate, steam, boil, whisk, knead, and so much more.  With the smart scale inside, it'll tell you when you've added the right amount of ingredients, and the connected app will walk you through recipes step-by-step.  You don't even need to keep your phone on the kitchen counter, the Julia comes with its own splash-proof, touch screen tablet, the Smart Kitchen Hub, which both guides you through recipes and controls your Julia.  You can even take the Hub into another room, and monitor the progress of your dish as Julia does its thing.  There's so many things that Julia and the app can do for you in the kitchen, making it virtually an all-in-one cooking appliance.  I really want one of these in my home.  I don't actually cook much now, but I think I would if it was as easy as the good people at the CookingPal booth made it seem with Julia.  Check out all of Julia's bells and whistle at CookingPal.com.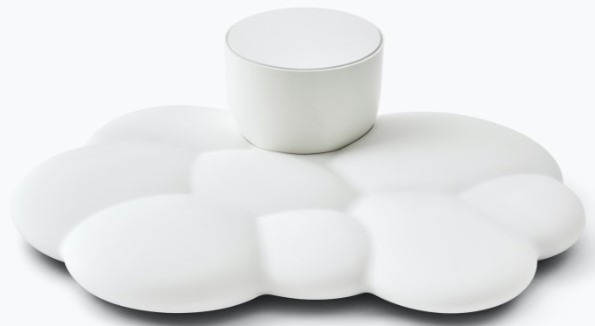 Let's walk out of the kitchen to the rest of the house, and take a peak at the Kakao Friends Homekit, a full smart home system, with adorable designs and cute characters.  The system includes 7 connected devices, including the Smart Scale, Smart Lamp, Smart Alarm, and Smart Air Purifier.  Each is designed with a nod towards their functionality, like the soft cloud shape to the scale, so you can feel like you're lighter than air, or the happy flowers on the purifier, so you can strive for air as pure as nature intended.  The alarm with the little yellow bird on top is super cute, as you can turn your alarm on and off by petting it.  You can also set the snooze by using your finger to draw the number of extra minutes you want on its surface.  The lamp has light pouring from an upturned bowl, and you can adjust the color of light with a touch.  Several of the devices can be activated by touch, and they can all be controlled through the connected app. You can also get sweet little magnetic figures to decorate your devices, in the likenesses of many of the Kakao Friends characters, which have been a popular brand in Japan since 2012.  These are all super cute products, with a refreshingly different design aesthetic than your average smart home devices.  They'll be available for the US market sometime later in 2020.  Learn more about them all, and watch some cute videos with the characters, on the Homekit product site.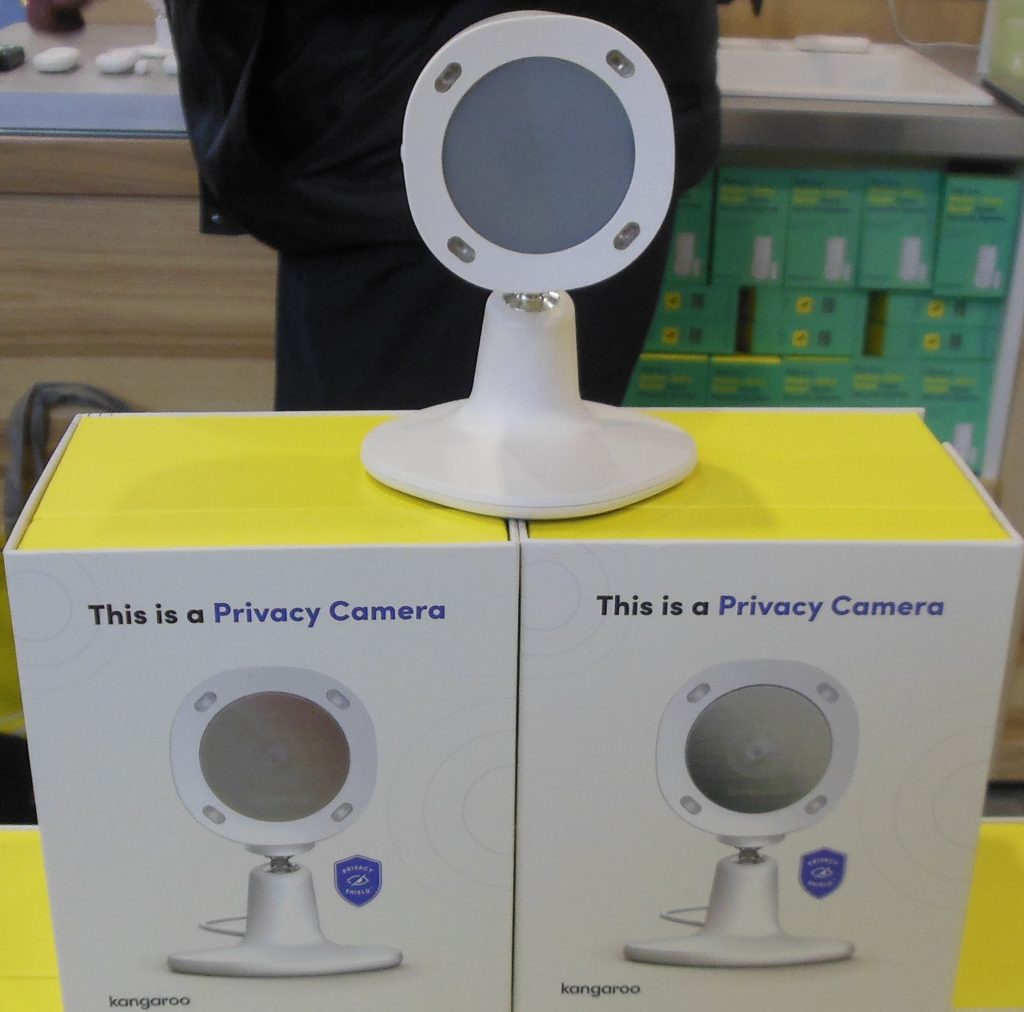 Now that you have all this cool new stuff in your house, you'll need a way to protect it.  Last year, I wrote about the great Motion Sensor security alarm from Kangaroo, and the one thing I said I wished it had was a camera, so that when it detected movement in my house, I could see what that movement was.  Well, Kangaroo has filled that need with their new Privacy Camera.  This works either alone, or in conjunction with the Motion Sensor and other products in their line, to monitor your home and notify you of any unauthorized access through the Kangaroo app.  Unlike the Motion Sensor, the new Privacy Camera plugs into a wall outlet, so you won't have to worry about your AA batteries running out while you're on vacation.  Just set it on any surface, or mount it to the wall, and arm it through the app as you leave the house.  It'll watch your space while you're out, and then you can disarm it when you return.  A really cool feature of this camera is the smart privacy glass, which turns opaque when the camera isn't armed, so you can rest assured that you aren't being spied on by hackers, and have visual proof of this.  The audio recording is also disabled when the glass is opaque.  This product will release to retail in a couple months, and the price hasn't been revealed yet, but all of their products are very affordable.  For reference, the Motion Sensor is only $14.99, and their Water and Climate Sensor is $29.99.  I'm guessing the Privacy Camera will be somewhere in line with the latter.  You can get acquainted with their current line of security devices at HeyKangaroo.com.
The last product I'd like to share with you, the 2TB External SSD, from Hyundai Technology, will keep all of your data safe too, at home or on-the-go.  If you're wondering, yes, they are the same Hyundai that makes some pretty great cars.  Turns out, they also make some pretty cool consumer tech.  I have the 2TB model in my hands, selling for $299.99, but they also come in lower capacities of 250GB, 500GB, and 1TB, starting at $79.99 on the low end.  These devices are very portable, at only 2.68″ wide, and 0.44″ thick, weighing only 36.5 grams.  They each have a nice smooth surface, with rounded edges, making them sleek and stylish accessories, with a convenient notch in one corner for clipping to a keychain or purse.  Because they're chip-based, they're 4 times faster than a mechanical hard drive, with a write speed of 400MB/second.  They come equipped with USB-C to C and USB-C to A cables, and are compatible with any device that has an Android OS version 4.0 or above, or runs Windows OS or Mac OS.  Discover this and all the other products you never knew Hyundai made, at HyundaiTechnology.com.
Phew, finally we've reached the end of this article.  Now that you've spent almost as long reading this as I spent at CES, I hope you got a satisfying taste of what it was like to explore the Sands and Las Vegas Convention Center Show Floors.  If you ever get the chance to attend CES for yourself, take the opportunity, because there really is no better place to be immersed in the best technology in the world.  Each and every year the show gets bigger, sprawling out to more and more locations on the Las Vegas Strip, and hosting thousands more exhibitors and visitors than the year before.  It's one crazy, exhausting week, but to be in the place where so many people are celebrating the brightest lights in the tech world, I'm very lucky to be able to go.  Like I've said before, I hope to get all of these products into the office for a hands-on look, so please keep checking back on Computer Times for my Editor's Choice reviews on them all.  Also, if you haven't read my articles on the cool products I came across at the Digital Experience and ShowStoppers Press events, you might want to give those both a read.