The NAMM Show 2023
Article by Angie Kibiloski
On April 13-15, 2023, The NAMM Show (National Association of Music Merchants) took over the Anaheim Convention Center. This 3-day event hosted 3,500 worldwide brands, welcomed over 46,000 attendees, and included educational sessions, industry speaker panels, live performances, and a sprawling exhibit floor that spanned 5 convention halls. On Thursday night I attended a fun 50th Anniversary of Hip-Hop reception, where I saw Mike Relm perform an energetic DJ set in between award presentations, and on my way out on Friday evening, I jumped to the jive of Big Bad Voodoo Daddy on the main Yamaha stage.
Over the 2 days I spent wandering around the booths, not only did I delight in seeing all of the stunning analog instruments on display, I also discovered quite a few cool music tech items as well, including some smart instruments, high-end microphones, and AI music-making software. I hope to get several of these products in for in-depth reviews, but for now I'll give a brief rundown of 10 of the nifty techie things I saw at NAMM 2023.
Let's start with what I think is the coolest arcade machine ever, the Beat Machine from Endlesss (yes, there are 3 esses). This machine lets users create musical tracks with the 16-button beat pad, touch pad, and 12 effects and control buttons on the console panel, assisted by helpful guides within the DAW on screen. With 3 modes to choose from (Arcade, Studio, and Open Mic), it's suitable for a variety of purposes and skill levels. Arcade Mode has remix challenges and beat-making missions to get beginners into the groove, Studio Mode helps experienced musicians find inspiration in a creative way, and Open Mic Mode gets the party going by letting multiple users play and share their tracks. The Beat Machine has a library of onboard sounds, but you can also hook up external instruments, VSTs, and MIDI controllers to integrate the machine into your regular work flow, then sync it to the Endlesss app on your phone to export your track into your DAW. Right now, Endlesss is doing a limited, numbered run of 25 custom, hand-built units, perfect for professional creators or entertainment venues, starting at $9,999. There are plans to open it up to a more mass-produced version to get into arcade venues around the world, but that's well into the future. Check out their website for more info, videos of the machine in action, and spaces where you can experience the Beat Machine for yourself.
Next up is a smart guitar that I really want. LAVA Me 3 by LAVA Music is a connected acoustic guitar, made from a seamless, hollow, carbon fiber body, with a 3.5″ touch screen on the side, and a pickup mounted inside the cavity for ambient noise reduction. The smart features that are accessed through the touch screen include an onboard tuner, metronome, recorder, lessons for beginners and intermediate players, effects to change the sound of your playing like a guitar pedal would, and a library of loops for inspiration. Having these functions on the guitar body itself, instead of on a monitor or phone screen, helps you stay focused on your music and engaged with your instrument. The Practice app is what I'm most interested in, as someone who spent time learning guitar basics, but then got a little lost on where to go next. Not only does it provide you with lessons on chord transitions, strumming, scales, and more, it also has smart sound detection that senses the accuracy and smoothness of your playing, and offers helpful tips on where you can improve. You can record a guitar track right on the instrument, then overdub more tracks to add layers to your song. With the addition of the LAVA+ app, anything you play on the guitar can be automatically synced so that you'll have your music anywhere you go. You can also upload your work to socials, and share effects templates, favorite loops, practice summaries, and more with the thriving LAVA+ community. Find more info on the LAVA ME 3 and their other guitar models at lavamusic.com, then order yours in one of 7 stunning colors for $999.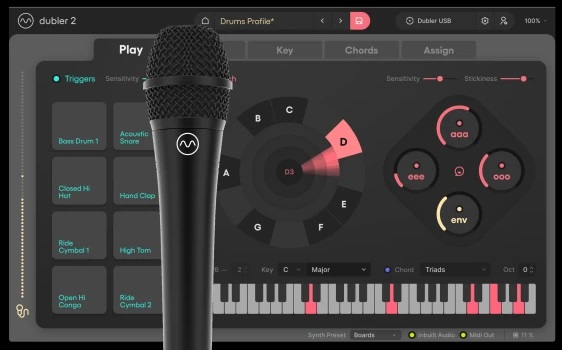 Dubler 2, from Vochlea, is a cool software plugin that allows you to control any of your digital instruments with your voice. Using your existing microphone, or the optional Dubler microphone that comes with an Ableton Live Lite license, your can use your voice as a MIDI controller, just like you would a keyboard or beat pad. Sing your guitar, piano, or drums into your DAW, and make translating the song ideas in your head to actual notes in your computer a lot easier. This plugin frees your creativity by eliminating that extra step of finding notes on an input device, and allows your song to flow directly from your brain to your virtual session. It also comes with a nice assortment of effects and productivity features, like scales, preset and customizable chords, pitch bend and pitch tracking options, key locking, percussion recognition for voice-to-drum triggering, velocity sensitivity, and more. The full Dubler 2 Studio Kit comes with the software package, their custom-calibrated USB mic, and the current version of Ableton Live Lite for $289. If you already own a dynamic microphone, you can just buy the Dubler 2 standalone software, which can be used as its own desktop app, or as a VST plugin within any DAW for $219. If you purchased the original version of Dubler, you even have an option to upgrade to Dubler 2 for just $69. Have a peak at Dubler 2, and everything else Vochlea has to offer at vochlea.com.
Staying with vocals for a minute, Zynaptiq has come out with the Orange Vocoder IV, their latest update of the popular classic plugin from Prosoniq, a time-tested, AI-powered, vocal assistant for your DAW. This newest, rebranded version has so many cool features, like a pitch quantizer, 64-voice synthesizer, preset generator, harmonic layering effects, pads and drones, and 24 unique vocal algorithms to play with. Craft perfect AI human vocals with a variety of tones, from light and ephemeral to dark and sinister, or create mechanical sounding robot voices, or otherworldly monster sounds. This plugin lets you get very creative with vocals. The UI is arranged in a modular signal flow diagram, so you'll be able to easily see where an effect sits within a path, making switching it out and making adjustments easy and intuitive. This is a plugin that I've been meaning to get for some time, and now I'm glad I waited for this newest, feature-rich version. If you're as excited as I am to add this package to your DAW and explore, read more about it at Zynaptiq.com.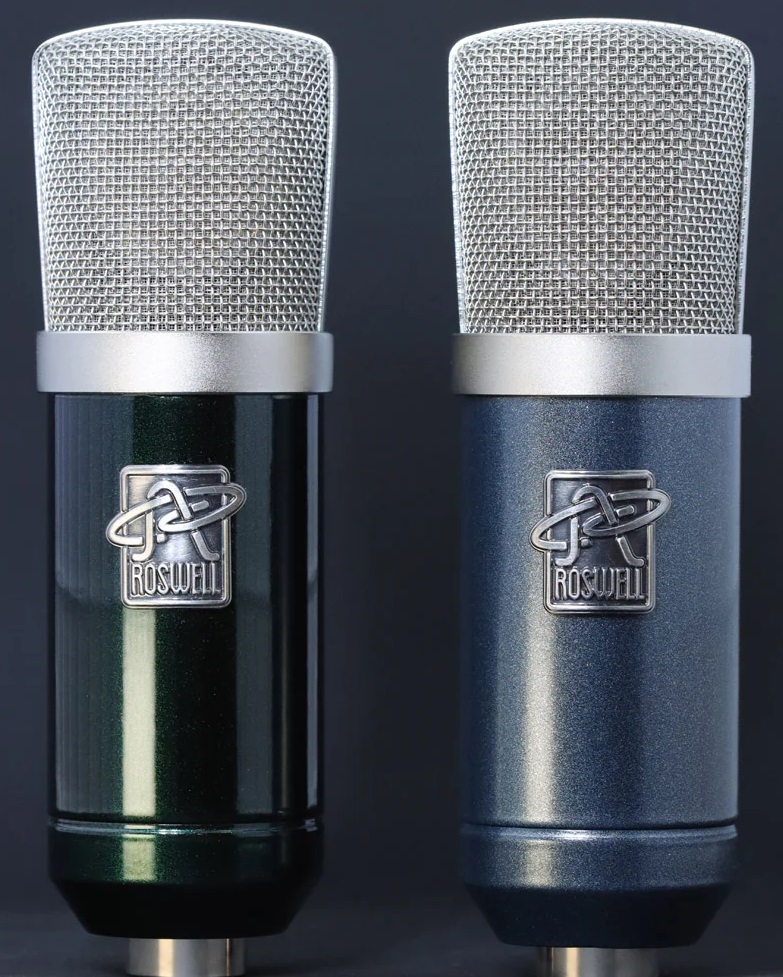 Every musician needs a good microphone, and there were plenty to be seen at NAMM. I will admit to my relative inexperience with pro-level microphones, as I mostly work with digital instrument VSTs, but the Mini K line from Roswell Pro Audio seems filled with great options, all meticulously built by in-house engineers to ensure optimal audio quality, using hand-selected components, and proprietarily designed capacitors. For instance, the Mini K47 is the all-purpose condenser model in the line, delivering clean lows, a detailed upper midrange, a neutral top end, low noise and distortion, and a quality sonic color for both electric and acoustic instruments and vocals alike. With its 34mm large-diaphragm capsule, it captures a balanced, vintage tone similar to the most popular classic mic models. The Mini K47 looks gorgeous, with a compact, solid steel body, a heat-treated finish in 4 colors, and comes in at $389. The Mini K47 is just one of Roswell Pro Audio's great line of mics, so head over to RoswellProAudio.com to discover them all, and learn more about the tech inside than my limited mic knowledge can relay.
Another microphone line that caught my eye is the handmade series by Soyuz Microphones, and especially the Soyuz 1973. This is a large-diaphragm FET condenser mic, featuring their popular 33mm Bomblet capsule, with a frequency range of 30Hz-18kHz, and an aesthetic reminiscent of the "golden age" of microphones. It's not just the look of these mics that gets the vintage treatment, but the entire manufacturing process as well. Soyuz believes real quality comes from hand-building every piece, with engineer-chosen and designed parts, the way mics used to be made before factory assembly. This ups the price a bit, and at $799 the Soyuz 1973 is actually their most affordable model. For those with a passion for quality and craftsmanship, however, that price might be just right. Check out the entire line-up at SoyuzMicrophones.com.
Stepping into DAWs and plugins, Audio Design Desk 2.0 is a very cool, and incredibly useful, AI-powered DAW that helps you fluidly craft movie scores, Foley effects, and ambient soundscapes. ADD 2.0 has so many features that make finding, swapping, and adjusting your video soundtrack far more efficient than in other programs. One of these features is the ability to assign sound types like hits, rises, and whooshes to hotkeys, so you can add in each effect in real time as you watch through your edited video, just by tapping single keys. ADD 2.0 comes with a huge library of thousands of royalty free sounds, or you can import your own. Their AI tools can help you sift through this massive collection, filtering by type, style, mood, or sonically matching new choices to sounds you've already selected. You'll be able to replace all instances of a sound in your session with a single click, without having to resync to the video, so it's easy to audition a variety of sounds where they'll actually sit in the final cut. Use ADD 2.0 as a stand alone DAW, or sync with Logic, Pro Tools, Final Cut Pro, and other DAWs for even more efficient work flow. See it in action with some demo videos on the Audio Design Desk website, then grab a copy for yourself at a variety of subscription or perpetual license types and prices, ranging from $8.99/mo. to $599/forever.
Sound Particles offers another great software package, the SkyDust 3D spatial synthesizer plugin. It's a full synth for creating your next masterpiece, with a keyboard, sequencer, arpeggiator, waveform modifier, oscillators, etc., but it ups the ante with easy spatial positioning. Its AI helps you take your music and make it immersive, spreading it around your listening space. You can pan each note to a different sector and be fully surrounded by a song as it moves around your auditory environment. Position all of your song elements independently of each other, and create an ever-moving surround-sound experience. You can do this manually, programing the spatial synth elements for a customized mix, or with the help of AI and hundreds of presets. If you don't have time to browse endless presets, you can just take your chances and have SkyDust 3D randomly generate an interesting combination for you. If you find a combo you like, save the whole preset or just the individual parts you prefer for later. Adjust LFO, oscillators, movement modifiers, divergence, effects, and more. One of the best features is a 3D visualizer, so you can see where you've placed everything in a rendered space. Read about everything this package has to offer at SoundParticles.com, and consider jumping on the launch discount price of $299 before it jumps to the regular $399.
How about some fun musical gamification? Audeobox, a brand with a presence as a sample pack provider, has developed a fun new platform for track makers. Nexxt Beat Battles is a browser app that lets creators upload tracks they've created, and compete against other creators for prestige and prizes. It's free to join, both for musicians and fans who just want to have fun voting for their favorite tracks, but you can also get extra features and benefits with a paid plan. Battles will be genre-matched, so musicians with similar tracks will go head-to-head, and progress through the seasonal leaderboards. Prizes include badges and in-app currency tokens, which can be used for a variety of actions within the app, like starting battles. You also earn these tokens by voting on other battles. Once you've created an account and produced an instrumental track, you can either start your own battle and wait for another producer to accept your challenge, or you can join one that has already been created. The community will be able to see both opponents and listen to their tracks, then vote on which they prefer. At the end of the allotted timeframe, the track with the most votes wins. There are plenty more features to be explored in Nexxt Beat Battles, like achievements, leaderboards, seasons, and tournaments, so go sign up for free at Audeobox.com, or boost your beats with a Premium membership, starting at $7.99/mo., and access a full Audeobox sample pack of your choice every month, fun avatars, monthly coins, and more.
Finally, what list of cool audio tech would be complete without at least one speaker. SubDrum has a line of awesome, high-end speakers, set within drum bodies, and turned into a variety of furniture pieces, like coffee tables, end tables, and wall mounts. They use a variety of colorful drum bodies, and can custom-source and build a piece from your favorite kit, to match your decor and style. The product line was born when its founder got creative with an old bass drum that had been discarded by its owner. He gave it new life as a coffee table by sitting it resonant-side up and laying some tempered glass on top. The speaker element came later when he had an extra sub speaker lying around, and decided to combine the two. He liked the resulting look and rounded-out sound so much, this patched-together hybrid morphed into an entire line of drummy subwoofers, lovingly assembled for all music fans who want some unique flare in their studio decor. See all the shiny speaker models (at a wide range of prices), and read more about why a round speaker cabinet is better than a square one, and how the designs have been upgraded beyond that original prototype at SubDrum.com.
I had a fantastic time at The NAMM Show this year, and I will be eagerly looking forward to next year's convention. The live performances, speaker panels, and huge show floor held my attention for 2 full days. As for this short list of products, I'm enamored with several of them, and hope to be able to get my hands on them for further review. If anything on this list sparked your interest, please visit the companies' websites to learn more, and check back here in the coming weeks and months for potentially more in-depth coverage.